007: This is Your Year
By: Elisa Gaudet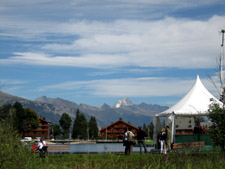 This is no better year than to honor 007. The allure of James Bond was best described by Raymond Chandler, who said that 007 is: "What every man would like to be and what every woman would like to have between her sheets." There is an inexplicable allure to Bond men, no matter how old or young you are.
It was no surprise to see Sir Roger Moore at the Omega European Masters in Crans Montana, Switzerland, an event staged in the breathtaking Swiss Alps and known as the crown jewel of the European Tour. Bond men have an affinity for golf. (An earlier Bond, Sean Connery, solidified one the most memorable golf movie moments in "Goldfinger.")
An unmistakable trait of a Bond man is his voice, and Sir Roger Moore held court, captivating guests at Omega's gala dinner. Seated next to him was Paul Casey, a regular on both the PGA and European tours. When asked if Casey had received any tips from 007, Moore laughed. After all, Casey already has the British accent. Each year at the Omega European Masters, Credit Swiss awards a kilo of gold to any player who makes a hole-in-one. This year Italian golfer Alessandro Tadini had an ace and took home the gold.
James Bond's creator, Ian Fleming, found the perfect villain vs. hero scenario to inject his passion for golf in his seventh Bond novel, "Goldfinger." Filmed at the Stoke Park Club in England, this remains cinema's most famous international espionage golfing scene.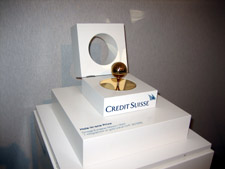 When Bond and Auric Goldfinger are matched up at the club, Bond steps outside to face Oddjob, Goldfingers deadly Korean manservant and now-caddie, and realizes he's the man who knocked him out earlier at a Miami hotel. Goldfinger, international gold smuggler, laughs and excuses his caddie's appearance by saying, "Golf is not the national sport of Korea." Today, I'm sure K.J. Choi and Se Ri Pak would disagree.
Once out on the course with a few holes to go and high stakes at risk, Bond finds himself in a cat-and-mouse game of matching wits when Goldfinger is in the rough and can't find his ball. As the late Jill tells Bond: "He likes to win." Goldfinger realizes he's almost at the five-minute limit for finding a lost ball, which of course would cost him the match, and instructs Oddjob to drop a ball. Bond then tricks Goldfinger by giving him the incorrect ball after the enemy holes out. Bond doesn't cheat to win a match he's already technically won. Knowing it's the players responsibility to make sure he's playing his own ball at all times, Bond points out to Goldfinger on the 18th hole that he was playing the wrong ball.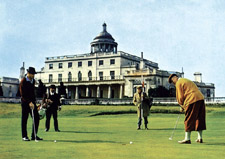 In answering the age-old question of art imitating life - or life imitating art, we find the same holds true with both writer and actor regarding golf. Fleming was a member of Royal St. George Golf Club in Sandwich Bay and started playing before World War II. In August 1964, on his way to St. Georges to meet with the golf committee, Fleming suffered a heart attack and died at the age of 56.
It was during the filming of the "Goldfinger" golf scene that inspired Connery to take up the game. The Scotsman, an avid golfer for decades, won the Lexus Challenge golf tournament in 1996 with pro Hale Irwin. He also met his wife on a golf course and was quoted saying, "You know, the Oscar I was awarded for 'The Untouchables' is a wonderful thing, but I can honestly say that I'd rather have won the U.S. Open."
Perhaps Bond is the ultimate heroic figure who always overcomes adversity. So it begs the question: Who on Tour would be the Bond man. Alas, there's no clear answer. He would have to be a refined version of Rodney Dangerfield and all his gadgets; Tiger's ability to get out of any circumstance and seemingly always reign victorious; Tommy Armor III's allure with women; and Adam Scott's good looks.

This got me thinking: What if there was a 007 golf flick? Bond could fight the evil Dr. Yips and 007 would be assisted by Miss Fiona Foreplayer.

From New York with Love
XOXO
Miss Samantha Sweetspot
Elisa Gaudet brings a wealth of entertainment and golf experience to Cybergolf. Elisa has spent the past several years in the golf industry in the U.S., Latin America and Spain. She worked for the PGA Tour and the Tour de las Americas before founding Executive Golf International, a golf marketing company that works with clients to develop strategies using golf as the medium. Often referred to as the Maria Bartiromo (a business analyst for CNBC) of golf, Elisa says: "Golf, as a marketing tool, has been around for years. It's amazing how many new ways companies can align their brand with the golf market to reach their target audience. Our goal is to create alliances and establish cross-border relations." Elisa also worked in the entertainment industry for over 10 years, including five in Los Angeles as a model and actress. She can be seen at many celebrity golf events and often gets the inside scoop from PGA Tour players. For more information about Elisa, visit her websites at www.onthelip.com or Executive Golf International www.execgolfintl.com.