10 English Courses You Might Not Know
By: Tony Dear
You've played all the marquee courses in Ireland, Scotland, Wales, and England . . . twice. Now you need something a little different; something you or your buddies won't have heard or read much about; something your guide book might not even list. Here are 10 courses in England you might not be familiar with but which, we contend, you'll rave about for years to come.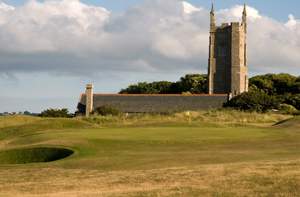 3rd Green at West Cornwall
West Lancashire

Did you know there are nine golf courses on the Monterey Peninsula (11 if you include Monterey Pines and Del Monte which are sort of half-on/half-off the Peninsula)? And who knew there are 243 holes on Hilton Head Island? When you're surrounded by A-Listers - Pebble Beach and Cypress Point on the Monterey Peninsula; Harbour Town on Hilton Head Island - even courses with a B++ rating tend to get overlooked. Such is the case with West Lancs which must vie for attention with Royal Lytham and St. Annes, Royal Birkdale, Hillside, Southport & Ainsdale and Formby to the north, and Hoylake to the south. Even so, play West Lancs and all six of its distinguished neighbors (Lytham is actually 25 miles away as the crow flies) and it's perfectly possible West Lancs will emerge as your favorite.

Founded in 1873 by members of the Royal Liverpool GC (Hoylake), the golf club is one of England's 10 oldest, and co-hosted the 2009 British Amateur with Formby. It has also staged Open qualifying on numerous occasions and, with just a little more yardage perhaps, would surely be worthy of the Open Championship itself. www.westlancashiregolf.co.uk
West Sussex

You'll obviously find a lot of sand at England's edges, but it also makes a few random but very welcome appearances at the surface inland, giving rise to pine- and heather-covered courses that invariably rank above their less distinguished and poorer-draining parkland cousins. In Lincolnshire, a county laying on a good deal of glacial boulder clay and Fenland clay, the magnificent Woodhall Spa sits proudly on a thin sliver of sand. Parkstone, Ferndown and Broadstone, in and around Bournemouth near the Dorset Coast, are made of similar stuff and, of course, a number of world-class heathland layouts - Sunningdale, Wentworth, The Berkshire, Walton Heath, Woking, West Hill, Worplesdon etc. - dot the Surrey and Berkshire countryside southwest of London.

On the western edge of the Sussex Weald, 30 miles south of Woking, you find another sand oasis in a sea of clay and West Sussex GC, otherwise known as Pulborough. Sir Guy Campbell, Major C.K. Hutchison and Colonel S.V. Hotchkin designed the course in 1930, mixing the native heather, silver birch and pine trees with the natural topography and their creative bunkering to absolute perfection. Foursomes (alternate shot) is the preferred format at West Sussex, and the club secretary will likely come looking for you if you're not back in the clubhouse under three hours. www.westsussexgolf.co.uk

Luffenham Heath

You can add Luffenham Heath to the list of heathland gems in unexpected places. Found in the tiny county of Rutland, England's smallest, 90 miles north of London, Luffenham opened in 1911 and was designed by Harry Colt who was working on Woodhall Spa at the time and was no doubt "encouraged" to take a look at the site by landowner Lord Willoughby de Eresby, who also happened to be the president of Woodhall Spa. The course was later revised, updated or beautified by James Braid, CK Cotton, Donald Steel, Cameron Sinclair and, most recently, Martin Hawtree, who renovated all 70 bunkers and added six more to catch the really long hitter.

As is the case at many of the great heathland courses, Sunningdale in particular perhaps, the landscape at Luffenham has slowly morphed over the years, becoming more wooded, though it is still a heathland course at heart. A Site of Special Scientific Interest (SSSI) since 1973, Luffenham is blessed with numerous rare plant and animal species, and is always a treat to play. www.luffenhamheath.co.uk

Mullion

Mullion will never host a championship of consequence nor be featured in a discussion about great golf course architecture. But if you play it on a bright and breezy day and don't come away totally invigorated and wondering how soon you can make a return visit, then I'm afraid you have no soul. The 116-year-old course is located on the cliffs of Cornwall's Lizard Peninsula, and is the southernmost in the British Isles. It isn't a links by any means, but the English Channel is always in view. And its 6,053 yards might just be the most enjoyable 6,053 yards you will ever walk. www.mulliongolfclub.co.uk
West Cornwall Near England's Land's End
West Cornwall

In a country full of quaint and quirky golf courses, 5,850-yard, par-69 West Cornwall may well be the quaintest and quirkiest of them all. Opened for play in 1889, it has a number of holes that golfers used to standard 7,200-yard par-72s will find downright bizarre, not to say dangerous (the fifth, sixth and seventh form a triangle of holes with much criss-crossing to be done). Known more commonly as Lelant, West Cornwall is where Jim Barnes learned the game and worked as an assistant professional before crossing the Atlantic and becoming the first-ever winner of the PGA Championship (he won four majors in all).

The round opens with a very robust par-3 with the beautiful tower of St. Uny's Church looking on, and continues with a spellbinding par-4 whose approach is played between two sizeable dunes. More rumpled and eccentric, yet endlessly entertaining, holes follow most with glorious views over St. Ives Bay. It's not the sternest challenge in the world, but you'll remember West Cornwall long after you've played it. www.westcornwallgolfclub.co.uk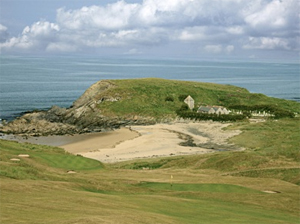 From Mullion's 12th fairway looking back
over the 10th and 11th greens towards Church Cove
Brockenhurst Manor

Another Harry Colt classic, Brockenhurst Manor is located in the delightful village of Brockenhurst in the New Forest which, contrary to what the name implies, was actually designated a Royal Forest by William I in 1079 and to be used specifically for deer hunting. Part wooded, part heathland, the course opened in 1919 and is laid out in three six-hole loops, proving Colt was not only a design genius but well ahead of his time, too.

As you'd expect of a course inside a National Park, Brockenhurst is home to plenty of fauna, most notably a herd of red deer stags, some shy roe deer and successive generations of "White Buck." You're also likely to see buzzards in the sky and egrets in the streams (creeks). It's a delightful package. www.brockenhust-manor.co.uk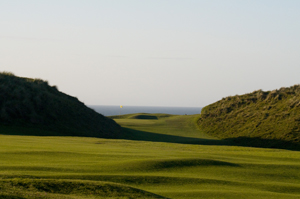 West Cornwall's 2nd Green
Bamburgh Castle

In order to cover every part of the country, we need to head to the northeast where there are a handful of top-quality links courses to choose from (Seaton Carew, Seacroft and Berwick-Upon-Tweed among them). Bamburgh Castle gets the nod, however, not because it's a better course than the others (it isn't), but because it has a fairytale castle visible from just about everywhere on the course, and not a lot of places can say that.

At just 5,645 yards, Bamburgh is another course that won't test the scratch golfer necessarily, but it is an absolute must-play for those who appreciate scenery. The design of the course is credited to George Rochester, who was the pro at Alnmouth GC, 23 miles to the south. Bamburgh Castle GC opened in 1904, just 1,357 years after work began on the castle. www.bamburghcastlegolfclub.co.uk

Hunstanton

Regular visitors to Britain whose life goal it is to play all the UK's best links courses will no doubt be familiar with Hunstanton. Part of a strong quartet of courses on the north Norfolk coast, all within a few miles of each other (the others are Sheringham, Royal Cromer and the singularly charming Brancaster), Hunstanton is definitely worthy of the term "Championship Course" having hosted 40 of them.

It dates back to 1891 when George Fernie built nine holes for landowner Hamon le Strange. James Braid added nine more in 1907 and a number of other updates have been made since. The course is laid out on a relatively flat and narrow strip of dunesland with a ridge running down the middle more or less dividing the two nines. The prevailing wind can make the opening holes play considerably shorter than the scorecard suggests, but if it is blowing hard you'll have a hard time playing anywhere near your handicap on the back. www.hunstantongolfclub.com
Purdis Heath

For the British version of "The Office," series creator Ricky Gervais chose to stage the show in the rather dreary, nondescript town of Slough, just to the west of London. It could have been Ipswich, just to the northeast.

To be fair, Suffolk's county town has an awful lot more going for it than Slough, but it probably doesn't rank too high on people's list of most memorable trips. Thirty-three years ago, Bobby Robson (who would go on to coach the England team) took Ipswich Town to FA Cup glory but, for most people of a certain age, that remains the one time Ipswich passed through their consciousness.

Golfers who spend a day at Purdis Heath, home of the Ipswich Golf Club, come away in an altogether more positive frame of mind, however. The 6,439-yard heathland beauty (par 71) is the club's second home and was laid out by five-time Open champion James Braid. It opened in 1928. www.ipswichgolfclub.com
Fulford GC

Had metal-headed drivers and multilayer urethane-covered balls never been invented, Fulford might still be the venue for a European Tour event. As well as the 1967 Martini Invitational, 1979 Sun Alliance European Matchplay Championship (Des Smyth beating Nick Price in the final) and 1990 and '91 Murphy's Cups, the course was host to the Benson & Hedges International for 19 straight years from 1971 (winners included Lee Trevino, Tom Weiskopf, Greg Norman, Sam Torrance and Sandy Lyle).

Located just a mile from the center of York, one of England's most handsome cities, Fulford was designed and built by Alister Mackenzie's brother Charles, and opened in 1935. Now 6,743 yards from the back tees, the par-72 course may be too easy for the world's best golfers, but it is still a wonderful test for most of us. www.fulfordgolfclub.co.uk
Tony Dear is an Englishman living in Bellingham, Wash. In the early 1990s he was a member of the Liverpool University golf team which played its home matches at Royal Liverpool GC. Easy access to Hoylake made it extremely difficult for him to focus on Politics, his chosen major. After leaving Liverpool, he worked as a golf instructor at a club just south of London where he also made a futile attempt at becoming a 'player.' He moved into writing when it became abundantly clear he had no business playing the game for a living. A one-time golf correspondent of the New York Sun, Tony is a member of the Golf Writers Association of America, the Pacific Northwest Golf Media Association and the Golf Travel Writers Association. He is a multi-award winning journalist, and edits his own web site at www.bellinghamgolfer.com.