10 Tips on Planning the Ultimate Scottish Golf Experience
Editor's Note: With the British Open recently completed and the annual call to play golf in the place of its birth at its strongest, Cybergolf - by way of this special contributor - offers you tips on planning and enjoying Scottish golf. Leisenring just returned from a buddies' trip to Scotland, and he was so excited about the experience that he wanted to share his personal tips on how to find the best courses and accommodations to make your venture a success.
1. Create a budget. Even if you are working with travel agents and consultants this is really important. Just like with travel in the United States, there are countless options available when it comes to value engineering your trip. Level of accommodation, type of transportation, course selection and the amount of travel during the trip are key decisions that will impact the travel budget.
2. Work with a well-referred, "local" travel consultant. By "local" I mean an individual that lives or is native to the area you are traveling to. I don't know how many trip itineraries I see that have been developed by the "neighborhood travel agent" that don't take advantage of all of the options available to the traveler, resulting in difficult transfers, unremarkable golf courses and unrealistic travel routes mixed in with a couple of bells and whistles. I suggest Kevin McGrath (kjmcgrath@tigeregister.com) of the International Golf Experience Register as the most knowledgeable and well-contacted consultant I have ever dealt with.
3. If your visit is for four days or less the course selection should be limited to one region. Travel is much more difficult there versus the United States. Narrow roads, lower speed limits and conditions make it much more difficult to travel. I suggest that changing regions requires a minimum of two nights stay to make the trip comfortable.
4. Identify the course(s) that is first on your list to play and build your trip around that course. Depending on the region of your selections there will be other golf courses near enough that you will not have to change hotels such as in St. Andrews. If the Old Course is your "must play" then you can play the highly regarded Kingsbarns and Carnoustie courses without changing accommodations. In the Highlands region you can play Royal Dornoch, Nairn and Castle Stuart with very little travel as well. This saves on hassle and can cut down on expenses.
5. When making your course selection, seek out reviews and referrals from the "natives" as your best resource. There are always the obvious notable courses that are familiar but oftentimes you can be steered to courses that are unremarkable by agents that may have an ulterior motive for the selection.
6. Look into all-day play rates as many of the courses may offer the chance to play an additional round at a discounted cost. Not only does this lower the expense per round but also gives you a "second chance" to play the course with some added experience.
7. If your budget allows, take caddies whenever possible. Not only will it make the walking easier but it will enhance the experience greatly. Remember that caddies are not hired by the club, so make arrangements in advance to better ensure their availability.
8. For groups of four or more I strongly consider hiring a transportation service and driver for the trip. The cost is not that much more than car rental and petrol. Not having to deal with maps, loading and unloading, or driving on the other side of the road is worth every "pound" spent.

9. When selecting accommodations decide what "style" you would like to travel in. If you prefer a Bed & Breakfast experience or a more classic "hotel" experience. Not all rooms are "in-suite" (a bathroom in your room), so be sure to ask that question if it is important to you. Most accommodations include a traditional Scottish breakfast included in the price but it is always good practice to double-check.

10. In Scotland golf is a walking game. Very few of the most notable courses even offer golf carts or "buggies." If your group requires the use of a golf cart make sure to get specifics on what each course offers. Most courses allow the use of a pull-cart or "trolley" and have caddies. Needless to say, get yourself in good walking shape and take your most comfortable shoes. Take some light-weight, reliable rain gear. It is likely that you will encounter some wet and windy weather. Easy to manage if you are prepared, but impossible to deal with if you are not. I hope these tips will help you create a unique and memorable golf experience "across the pond." Cheers!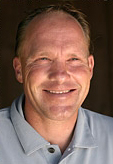 Jim Liesnering
Jim Leisenring is general manager of Talking Rock Golf Club in Prescott, Ariz., home to a Jay Morrish-designed, 7,350-yard championship golf course on more than 1,000 acres of preserved open space. See the Cybergolf feature on Talking Rock at http://www.cybergolf.com/golf_news/talking_rock_bucks_trends_with_great_course_community_vibes.