10th Annual LOPen Golf Tournament Raises over $100,000 for Akron Children's Hospital
The 10th annual LOPen Golf Tournament was held on Saturday, June 23 and raised over $100,000 to benefit Akron Children's Hospital. The outing at Lake Forest Country Club was attended by sports heroes and music stars who came together to aid the largest pediatric health care provider in northeast Ohio.

This year, the LOPen Golf Tournament featured two-days of entertainment and golf with a concert, VIP party and the golf tournament. Among the celebrity participants were Brian Howe from rock group Bad Company; former Chicago Bear Jim McMahon; Major League Baseball's Bret Saberhagen and Gregg Zaun; the NFL's Jeff Wilkins; Ohio State's Jim Tressel; "Hell's Kitchen" chef Lou Petrozza; two-time NBA All-Star Larry Johnson; television personality Mark Nolan; and country music artists Ira Dean and Brother Trouble.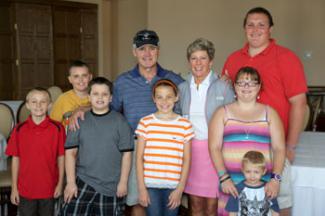 Ohio State Coach Jim Tressel with Kids of
Akron Children's Hospital
"We are thrilled at the monies we were able to raise for Akron Children's Hospital this year, said Phil Lopez, manager at Capital Planners and founder of the LOPen tournament. "I would like to personally thank Dr. Jeffrey Hord, Bill Considine and Denise Lahoski who have played an integral part in helping grown the tournament to a world-class event."