2007 Resolution – Play Better Golf
By: Elisa Gaudet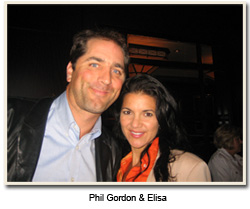 Although many of us may be waiting for the golf gods to come and save our game, gratefully there are other means for game improvement. Every year the PGA Show in Orlando attracts anything and everything golf from around the world. It is like being Willy Wonka in the golf factory. In the never-ending quest to improve upon ones game and find that extra something that will give you the ever-elusive Tiger factor, we found a few things that can help.

There is no doubt that fitness now plays a major role in golf. Exercising the body and mind can insure improvement. Don't just take if from me, in the "quest for the best" all of the training aids below are used and endorsed by PGA Tour players and teaching professionals. Let me know if they work for you.

LeaderBoard. You may have heard of the "Thunder from Down under." Well, if you haven't it is the LeaderBoard, training aid developed by Vern McMillan and Steve Bann – fitness and swing coaches who currently train most of the Australian golfers and many other top pros including Stuart Appleby, Adam Scott, Geoff Ogilvy, KJ Choi, Rod Pampling, Aaron Baddeley, Heath Slocum, John Senden and Greg Chalmers. The LeaderBoard is a golf biomechanics training innovation that promises to improve power, balance, posture and swing. In 2006, the Australians had nine Tour wins; so this may be no coincidence. This simple yet effective training device ensures muscle memory to enable you to hit the ball longer, straighter and with more consistency. It is extremely effective in fixing the following: slicing, reverse pivot, sliding hips, coming over the top, topped and flat shots, poor timing, deceleration, posture and balance.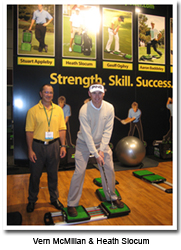 "LeaderBoard programs precise movements into your muscle memory with very powerful results. It's no coincidence that I'm hitting longer and straighter than ever before," said Appleby. For more details, visit www.leaderboardpower.com

Expert Insights. This is an interesting DVD that lets you listen to the thought processes that go into making shots. Two of the best short-game players, Jim Furyk and Fred Funk, go one on one and let you inside their heads to see how and why they make the shots they do. It teaches and gives insight as to why they choose to make certain shots and what the thought process is going into each shot, step by step – from club selection to the intricacies of how and why the shot is made. With this you learn how to assess your own situations, analyze your options, and execute the proper shots – just like the pros do. Interestingly, this DVD was developed by Phil Gordon, a professional poker player and avid golfer, by using his method of learning. The DVD series started with the idea to do a poker DVD that lets you inside the mind of the poker player. For more details, visit www.expertinsight.com.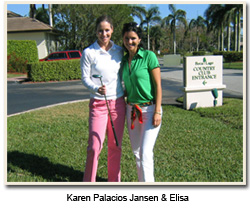 Cardiogolf. Cardiogolf is a workout that helps perfect a golfer's swing while conditioning the body. Cardiogolf is a perfect way to get the physical activity you need for optimum health while improving your golf game. The key to Cardiogolf is in the effective sequencing of specially designed movements that target your golf muscles, helping you to achieve maximum results. With this program you will improve your golf game, reduce your risk of injury and improve overall health.

Designed by Karen Palacios-Jansen, Cardiogolf is for players of all skill levels. It helps advanced players maintain strength and flexibility, helps intermediate players improve swing technique, and beginners to swing correctly. It comes with a training DVD and the Cardio Club, a device weighted like a real golf club so you get the benefit of a real golf workout. It's shorter in length (27 inches) so it can be safely used indoors or outdoors and is convenient to travel with. If the name sounds familiar it is because Palacios-Jansen is an LPGA Teaching Pro, voted one of America's "Top 50 Instructors" by Golf For Women magazine and named by Golfweek as one of the "Top 40 Business Leaders in the Golf Industry Under the Age of 40." She's a former David Leadbetter-trained instructor and Jim McLean Golf School instructor and is regularly on The Golf Channel as a guest instructor. She's also married to Dan Jansen- Olympic speed skater. For more, visit www.cardiogolf.com.
Elisa Gaudet brings a wealth of entertainment and golf experience to Cybergolf. Elisa has spent the past several years in the golf industry in the U.S., Latin America and Spain. She worked for the PGA Tour and the Tour de las Americas before founding Executive Golf International, a golf marketing company that works with clients to develop strategies using golf as the medium. Often referred to as the Maria Bartiromo (a business analyst for CNBC) of golf, Elisa says: "Golf, as a marketing tool, has been around for years. It's amazing how many new ways companies can align their brand with the golf market to reach their target audience. Our goal is to create alliances and establish cross-border relations." Elisa also worked in the entertainment industry for over 10 years, including five in Los Angeles as a model and actress. She can be seen at many celebrity golf events and often gets the inside scoop from PGA Tour players. For more information about Elisa, visit her websites at www.onthelip.com or Executive Golf International www.execgolfintl.com.