2010 in Review: Lots of Good Golf, Great People & Memorable Experiences
By: Steve Habel
Golf is always good, whether it's played pristine conditions, in the cold and rain, on parched land longing for a few days of rain or in heat that keeps most people inside with the air conditioning on high. Even in down years, and there's no doubt that the year 2010 was not a great one personally. But time spent on a golf course can be a salve to the burdens in our lives.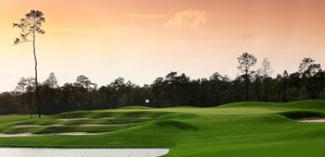 Greens Complex at No. 5 at National GC of Louisiana
I did my best to make that happen, playing 148 different courses and 186 rounds (that's more than one every two days) and stayed in some fine places along the way.

During my extensive travels, I spent 94 nights in hotel and resort rooms, guest condos and private homes and ventured to far-flung locations such as Southern California, northern Michigan, South Padre Island, Texas, New York City and Fajardo, Puerto Rico. To those people I met on the road, I say thanks and much obliged for your patience, your efforts on my behalf and - especially - your fellowship.

Sometimes, like on a trip to Tulsa in the searing heat of the summer, I played 36 holes a day and then got up the next day, and then the next day, and then the next day to do it all over again. Then there was a round in the cold, driving rain in southwestern Michigan. Sometimes, it's just worth it to endure the elements as there are no guarantees of playing a very special course.

Here are a few choice recollections of the year. Some of them might be skewed a bit because I live in Texas, but I will indicate where I think you should know I am tuning into that bias.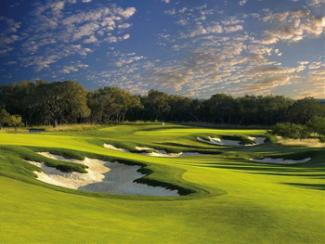 The 11th hole at AT&T Oaks
My Favorite Courses

People often ask me about the favorite courses I've played and my stock answer is that I could never tell you just one favorite course, or even two. In that vein, here are my favorites for the year, in reverse order, with some of the things that made them memorable, following by a few more lists and memories.

No. 5 - Bahia Beach, Rio Grande, Puerto Rico. Played the fabulous new RTJII track twice in a four-day period in March, once on a day when play at the PGA Tour's Puerto Rico Open was cancelled at the nearby Trump International Puerto Rico Tournament course because of rain. While the pros were sitting in the clubhouse, we were off the cart paths at Bahia Beach. The course is a wonderful blend of long holes, risk-reward opportunities and has a final three-hole stretch that is just steps from the Atlantic Ocean.

No. 4 - TPC Scottsdale Champions Course, Scottsdale. The lesser known of the two TPC Scottsdale tracks, this course was completely resigned by Randy Heckenkemper and has emerged as one of the fairest yet challenging courses I have played. The scenery is good and the variety of holes superb. I liked it much better than the more ballyhooed TPC Scottsdale Tournament course.

No. 3 - Lost Dunes CC, Bridgman, Mich. - It's a privilege to tee it up at the wonderful Tom Doak-fashioned private course in southwest Michigan. The subtle routing and Doak's thoughtful design made the round unforgettable. The elevation changes on the track belie the region's rolling terrain, and scoring well on the tough course - as I did, even while leaving upwards of three strokes on the demanding greens - is always rewarding.

No. 2 - Colonial Country Club, Fort Worth - Any round at Colonial is something to cherish because of its tradition and old-school nature. John Breedmus and Perry Maxwell knew what they were doing here, and their and Mr. Hogan's handprints are all over the track that flows through the tall pecans on the banks of the Trinity River. On this round, played as part of Colonial's annual Media Day prior to the Crown Plaza Invitational, my first swing of the day clanged off the flagstick at the 252-yard par-3 fourth and resulted in a kick-in birdie. I also chipped in from between the greenside bunkers at the 433-yard 18th as my team finished second in the tournament.

No. 1 - Southern Hills CC, Tulsa - I played 18 holes at SHCC on a late June afternoon immediately after the club's annual member-member tournament. Despite the 105-degree heat index and the fact that the round was the seventh in four days and second that day, I walked Maxwell's wonderful but stern design with a young caddie and it absolutely wowed me. I capped the round with a drive to the base of the hill on the famous 465-yard 18th, then hit the approach of my life up the hill and out of site to the back of the elevated green. Once on the putting surface, I saw I was some 30 feet behind the cup, which was on the front-left corner. I barely touched my putt and it rolled in for a birdie. That ball is in my trophy case.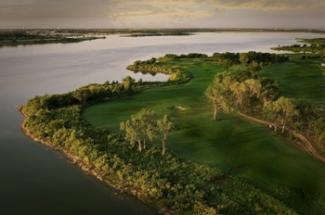 The 14th Hole at Old American
Next 10 Course of 2010 Outside Texas (in no particular order)

Black Mesa GC, La Mesilla, N.M. (Baxter Spann) - Spectacular track that feels like it's part of the mountains upon which it's routed.

Black Forest at Wilderness Valley, Gaylord, Mich. (Tom Doak) - Doak's first masterpiece of minimalist design, each hole is carved through a lush canvas of pine, oak and maple trees. The 10th hole alone is worth the trip.

Caledonia G&FC, Pawleys Island, S.C. (Mike Strantz) - This course is rated one of the best in the Myrtle Beach area lives up to its hype.

TPC Las Vegas, Las Vegas (Bobby Weed and Raymond Floyd) - True desert golf among the red rocks northwest and away from the hubbub of the Strip.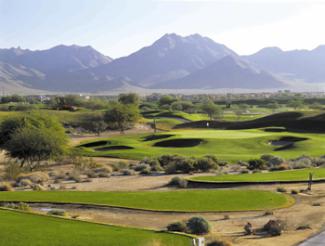 Famous 16th at TPC Scottsdale's Stadium Course
(sans grandstands)
Trump International Puerto Rico (International Course), Rio Grande, P.R. (Tom Kite) - Elevation changes on the Mountain nine are reminiscent of Kite's work in Austin, his hometown, while the Palms nine is lush and fabulous.

We-Ko-Pa (Cholla Course), Fort McDowell, Ariz. (Scott Miller) - Considered the weaker of the two courses at We-Ko-Pa, this track in my view takes second place to none.

Oaks Country Club, Tulsa (A.W. Tillinghast) - Great collection of holes with Tillie's flair and impeccable conditioning - truly a well-kept secret.

Ballyhack GC, Roanoke (Lester George) - Bring your A-game and plenty of balls to this fine risk-reward track with multiple options and punitive results for off-line shots.

Champions Run CC, Omaha (Jeffrey D. Brauer) - One of Brauer's best, and that's saying a lot.

The Gallery CC, Marana, Ariz. (John Fought) - Surprise and challenge at nearly every turn and the longest par-5 (725 yards) I've ever played.
Next 10 in Texas (in no particular order)

Diamondback GC, Abilene (Charles Coody) - A little bit of Augusta - Coody won the Masters in 1971 - in the hub of West Texas.

The Rawls Course, Lubbock (Tom Doak) - Doak sheds his mantra to build a great course out of a cotton field; it's almost perfect.

Briggs Ranch GC, San Antonio (Tom Fazio) - Fazio's bunkers get the most ink here, but the Zoysia fairways and a wonderful routing make this track unforgettable.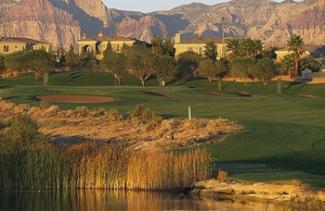 Get a Shot Back on No. 4 at TPC Las Vegas
The Tribute GC, The Colony (Tripp Davis) - A collection of Davis's favorite British Open holes - sans the cold and wind - makes one long for a trip to the Emerald Isles.

Barton Creek Fazio Canyons, Austin (Tom Fazio) - Fazio's magic in the secluded canyons in SW Austin is perhaps the best of four courses at this famed resort.

Riverhill CC, Kerrville (Byron Nelson and Joe Finger) - This playable but demanding course flies under the radar, but may be one of the best in the Lone Star State.

Brackenridge Park GC, San Antonio (A.W. Tillinghast) - Square greens and the need for course management have brought this grande dame of Texas courses back to relevance.

Moody Gardens GC, Galveston (Peter Jacobsen and Jim Hardy) - Wind-swept renovation survived Hurricane Ike thanks to Seashore Paspalum and inspired routing.

The Tradition CC, College Station (Jack and Jackie Nicklaus) - Demanding layout with punitive rough helped produce a national championship for the A&M men in 2009.

University of Texas Golf Club, Austin (Roy Bechtol and Randy Russell) - Every hole is of top quality; no wonder this now-defunct design duo beat out heavy hitters for the design commission.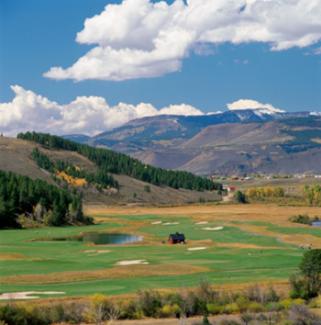 Headwaters Golf Club
New courses played in 2010 (and a quick rating - out of 10)

1. Old American GC, The Colony, Texas (8.5) (Tripp Davis and Justin Leonard) - Old world aspects make this course a must-play.

2. The Patriot GC, Tulsa (8) (Robert Trent Jones II) - Scenic and memorable; not hard but gets your attention hole after hole.

3. Harbor Shores GC, Benton Harbor, Mich. (8) (Jack Nicklaus) - Some holes are just ridiculous (the 7th and 10th come to mind); but the course will test participants in the 2012 and 2014 Senior PGA Championships.

4. TPC San Antonio Canyons Course (7.5) (Pete Dye) - Easier that the Oaks (see below) but a great and scenic venue in its own right.

5. TPC San Antonio Oaks Course (7) (Greg Norman) - This may have been the hardest course I played all year (and that's saying plenty) but there's a lot to like.

6. National Golf Club of Louisiana, Westlake, LA (7) (Dave Bennett) - There are some great holes here; a real surprise just minutes from the casinos along Lake Charles.

Best 10 Places I Stayed in 2010

1. Ritz Carlton Dove Mountain, Marana, Ariz. - How does everyone at the Ritz know your name? Top quality and off-the-charts service.

2. The Waldorf Astoria Boulders Resort, Scottsdale - My casita was built into the mountain among the resort's namesake geology.

3. JW Marriott Las Vegas, Las Vegas - Great spot away from the Strip's glitz.

4. The Venetian Resort and Casino, Las Vegas - You want the neon candlepower and the total Vegas experience? Stay here.

5. Hotel Roanoke, Roanoke - Great hotel in a historic town.

6. JW Marriott San Antonio - As big as Texas and almost as spectacular.

7. Four Seasons Scottsdale, Scottsdale - Another great casita just steps from a gleaming pool that beckons after a round of golf.

8. The Fairmont Scottsdale Princess, Scottsdale - Huge complex abuts the TPC Scottsdale Tournament course; a walk around the property at night will take your breath away.

9. The Battle House, Mobile - Another great hotel with a long pedigree, this one is downtown and just steps from Mobile Bay.

10. Amelia Island Plantation, Amelia Island, Fla. - The grande dame of Southern golf resorts still has what it takes.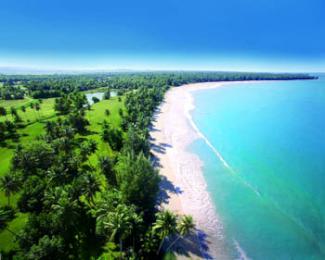 The Coastline at Bahia Beach
Best 2010 Golf Destinations (a combo of golf, accommodations, food and fellowship)

1. Scottsdale - All those courses, great restaurants, wonderful hotels - it's a golfers' paradise.

2. Myrtle Beach - A lot of the same appeal of Scottsdale, but on the beach instead of in the desert and easier on the wallet.

3. San Antonio - New TPC tracks add to the Alamo City's appeal for golfers and tourists.

4. Gulf Shores, Ala. - Surprisingly varied golf courses and wonderful off-the-course playgrounds.

5. Las Vegas - There's a lot more to Vegas than casinos and shows (is that sacrilege?); the golf options are memorable and can be talked about when you get home.

6. Albuquerque - Year-long golf and a bevy of different tracks make this place enchanting.

7. Tulsa - Anchored by Southern Hills CC, there are a dozen great courses within 30 miles.

8. Grand County, Colo. - About an hour and half NW of Denver, you'll find mountain-style golf amid dude ranches and water recreation.

9. Amelia Island, Fla. - Three courses at the Plantation and several more in the area combined with private beaches make this destination one to covet.

10. Gaylord, Mich. - The "little area that could" has more courses than you can play in a week and reasonable accommodations; worth the effort to get here.

As the calendar flips over to 2011 we'll move forward with hope and faith for more golf trips to come. As long as there's time spent on the links, we can be assured more good times are just around the corner.
contributing news stories, features, equipment and book reviews and personality profiles from his base in Central Texas. He is also the managing editor for Texas CEO Magazine and works as a contributing editor for Horns Illustrated magazine, a publication focusing on University of Texas sports. He also writes a blog (www.shotoverthegreen.blogspot.com), which features news on golf and the Longhorns, and another (www.checkinginandplayingthrough.blogspot.com) on his many travels, which took him across the nation and to 105 different golf course in 2009. Habel is a member of the Golf Writers Association of America and the Texas Golf Writers Association.