2010 Ryder Cup Captains to Compete in Celtic Manor Wales Open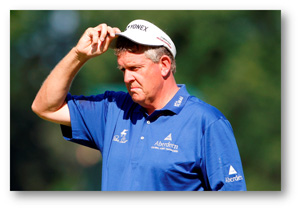 Colin Montgomerie and Corey Pavin, the captains for Europe and the United States in the 2010 Ryder Cup, will compete in the Celtic Manor Wales Open June 4-7 at the Celtic Manor Resort, Newport, South Wales.
Montgomerie, selected as European Captain in January, will be playing in his seventh Celtic Manor Wales Open and competing for the second time on The Twenty Ten Course - the first course in history built specifically to host the Ryder Cup - where last year he opened with rounds of 69 and 68.
For Pavin, who took over the reins from Paul Azinger last December, it will be his first visit to the Celtic Manor Resort and first look at a course where his charges will tackle Montgomerie's European Team from October 1-3, 2010. Not surprisingly, the 49-year-old Californian admitted he was looking forward to the prospect.
"When I was appointed United States Ryder Cup Captain I spoke of what a great thrill it was for me to have this wonderful honor," Pavin said. "The Ryder Cup is the most dynamic and intense experience a competitive golfer will ever have and, for me personally, the dream will begin to become reality with my trip to Wales in June. I have heard a lot of great things about the Twenty Ten Course and I cannot wait to see how it is set up for the Celtic Manor Wales Open as well as imagining how it may be set up for The Ryder Cup itself in 18 months time.
"I started my professional golf career in Europe and have extremely fond memories of those days and the wonderful people that I encountered along the way. I look forward to bringing my wife, Lisa, to Wales and connecting with the people. As Captain of the U.S. Team, I am determined to lead our team with passion and determination, but in the spirit of great sportsmanship and camaraderie. In these tough global economic times, particularly, we need to keep this wonderful event in perspective. Don't be surprised to find us hanging out in pubs the week of the Wales Open enjoying friendly banter about the possibilities of 2010.
"Colin and I have met each other on three occasions in the Ryder Cup and it will be great to see him again. We are both passionate guys with a genuine love for the game and it will be fantastic to play in the same tournament together on the same course where we will both have the honor of being captains in what I believe is the greatest event in golf."
Montgomerie said he was looking forward to teeing it up in the Celtic Manor Wales Open and welcomed the news that his opposite number would be alongside him in the field. "It is tremendous news that Corey is playing and myself and [his wife] Gaynor look forward very much to welcoming him and Lisa to Wales. Throughout his career, Corey has shown himself as a great competitor and I am sure, like me, he will be striving to win the Celtic Manor Wales Open as well as looking ahead to his own plans for next year's Ryder Cup.
"I always enjoy playing in the Celtic Manor Wales Open. It has additional significance as we are playing on the course where next year's Ryder Cup will unfold. It is set up to challenge the best and, being a course with a whole host of tempting options and punishing hazards, there will be much for Corey and I to examine."
Montgomerie will bring one of the most impressive playing records of any European golfer to the tournament. Aside from his record eight Harry Vardon trophies as the tour's top player, the Scot has 31 European Tour International Schedule titles to his credit, the most recorded by any British golfer in history.
However, it is in the Ryder Cup that the 45-year-old has excelled. Montgomerie has played in eight matches and is not only unbeaten in each of his eight singles' encounters, he holed the winning putt for Europe on two occasions: at Club de Golf Valderrama in 1997 and at Oakland Hills Country Club in 2004.

Pavin's visit will represent the 1995 U.S. Open Champion's first appearance in a European Tour event outside a major championship since he finished tied for seventh in the Scandinavian Masters at Arlandastad Golf in Stockholm in August 2007.

On the PGA Tour, Pavin has won 15 times. Outside the U.S., he won the 1993 World Match Play Championship at Wentworth Club in England - where he beat Nick Faldo on the final green of an enthralling final, and the 1983 German Open at the Golf und Landclub in Cologne, beating Seve Ballesteros and Tony Johnstone. Pavin has also won in Japan, Korea, New Zealand and South Africa.

But, somewhat like his opposite number at the Celtic Manor Resort in 2010, the Ryder Cup has been a defining part in Pavin's career. He competed in the 1991, '93 and '95 American teams, posting eight wins in 13 matches. He was also assistant captain to Tom Lehman at The K Club in 2006.

Pavin is the 26th United States Captain and will lead an American Team which, at Valhalla Golf Club in Kentucky last September, won the Ryder Cup for the first time since 1999. He will attempt to become the first U.S. captain since Tom Watson at The Belfry in 1993 to lead a team to victory on European soil.

"I played my first Ryder Cup at Kiawah Island in 1991 and things like listening to the national anthem and feeling the pressure as a player cemented my love for the event in my blood forever," he said. "I knew then I wanted to play in as many Ryder Cups as possible and dreamt about being Captain. Now that dream has come true."

Dylan Matthews, Chief Executive of the Celtic Manor Resort, welcomed the news that both Ryder Cup captains will play. "We extended a sponsor's invitation to Corey Pavin as soon as he was appointed the United States Ryder Cup team captain and we are delighted that he has agreed to play, as we are with Colin Montgomerie, who has always been a popular attraction at The Celtic Manor Wales Open and we are delighted to welcome him back," he said.

"Knowing Colin as I do, I am sure he will be keen to give the leading contenders for places in his Team a good run for their money as they contest the Celtic Manor Wales Open on the course where they will aim to win back the Ryder Cup in 2010. As for Corey, I am sure he is going to be a fantastic Team Captain but he also remains a seriously good golfer and I'm looking forward to seeing him play at The Celtic Manor Wales Open. I am also looking forward to showing him the high level of Welsh hospitality that he and his Team can expect at Celtic Manor in 2010."

The Twenty Ten Course hosted its first Celtic Manor Wales Open last year when Australian Scott Strange posted four rounds in the 60s, giving the 32-year-old from Perth a four-shot winning margin of 22-under-par 262.

The tournament was put on the European Tour international schedule in 2000, when Denmark's Steen Tinning triumphed on the old Wentwood Hills course. Other winners on that course included Ireland's Paul McGinley (2001), Scotland's Paul Lawrie (2002) and Englishmen Ian Poulter (2003) and Simon Khan (2004).

From 2005 to 2007, the Celtic Manor Wales Open was contested on the Newport venue's Roman Road course, with the winners including Spain's Miguel Angel Jiménez (2005), Sweden's Robert Karlsson (2006) and Richard Sterne of South Africa (2007).

For further information or to buy tickets, call the Celtic Manor Resort Special Events Team at 01633 410318 or visit www.walesopen.com.