2012 Holiday Gift Guide
By: Joel Zuckerman
Only a handful of shopping days left before Christmas? Well, that's the downside of whiling away your time on the golf course when you should be out trampling folks at the mall or outlet stores, like everybody else.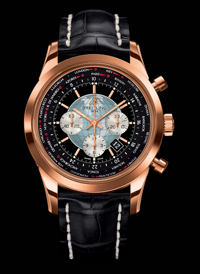 Transocean Chronograph Unitime
with Black Leather Strap
But not to worry. If you missed Black Friday, are having a Blue Monday, and generally put off your holiday shopping until Ash Wednesday, this vagabond golfer has carefully examined the latest golf goods and hand-selected a laundry list of products that any links lover would be thrilled to find under the tree.

Breitling Watches

Generations of golfers have been using small segments of lead tape to subtly alter the swing weight and feel of their golf clubs. Breitling watches - heavy, substantial and macho as they are - can single-handedly throw off a swing more than an entire roll of lead tape. So while they aren't necessarily recommended to wear on the course itself, they are perfect for pre-round and post-round activities as well as the grill room, board room and anywhere else one cares to make a statement about elegance, luxury and precision. www.breitling.com

GoBe Men's Golf Shoes
GoBe Golf Shoes

These stylish entries into the crowded footwear market continue the nascent trend of minimalist spikes (fine, call them "nubbies") that nonetheless provide great traction and stability. They are comfortable, stylish in a "Euro-Mod" way, and have a water-resistant element. They are so much like a casual sport shoe the wearer can go from the course to the supermarket or dry cleaner without a change of footwear. www.gobegolf.com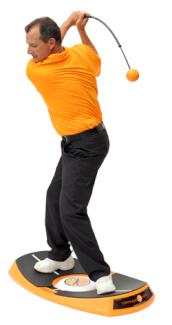 Orange Whip Trainer
Orange Whip Trainer

This is a simple-but-effective training device that looks like an orange on the end of a pool cue. But the secret is the orange is weighted, and the pool cue is flexible. By rhythmically swinging this device for as little as five minutes a day (and following the recommended three main methods to do so) a golfer can't help but build strength, flexibility, freedom of movement and, most importantly, timing, to improve their ball-striking ability. Use it regularly all winter long, and without actually hitting a golf ball you'll be amazed at the improvements come spring. www.orangewhiptrainer.com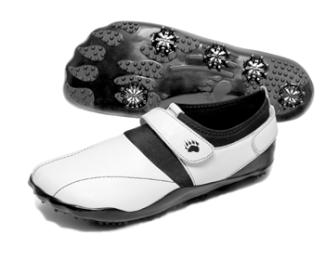 Barefoot BERBS
Barefoot B.E.R.B.S.

These are odd-looking golf shoes but as light and as comfortable as a pair of slippers. Minimalist, low-to-the-ground golf shoes with very thin soles have become all the rage in the last few years. However, Barefoot B.E.R.B.S. is the only entry in the marketplace with actual soft spikes on the shoe bottom. They take a bit of getting used to because the thin sole teetering on top of the soft spikes makes the shoes fell a bit unstable as one addresses the golf ball. But these featherweights are definitely easy to walk in and will start more than a few conversations in the clubhouse. www.Barefootberbs.com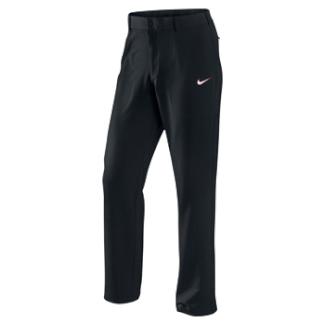 Tiger Woods Ultra-Light Pants
Tiger Woods Hyperlite Golf Pants

He may not be the same dominating golfer he was a few years ago (though he's still No. 3 in the world with three PGA Tour wins in 2012 alone), but there are few who dress better than Tiger. Part of his appeal: these fine and functional Nike golf pants he sports every round are light, breathable and flexible, yet sharp-looking. You can wear them straight from the course to a cocktail soiree and won't seem a bit out of place. www.nikegolf.com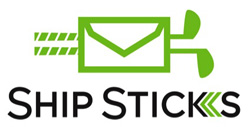 ShipSticks
Ship Sticks Luggage Service

Lots of traveling golfers get an early start to the airport, having scheduled a round that very day at some distant point. But why hope your clubs make the connecting flight or be forced to leave for the airport half an hour earlier than necessary to check your bag and then go down and park your car? Give the golfer you love a gift certificate for this ultra-reliable shipping service, and the peace of mind knowing their bag is waiting at its destination. It's not very expensive and is an extremely easy-to-use pickup and tracking system. Try it one time and you'll undoubtedly use Ship Sticks regularly. www.shipsticks.com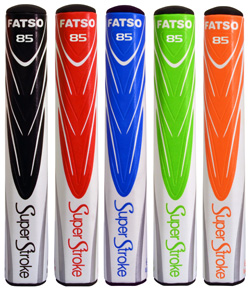 SuperStroke Grip
SuperStroke Putter Grip

This fat putter grip could lead to a fattened bank account. PGA Tour players have won $34 million using the "Fatso" and other grips in this unique lineup. SuperStroke is a revolutionary putting technology that helps keep your hands relaxed while putting. The large surface area of SuperStroke brings more of the grip into contact with the hands, inhibiting breakdown of the wrists. Scientific tests have shown that the SuperStroke requires up to 32 percent less grip tension and represents a significant improvement over conventional putter grips. www.superstrokeusa.com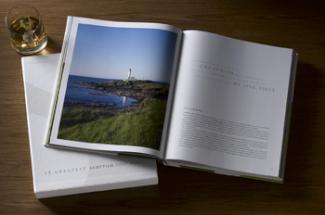 18 Greatest Golf Book
Phat Buddha Yoga Shorts

Good golf requires good flexibility. Good flexibility requires a good yoga practice. A good yoga practice requires good yoga clothing. And good yoga clothing can be found at Phat Buddha, particularly their signature, sweat-wicking, snug-yet-pliable yoga shorts. Too self-conscious to wear snug-fitting yoga shorts? Well, do more yoga, and get in better shape! www.phatbuddhawear.com

18 Greatest Golf

Golf books are a dime a dozen. I would know, having written half-a-dozen myself. However, these sumptuous coffee table tomes (one on the finest 18 individual holes in Scotland, the other doing similar justice to Ireland) bring the genre to a new level of luxury. Printed and hand-finished at arguably the world's finest print house, Editoriale Bortolazzi Stei in Verona, Italy, the high-definition and high-density treatment of the photographs and illustrations in the "18 Greatest Golf Collection" is truly mesmerizing. The quality of these special collector's items prompted PGA Tour star Matt Kuchar to claim they are "the most beautiful golf books I have ever seen." www.18GreatestGolf.com
Joel Zuckerman, called "One of the Southeast's most respected and sought-after golf writers" by Golfer's Guide Magazine, is an award-winning travel writer based in Savannah, Ga. His six books to date include "Pete Dye - Golf Courses," which was honored as "Book of the Year" by the International Network of Golf. His seventh book, entitled "Pro's Pros - Extraordinary Club Professionals Making Golf Great!," is scheduled for release in early 2013. Joel's course reviews, player profiles, essays and features have appeared in 110 publications, including Sports Illustrated, Golf, Continental Magazine and Delta's Sky Magazine. He has played more than 800 courses in 40-plus states and a dozen countries. For more about Joel, visit visit www.vagabondgolfer.com.