60th Anniversary of Pat Fletcher's Canadian Open Victory Coming in July
The 2014 RBC Canadian Open will mark the 60th anniversary of Pat Fletcher's win at the Canadian Open. Fletcher remains the last Canadian to win his country's national golf championship.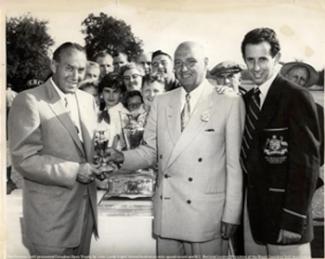 Left-to-right; Pat Fletcher, RCGA President R.C.
Borland, and John Landry,
Australian Long Distance Runner
Fletcher, who grew up in Victoria, B.C., and was a longtime professional at Saskatoon Golf and Country Club and Royal Montreal Golf Club, won the Canadian Open on July 17, 1954, at Vancouver's Point Grey Golf & Country Club.

Fletcher's victory will be celebrated at the 110th playing of the RBC Canadian Open, which returns to Royal Montreal July 24-27.

Born in 1916 in Clacton-on-Sea, England, Fletcher began caddying at age 10 at Victoria Golf Club, following his family's move to Canada, to earn money during the Great Depression. He was encouraged to learn the game by club pro Phil Taylor, who often lent young Fletcher his clubs. That initial tutelage resulted in a long and fruitful association with golf over the next 50 years.

Fletcher's first professional event came in 1935 at the Alberta Open. His competitive career was highlighted by victories in the 1952 CPGA Championship; the Saskatchewan Open in 1947, '48 and '51; the Alberta Open in '46; and Quebec Spring Open in 1956 and '57. Fletcher also represented Canada in four World Cup matches.
Two years after his Canadian Open triumph at age 40, Fletcher was named the golf director at Royal Montreal Golf Club, a career move that marked the end of his competitive career. It was also the beginning of a 20-year stint as one of the most respected golf instructors in Canada, mentoring both amateurs and professionals.

Among his many achievements, Fletcher was the first president of the Quebec branch of the CPGA to come from within the club professional ranks. He was also vice-president of the PGA of America and a three-term president of the CPGA from 1962 through 1965.

Fletcher is the only Canadian athlete inducted into eight sport halls of fame: the Saskatchewan Sports Hall of Fame (1974), Canada's Sports Hall of Fame (1975), RCGA's Canadian Hall of Fame (1976), Quebec Golf Association's Hall of Fame (1998), the Greater Victoria Sports Hall of Fame (1999), the Saskatoon Sport Hall of Fame (2007), Saskatchewan Golf Hall of Fame (2010) and the CPGA of Canada Hall of Fame (2014).
As a tribute to his accomplishments, the Pat Fletcher Golf Scholarship Foundation was established in 1985, providing educational scholarships at the post-secondary level to Canadians who show ability as golfers.

Mr. Fletcher died on July 21, 1985, at the age of 69.