75th Anniversary of Pocono Mountains Bureau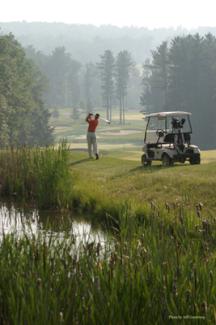 Woodloch Springs Golf Club
Few destinations across the United States can match the long and storied tradition of Northeastern Pennsylvania's Pocono Mountains - home to legendary course designers, family legacies and PGA Tour milestones.
Celebrating the 75th anniversary of the Pocono Mountains Visitors Bureau, below is a top-10 list of milestones exclusive to the Pocono Mountains.
1912 -Architect Donald Ross unveils his East Course at Pocono Manor Golf Resort & Spa. Ross - part of the Golden Era of golf which flourished in the four-county region - later designed another Pocono Mountains stalwart - Buck Hill Golf Club.
1928 - Walter Hagen takes an 11 on the par-3 12th at Wolf Hollow (now No. 4 at Water Gap Country Club) during the Eastern Open, the hole is forever known as "Hagen's Folly."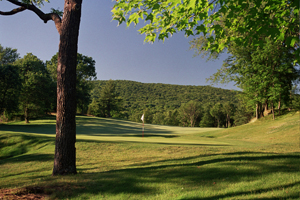 Great Bear Golf Club
1938 - Shawnee Inn & Golf Resort - the first-ever design by A.W. Tillinghast - hosts the PGA Championship where Paul Runyan upset the great Sam Snead. The course would later host the 1967 NCAA Championships, won by Hale Irwin.
1947 - Robert Trent Jones Sr., designer of classic layouts like Spyglass Hill and Hazeltine National (site of this year's PGA Championship), unveils Tamiment Golf Club.
1952 - Arnold Palmer meets his future wife, Winnie, at Shawnee-on-the-Delaware, beginning one of golf's great romances and cementing the Pocono Mountains reputation as the "Honeymoon Capital of the World." The Palmers' affectionate relationship was well-documented as they were married for 45 years until Winnie's passing.
1959 - While representing Pocono Manor, Art Wall Jr. won the Masters and was named PGA Player of the Year; his son Greg is currently the course's head professional.
1974 - NASCAR hosts its first race at the Pocono Raceway, introducing hundreds of thousands of fans to great golf in the four-county destination. The auto association continues to host two events annually.

1984 - Pocono Mountains Hospitality Scholarship Golf Tournament created to benefit local students who have been accepted into tourism and hospitality degree programs.

1997 -Jack Nicklaus unveils his Signature Design at the Great Bear Golf & Country Club.

2006 - Jack Frost National debuts, giving the region more than 30 facilities. Three seasons later, Mount Airy reopens after refurbishments to the hotel including a Vegas-style casino. Gaming has arrived at the Poconos Mountains, a new chapter in the destination's history.
A complete list of Pocono Mountains golf courses and links to individual Web sites can be found at www.poconosgolf.com. The four-season destination also provides a place for corporate outings and meetings. For more information about golf and other activities in the Pocono Mountains, call 800/762-6667 or visit www.800poconos.com.