96-Year-Old Golfer Still Beats the Guys & His Age
August "Augie" Hess has been playing golf for nearly 50 years. But at age 96, he doesn't break 90 as often as he used to.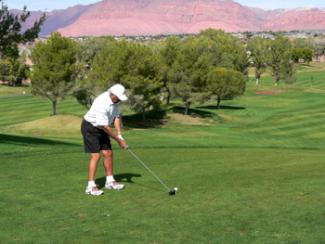 Augie Hess at Bishop CC
Still, he plays well enough to sometimes win his twice-a-week game with his friends at Bishop Country Club in Bishop, Calif. He's already posted an 82 and a couple of 83s this season. He's never taken a golf lesson and never practices his putting, yet he is a solid 18-handicapper on the 6,200-yard, par-71 course that he joined in 1964.

Hess has been shooting equal to or better than his age since he was 77 and is likely the best golfer his age in the world. Since 2008, Hess has shot his age or better in 182 of his 203 rounds, including 34 of his 35 rounds since his most recent birthday in October.

For comparison, 17-time PGA Tour winner Harold "Jug" McSpaden is the oldest golfer to better his age in a Champions Tour professional event. He shot 81 at the age of 85 in 1994.

Among amateurs, Hess is taking aim at Arthur Thompson of Victoria, B.C., who, according to the Golf Digest "Record Book," is the oldest golfer to shoot his age, with a score of 103 in 1972.
Hess shot 90 to win his age bracket at the 2007 Huntsman World Senior Games in a cakewalk, so much so that he didn't bother to enter it again the next year. There was more competition in Bishop with the guys half his age.

"When I hit my 90s, my drives started getting a bit shorter," says Hess, who hits his low draw down the fairway about 210 yards on average. "I used to be able to break 80, but now my aim is to keep it under 90," says Hess, who has a low score of 71 and two holes-in-one.

Still a solid 6-feet and 200 pounds, Hess is a living treasure to those around him. The club has a tournament in his honor each October to celebrate his birthday, the "Augie Hess Invitational." And he has won his event a number of times.

"I'm very grateful that he's my dad," says Heidi Hess-Griffin, 56, Hess's youngest daughter. "He's just so amazing, even to us. He has worked hard his whole life. He's always been very athletic, but he is kind, humble and very honest. He gave us a great upbringing with a lot of laughter and not much that was negative."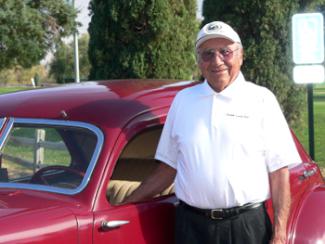 Augie Hess & his 1937 Cord
When he first joined the club, Hess would make the 60-mile drive south from Lee Vining in his 1937 Cord. Now he lives three miles from the golf course, but he still occasionally drives the same 1937 maroon Cord with the "A HESS" license plate.

Hess was born in 1914, the son of Native American and Swiss parents. He is proud of his bloodlines as a Paiute Indian, but his upbringing was more in keeping with his American surroundings. He was born in the Seattle area, but graduated from Bishop High School.

"I started in the horse-and-buggy era," says Hess, who was born as the Ford Model-T car was just hitting the streets. Woodrow Wilson was President, Ty Cobb ruled the baseball world and Joe DiMaggio was born. The sinking of the Titanic was still on people's minds and the country wouldn't get involved in the World War I for another three years.

He had a gift for athletics, including skiing, but he was a particularly good pitcher and baseball was his favorite sport. After high school, he attended Pasadena (Calif.) Junior college and later was offered a tryout in the Pacific Coast League.

"There were 123 players competing for three spots," Hess recalls, his memory as good as ever. "I was pulled aside and told I could expect a call."
He waited, but the call never came. And soon Hess found himself doing four years of army duty during World War II, starting in 1941. He was the crew chief and lead technician for P-39 and Thunderbolt P-47fighter planes.

"My job was to make sure the planes were in good shape to fly. And none of my planes ever had a problem," Hess says proudly.

His dream of playing professional baseball was gone, so when he came home in 1945 he used what he had learned in the service to start his career. He opened a gas station, and later added a second station. He sold gas, he remembers, for 18 cents a gallon. He loved cars, and he could fix them too. Then, he was introduced to the game of golf in a most unusual fashion.

"One day this fellow comes in to the station with no money, but asked if I would take his new set of McGregor irons for a full tank of gas. I said, 'Okay,' but I didn't know what I was going to do with the irons. I had never played golf.

"I found a sheep field next to Mono Lake and I started hitting balls. My neighbor gave me 100 used golf balls and I bought a shag bag. I'd mark off the field for the different distances and I'd hit 75 balls. Then, I'd go pick them up and start all over again. I would do that every chance I'd get and I was getting pretty good. When you see the ball flying through the air: Wow! It's a great sight."
A widower, Hess still lives on his own and drives around town to do his shopping and get to the golf course. He has been blessed with good health. He has only been in a hospital once since birth, and that was two years ago when he had a serious operation to fix an abdominal aneurysm.

"The doctors weren't so sure they wanted to do the surgery because of his advanced age, but he wanted the surgery and he bounced right back," says Vineca, 61, his oldest daughter. "Now he looks and acts like he's in his early 80s again."

He was "only 90" when he joined an Indian group that hiked the steep grades of the old trading route from Mono Lake to Yosemite Valley over five days. Hess did the 50-mile "Native American Traditional Walk" that climbs more than 8,000 feet carrying a backpack the whole way.

But, as a sign of old age, he was told last year at age 95 that his blood pressure and cholesterol levels were a bit high. "Now I have to take an aspirin a day," says Hess begrudgingly.

Meanwhile, Hess sticks to his own special recipe for long life.

"I have a mush (oatmeal) for breakfast, a sandwich or some soup for lunch and have a couple of drinks from time to time," he says. "I just keep going every day, but I'm losing distance on my drives with age."
In his younger days, Hess was also a horse-riding cowboy who helped lead cattle drives through the mountains. And when he first learned to drive a car, at age nine, there were only winding mountain passes.

Hess used those mountain passes to Las Vegas again in the 1990s when he traveled there and won his golf flight at the 1997 Showboat Invitational. He came back the following year and took second.

He has played golf in Alaska, Hawaii, Washington and Florida. But these days he stays close to home. He has two daughters and a stepdaughter in the area, who check on him. He also has a stepson and several grandchildren, one of whom is an assistant golf professional in southern California.

"I've done most everything I wanted to do," says Hess in a soft voice. "I just look forward to getting the chance to play golf each week. I hope I can play golf for at least a couple more years. You know, now that I'm 96, it's a lot easier to shoot my age."

The above story is courtesy of Craig Smith of Double Eagle Events.