A Bit of Tuscany in the Rolling Hills of Western Virginia
By: John Torsiello
Ever play golf in Italy? Well, neither have I. But I've played at the Keswick Club in Charlottesville, Va., and when I did I had the impression that I was in Tuscany rather than the rolling horse country of western Virginia.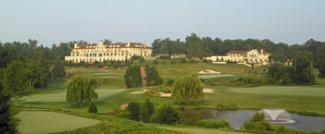 View Across the Grounds at Keswick Hall
The golf course at Keswick Hall is routed not around but rather somewhat below a stunning hotel that contains sumptuous rooms, multiple dining venues and a common area, the latter a place where a proper afternoon tea is served. As my group was playing its way back to the hotel on a warm summer afternoon and approaching the 18th green, the hotel seemingly glowed with a golden hue, its Italianate architectural style very Old World and very pretty.

The golf course at Keswick Hall is a solid and aesthetically tasty test, and playing ability only enhances the temptation to hang around the former private estate for a few days more. I mean, how can one not be blown away by cart paths made with red paving bricks? And there aren't many golf destinations where you can watch the running of the hounds, another Old World tradition that has managed to retain a strong foothold in the countryside of sweet home Virginia. You can also play tennis, swim, bike, hike and myriad other things at Keswick Hall.

The resort was originally a private home called "Villa Crawford," with fireplaces, ornate ceiling moldings and a grand staircase. It was built as a private residence in 1912 for Mr. and Mrs. Robert B. Crawford. Robert Crawford, born in Alabama, had been a medical student at the University of Virginia, and his wife came from Providence, R.I., where her father was Commodore of the Newport Yacht Club. Designed by prominent local architect Eugene Bradbury, the 8,000-square-foot, two-story, stucco-clad villa originally cost $100,000 to build.
After a number of owners and falling into a state of "senile ruin" with "touches of elegance" remaining, Villa Crawford was purchased in 1990 by Sir Bernard Ashley, the widower of Laura Ashley, the famous fashion and interior designer who died in 1985. The new owner saw the potential for a world-class hotel after purchasing the home and 600-acre property for $5.5 million. He had the goal of turning it into a "country house" hotel, and felt strongly that Villa Crawford would be the heart of a truly outstanding property.

Sir Ashley - who was knighted a year after his wife's death - spent $25-plus million on expanding the number of guest rooms to 48, and had each one individually furnished and decorated. Laura Ashley's signature style was incorporated into the public spaces as well, and her husband placed many items from his personal collection of antiques - including paintings, sideboards, cabinets, sculptures, busts and lithographs - around the hotel. Capital improvements continue to this day.

Keswick Hall has a charming, significant history and considerable appeal, but you may not want to stray far from the golf course, which itself is a refreshing journey back in time. As the owners and managers of the property and club like to say, "Character counts and we have plenty of it." The course plays just 6,500 yards from the tips but no fewer than 14 holes involve an uphill approach. The small, undulating greens place approach-shot distance control at a premium. Downhill putts should be avoided at all costs as the greens are kept on the, hmm, shall we say quick side?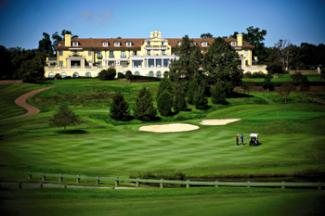 Former Villa Crawford Now the
Backdrop for Golf at Keswick Hall
Keswick Club is the perfect blend of "classical" and "modern" golf course architecture. It's in a setting of natural beauty, featuring tall ancient oaks, grassy wetlands and mountain views, as well as lakes and streams. Fred Findlay, a Scottish immigrant and renowned designer of several courses in central Virginia, crafted Keswick's original course in 1948. The Arnold Palmer Golf Course Design Company was commissioned to redesign the golf course; it and a new clubhouse reopened in 1992.

"The King" said the course had "good bones" and therefore he and his firm were able to keep the majority of the original design. Palmer's touches included additional bunkers, re-contouring the fairways and adding new tee complexes. The course maintains 25 acres of buffer zones in which no fertilizers or pesticides are used around its perimeter or the natural streams running through.

Following a welcoming party that, well, let's just say was deeply enjoyed by all concerned, we headed out on a dew-draped morning to test out the golfing grounds at Keswick Club, located only a short drive from funky downtown Charlottesville, home of the University of Virginia. The first hole is a nice way to start a round. It's a 509-yard par-5 that starts at an elevated tee. I played my tee shot to the right portion of the fairway to take advantage of the right-to-left slope. The second shot needed to be as close to a creek on the left side as possible to shorten the approach to a green that slopes left to right.
Number 4, a 386-yard par-4, is a real cool hole that has a fairway split by a big willow tree. The safe play off the tee is left of the tree. A drive played towards the left-to-right sloping fairway will give the ball a nice forward kick. We were instructed to hit the approach shot to the left part of the green because shots missing right leave a difficult pitch.

The fairway on the 468-yard par-4 ninth slopes big time from right to left, so I was sure to aim further right than what my eyes initially told me. The approach may look downhill, but it's not. Left of this green is not a good position. If you are not certain you can reach the green in two, then hit short of the green and try to bang a wedge close to make par.

I loved the 10th, a short, 309-yard par-4 that defines the term "risk/reward." You can hit driver off the raised tee to get close to the green, but it's a big chance because there's a wetlands area and stream that sits about 25 yards in front of the putting surface. The safer play, which I took, is to lay up short of the creek and hit a short approach in. My buddy laid up and then chunked a pitching wedge into the creek, causing some very foul language and a forced replay of the hole after he deemed his snowman "unacceptable." Goes to show you what a mess one can make of a seemingly easy hole if you don't pay attention to every shot.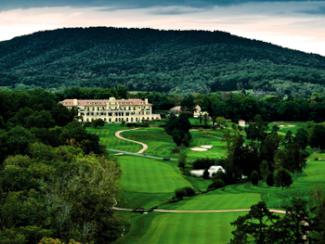 Aerial View of Keswick Hall
The 566-yard par-5 11th has one of the tougher greens on the course and features a difficult right-to-left tilt, and the 348-yard 15th is a real toughie as a tall cedar tree guards the right portion of the green, making a shot hit from the right side of this fairway to a back-right pin location quite difficult. There's a creek just off the right side of the green so aim a little left.

The drive on the penultimate hole, a 399-yard par-4, must be played down the left side to make the route shorter and more accessible. There is a lot of elevation change coming into the green so pick at least an extra club. Approaches that miss the green to the right are in danger of being out-of-bounds.

The aforementioned par-4 18th is a super finisher. It's 404 yards from the tips and the second shot after a less than big drive may have to played with a long-iron or fairway wood, the predicament I found myself in. I pulled out a 4-wood and hit it perfectly (it had to be to carry a deep gully in front of the putting surface) and was rewarded with a 25-foot birdie putt, which I missed. But par on this hole still felt good.

After golf, it was off to the Palmer Room Restaurant for some frosties, a bit of dinner and a stroll through the grounds for one last look at the majestic hotel before the sun went down. All in all, a nice day in the Virginia hills. Or, was it in Tuscany?
For more information, visit www.keswick.com.
John Torsiello is an editor/writer living in Connecticut. He has written extensively about all aspects of the golf industry for a number of national and regional publications. He is a regular contributor to "Golf Course Industry," "Lawn and Landscape," "Golfing" and "Fairway Living" magazines as well as various online publications. He has strong, ongoing relationships with industry professionals and has worked closely with course owners, architects, developers, course superintendents and general managers around the country. He has won a number of awards for his writing, including first place from the Turf and Ornamental Communicators Association for a piece that appeared in "Golf Course Industry" magazine.