A Chat with 'Mr. 59'
By: Joel Zuckerman
At the outset of his career, professional golfer Al Geiberger used to be jumpy, nervous on the course. He didn't play his best when under the gun. He came to realize that he needed to be eating mid-round, to keep his energy up. He was little-known at the time, and normally unencumbered by galleries, so he'd stop at the snack bar himself or send his caddie to get him a candy bar or a piece of fruit.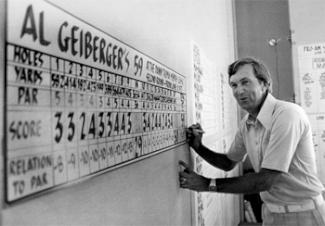 Geiberg Signs An Oversized Replica
of his Magical Scorecard
But when he knew he was going to be paired with Arnold Palmer at the 1965 PGA Championship, especially because the tournament was at Laurel Valley, practically in Arnie's Pennsylvania backyard, Geiberger realized the throngs that would be following their group would make a mid-round snack-bar run a virtual impossibility. So the man who would soon be known as "Skippy" had to improvise.

"My wife was making our young daughter a peanut butter-and-jelly sandwich," recalls "Mr. 59," the first player to ever record a sub-60 round in a PGA Tour event. "I asked her to make me one, too. I put it in my golf bag."

Geiberger's secret was to insulate the jelly by smearing peanut butter on both sides of the bread, so the jelly wouldn't saturate through and make it soggy. He played decently at the PGA, and then won at fearsome Firestone the very next week in the American Golf Classic. The following year, the PGA Championship was contested at Firestone, and Al won his only major. Ironically, he shot 280 in both Firestone victories, and won each title by four strokes. But the media didn't pick up on that odd fact; they were too enamored with his mid-round snack.
"I don't know why the press was so intrigued with my sandwich habit," shrugs the 10-time Tour winner, who also won 10 more times on the Champions Tour. "I guess they didn't have that much to write about. This was decades prior to the steroid era, sports were more innocent then, so they jumped on any quirky or unusual story they could," adds Geiberger, now 76.

The media attention wasn't all bad. It snagged him a contract with Skippy Peanut Butter that lasted over 30 years.

His legacy was forever cemented 36 years ago this past June, when he carded the first-ever 59 in an official PGA Tour event - during the second round of the Danny Thomas Memphis Classic. Eleven birdies and an eagle at Colonial Country Club in Cordova, Tenn., paved the way for Geiberger to go where no man had gone before. He birdied three of the final four - including the last hole, to set a record that endures to this very day.
Another hard-to-fathom factoid: His winning score of 273 didn't feature a single round in the 60s. "Remember that a score of 280 would be four rounds of 70," explains Geiberger, who now makes his home in greater Palm Springs, Calif. "You have to figure that shooting a total of seven strokes below an average of 70 strokes per round would feature several rounds in the 60s. But in addition to my 59, I shot 72, 72 and 70."

Geiberger has six children, including two-time PGA Tour winner Brent, and John, who spent 16 years as the Pepperdine University golf coach, leading his team to the NCAA Championship in 1997.

Asked about the legacy of the 59, Geiberger recalls the sage words of Byron Nelson. "Mr. Nelson told me that his 11-in-a-row winning streak became a bigger deal some years later. Not that much was made of it at the time. Same with my 59. As time went by, it seemed to grow in reputation, particularly when trivia games became popular. They talked about it on two different episodes of the TV show 'Cheers,' which was pretty cool."
For many years Al played host to the Mr. 59 Invitational, a fundraiser near his home in the desert. Some years ago in honor of the coming 30th anniversary of his momentous scoring feat, some friends wanted to fete him with a dinner gala. "Skippy" was a bit reluctant, worrying that some hotshot tour pro might eclipse his record in the interim, getting around in 58 blows or less. His colleagues told him it didn't matter. "They equated it to Roger Bannister and the four-minute mile. They made me realize that most people only remember the person that breaks the barrier first."

That makes sense. Most sports fans know of Bannister's accomplishment, but only dedicated track and field fans have a clue as to who the current mile record holder might be.

Geiberger's 59 has been equaled five subsequent times, but never bettered in an official PGA Tour event. Chip Beck in '91, David Duval in '99, Paul Goydos and Stuart Appleby, both in 2010, and Jim Furyk just this past autumn all carded the magical number. Only two of these five actually won the event featuring their 50s' fireworks - Duval and Appleby hoisted the trophy at tournament's end, while Beck, Goydos and Furyk settled for third, second and third place, respectively.
With respect to par, Geiberger, Beck and Duval's 59s were 13-under scores, while Goydos and Furyk were 12-under and Appleby was 11-under on his round. There have been some 58s over time, including those shot by Shigeki Maruyama, Ryo Ishikawa and Jason Bohn. These occurred in a U.S. Open qualifying round, on the Japanese Tour and the Canadian Tour, respectively. But nobody has done better than 59 in a PGA Tour event since Geiberger first turned the trick in the summer of '77.

Speaking of iconic record-holders, Geiberger remembers a bonding lunch he once had with long-jump champion Bob Beamon. "We seemed to have a lot in common, given our unique place in the record books. I don't know if I was a bad-luck charm, but his long-time record was broken just a month or so later."

But no one has yet surpassed "Mr. 59."
Joel Zuckerman, called "One of the Southeast's most respected and sought-after golf writers" by Golfer's Guide Magazine, is an award-winning travel writer based in Savannah, Ga. His seventh and latest book, entitled "Pro's Pros - Extraordinary Club Professionals Making Golf Great!" was released in June 2013. This is the first-ever golf book to shine the spotlight on the beating heart of golf - the unsung, yet hard-working club professional. Joel's course reviews, player profiles, essays and features have appeared in 110 publications, including Sports Illustrated, Golf, Continental Magazine and Delta's Sky Magazine. He has played more than 800 courses in 40-plus states and a dozen countries. For more about Joel, or to order this unique new book, visit www.vagabondgolfer.com.