A Date with the Golden Bear
By: Joel Zuckerman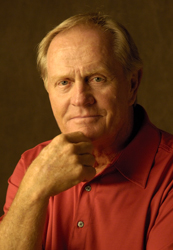 Jack Nicklaus
Photo Credit: Jim Mandeville of Nicklaus Design
At first glance, it seems like a tremendous amount of effort just to get to breakfast. A pre-dawn wakeup call, two flights, add in commuting time, connection time, and the door-to-door was a full seven hours. But then again, it's not every day one can share a morning meal with the greatest golfer who ever laced on a pair of spikes.
Breakfasting with Jack Nicklaus was the ultimate reward for a quick overnight trip to his hometown creation of Muirfield Village Golf Club, in the Columbus suburb of Dublin, Ohio, on the final Friday of September. It was a select group of writers who were privileged enough to meet the Bear in his Lair, including representatives from Golf Channel, Golfweek, Golf Digest and Links Magazine.
We all agreed that the overnight invitation to this very private bastion was something of an oddity in our collective experience. The invitations we golf-travel writers normally receive are to resort destinations or public - access facilities, as there's no use visiting courses and then writing about them for readers who can't gain access.
But this visit was a bit different. The concept was to show off the entire Muirfield Village experience, not just the superbly conditioned golf course, which wins raves from the PGA Tour players at every Memorial Tournament, but also the impeccable service component of the club, the fine dining, richly appointed clubhouse and lush on-site villas.

It was surprising how few of my well-traveled colleagues had ever been to Muirfield Village previously. Several had been there to cover the Memorial in prior years, but almost none had ever played the golf course. During an hour-long meet-and-greet before we stepped to the tee for the second and final round of our 36-hour whirlwind, Mr. Nicklaus offered some strong opinions on a variety of golf-related subjects, not the least of which is his feeling that his hometown masterpiece, though highly rated by virtually every major golf publication, isn't rated highly enough.
On Muirfield Village:

Several times during our breakfast session, Mr. Nicklaus mentioned that he thought Muirfield Village compared favorably, shot-by-shot and hole-by-hole, with virtually any other golf course in the nation. Admitting he hadn't been to Pine Valley in nearly 50 years, since visiting on his honeymoon (when wife Barbara waited in the car while he played!), he instead mentioned courses such as Merion, Oakmont, Cypress Point, Pebble Beach and Augusta National. He commented that, historic and storied they may all be, each course has a weaker hole or two.

He commented that while he approves of the recent evolution of Augusta National with added trees and rough, it's far from the course originally envisioned by Bobby Jones, with its wide-open fairways and emphasis on the approach shot (which is the same philosophy at Muirfield Village). He also mentioned that several of the greens at California's famed Cypress Point are too severe. He went on to say that Muirfield Village's somewhat out-of-the-way location has possibly hurt the course's stature. He theorizes that if the course was in California, eastern Long Island or South Florida, it could potentially be considered among the top-five courses in the nation, as opposed to its current ranking (26th on Golf'S Top 100 in the USA, 42nd on their Worldwide Top 100, and 10th on Golfweek's Top 100 Modern Courses). Nicklaus also mentioned that he is constantly tweaking the course, and over the decades has made changes, both minor and major, on practically every hole.
Design Philosophy:

Mr. Nicklaus commented to the assemblage, iterating previous sentiments in print over the years, that he thinks golf is a more pleasant and rewarding game when played downhill. That's why there are only two uphill tee shots at Muirfield Village (the long-and-tough par-4 10th, and the par-5 15th, reachable in two by the biggest hitters), as well as an uphill second shot at 18. The other 16 tee shots play slightly or notably downhill.
Playing Philosophy:

Mr. Nicklaus feels that handicap golfers need to be more cognizant of their weaknesses - know your abilities and play within those abilities. In other words, as opposed to attempting to play shots like a pro a 12-handicapper should plan to make 12 bogeys per round, and plot their way around the golf course with that mentality. Plan to make a dozen "no-sweat" bogeys on the toughest 12 holes while expecting pars on the other holes. By playing safely and conservatively in this manner, he opines that more pars will be carded on these so-called bogey holes and far fewer blow-ups will result. The end result is a final tally much lower than what would normally be expected.
Golf Course Raters:

Considering his exalted place among golf's greatest players, it's not hard to understand the skepticism towards course raters that Mr. Nicklaus displays. He feels that a small percentage of golfers truly understand the strategy behind a golf course and how to think their way around the course in the most efficacious manner. He surmises that 90% of all players prefer to have a good time with their buddies, have a few laughs, take a couple of bucks off their opponents, enjoy the scenery, and hopefully hit some good shots they can store into the memory banks. And he's perfectly OK with that. But he mentioned that in his experience some raters have a hard time breaking 100, which he then amended to 90, and then settled on 85.
His own Golf Game:

He headed to eastern Long Island after attending the recent U.S. Open Tennis Final (he claims to watch and play much more tennis than golf, one notable exception to his almost-nonexistent golf viewing being when his longtime friend and rival Tom Watson almost won the British Open this past July). In a "buddies" trip during which he played 72 holes in three days, he recalled scores of 71 at Friar's Head, 74-72 on Sebonack (his own co-design with Tom Doak), and then, sore from his first 36-hole day in an estimated 20 years, a final-day 76 at Atlantic. But he was quick to point out he now plays from the member tees, and not the tips. (No shame there, as his 70th birthday is looming come January.)
Joel Zuckerman, called "One of the Southeast's most respected and sought-after golf writers" by Golfer's Guide Magazine, is an award-winning travel writer based in Savannah, Ga., and Park City, Utah. He has written five books, including the epic "Pete Dye Golf Courses" in 2008. Joel's course reviews, player profiles, essays and features have appeared in more that 100 publications internationally, including Sports Illustrated, Golf, Continental Magazine, Travel & Leisure Golf, Sky Magazine, Golf Connoisseur, Golfweek, Estates West, Millionaire and Golf International. For more of Joel, visit www.vagabondgolfer.com.