A Day in the Dirt with Doak
By: Tony Dear
Dining options in Deer Lodge, Mont., are limited to say the least. The Coffee Shop on California Avenue serves up thick, lunchtime sandwiches with a bowl of chili to a hardy bunch of truckers and farmers, while The Shack, a diner/bar/casino on Main Street, does a decent T-bone. A mile farther north on Main, Pizza Hut cranks out pepperoni-covered slices to what teens are left in this bleak, prison town of 3,000 souls.
The words modest, unassuming, down-to-Earth spring to mind and certainly none are the sort of places you'd expect to find a man whose good reputation has spread across the globe. During a week-long visit in March 2006 to the site of his latest venture, however, Tom Doak joins his muddied but happy band of associates and shapers from Renaissance Golf Design at every one of them. They're friends as well as colleagues after all, and Doak knows the importance of having a bunch of guys around him that he gets on with and can trust.
Doak's comrades, headed up by lead associate Eric Iversen and expert shaper Bruce Hepner, have worked hard through a typically harsh Montana winter building the tees, bunkers and greens at the Rock Creek Cattle Club on a tiny part of the owner's 80,000-acre ranch. They have slowly adapted to life in Deer Lodge, although Jonathan Reisetter, a young shaper from Minnesota who's been leveling the 6th fairway for a few days, wishes there was more to do in the evenings. "It's a beautiful place but it can get a bit dull at times," he says. George Waters from New York and another young Doak disciple agrees. "It's great being involved with this course and working for Tom," he says. "But I wish he'd take jobs where the site is good and there were some decent-looking girls."
Dinner each night comes with a few beers and talk of what's going on in the NBA. One night following the meal, the boss buys a 12-pack of Corona and everyone meets back at the farm for a nightcap.
They could be a bunch of guys on a fishing trip. Instead, they're among their profession's most skilled practitioners and are being paid big money to build another of the distinctive courses for which Doak has become famous.
His is not a household name of course, and as long as he builds golf courses, it probably never will be. But after 20 years of working his way up the ladder and a growing number of design successes, Doak is now rightly considered among the best in the business. His name has become almost as familiar as Tiger Woods to golfers who know their stuff. Therefore, seeing him eat in such humble establishments and buy discounted beer in cop-show gas stations seems a little strange.
Much of Doak's renown came as a result of his work at Pacific Dunes, Bandon Dunes' slightly more vivacious sister course on the southern Oregon coast. A genuine and supremely entertaining links, Pacific was immediately ranked among the world's top 50 courses and established Doak as one of the main contenders for the job if you had a similarly great site.
Following that success, he was anxious to build something as good, and soon. "I wanted to repeat what we did at Pacific," Doak says, slowly scanning the horizon from what will be Rock Creek's second fairway to see if enough of the green will be in view for the second shot. "The site was so good, people said anyone could have built it which is partly true, I suppose."
Thankfully, further opportunities to confirm his talent came along but, if he was to take them up, it meant traveling several thousand miles across the Pacific. "It was hard physically, but the sites we were offered in New Zealand and Australia were too good to turn down," he says of Cape Kidnappers, Barnbougle Dunes and St, Andrews Beach, all of which opened to great critical acclaim.

Doak rode the crest of the wave that news of these courses fueled and offers came in from far and wide. At about the same time as his Antipodean trio was coming to life, he started work on the routing for Kilshannig Cross, a public course in County Kerry being developed by a Boston lawyer named Bob Bianchi. Because of permit problems and environmentalists' concerns, however, the project remains bound in red tape and Doak is not convinced it will ever happen. "It isn't completely dead," he says, "but it is unclear if it will ever move forward."

Later, in April 2004, he agreed to co-design a course between Shinnecock Hills and The National Golf Links on a 320-acre parcel of land for which the owner, car-leasing magnate Michael Pascucci, had paid $45 million. Doak's collaborator? None other than Jack Nicklaus, some of whose design efforts Doak had been less than gushing about in the past. "Jack has done some very good work," he says, "but a lot of his courses cost exorbitant amounts to build and are finished so perfectly they look unnatural. I understand that because most of what he does is real estate- or PGA Tour-driven and that means high-maintenance, picture-perfect courses."

Despite the pair's differing perspectives, the partnership worked out fine and the resulting course promises to complement its celebrated Long Island neighbors. "We actually found quite a bit of common ground," Doak remembers. "Yes, we had our disagreements but after discussing problems, we reached decisions that we both signed off on."

He was then handed almost 1,000 acres of inland sand dunes at Holyoke in Colorado and given the task of creating something as special as Bill Coore and Ben Crenshaw's Sand Hills, 150 miles east in Nebraska. He got his first gig in Mexico, received calls from developers in Egypt and Turkey ("not interested . . . yet," he says), and last year got his big chance to work in Scotland: on the Archerfield Estate bordering Muirfield where various plans for development and a Doak designed course had fallen foul of local councils and cash flow problems throughout much of the 1990s.

Tree-clearing on the new course began last October and two of Doak's men, Brian Slawnik and Don Placek, went over in March to start construction proper. "It's very exciting," Doak says of his chance to work in the home of golf. "My only small misgiving is that it's not the links-type properties Muirfield and Gullane are. It's a beautiful property with a lot of variety but it only looks at the dunes halfway round the back nine. It doesn't actually play over them."

Whatever the terrain, The Renaissance Club at Archerfield promises to enhance Doak's already impressive resume which now lists two dozen completed courses of which three, and possibly four if not five, should appear on any sensible list of the world's top 100.

After establishing such a distinguished body of work some might be content to rest on their laurels, but Doak hopes his best is still to come. He clearly brings the same single-minded application to a project at age 45 as he did in his mid-20s. And even though he's well short of the average age for non-player architects, he has served his time and can now justifiably charge a fee that puts him in the same ballpark as Tom Fazio and Ben Crenshaw. "That's slightly in excess of $1 million a time," he says, "though sometimes I have to pinch myself when I look at the contract."

Substantial though the outlay to acquire his services may be, developers wanting an intelligent and cultured course rather than some vapid water park with a surplus of man-made obstacles are happy to pay it.

Mike Keiser, co-founder of Recycled Paper Greetings - the third largest producer of greeting cards in the world, is perhaps the best known of the big money men who favor Doak's style. The man behind Bandon Dunes, Keiser chose not to hire Doak for the resort's original layout, however, going instead with Scotland's David McLay Kidd.

"Tom had too many negatives to do the first course," Keiser told author Steve Goodwin in the book, "Dream Golf, The making of Bandon Dunes."

"He had been very critical of his fellow golf architects in his book 'The Confidential Guide to Golf Courses,' but really he was just being overly honest. I was afraid his negatives would choke his golf course accomplishment, however, so he stayed number two on my list. As soon as David succeeded with Bandon Dunes, the way was paved for Terrible Tom to become Virtuoso Tom. Pacific Dunes' impact on the resort was 1+1=5. Our disagreements were always intellectual, not emotional and working with Tom and his associate, Jim Urbina, was one of the best years of my life."

New York financier Julian Robertson, owner of Cape Kidnappers, wanted Doak for his course after playing Pacific Dunes for the first time. Rob Lowe of Lowe Enterprises regarded Doak as the perfect choice for both Tumble Creek in Washington state and Stone Eagle in Palm Springs, Calif. Derek Siewert and Gerald Sarvadi, the two Florida businessmen who hired Doak to build his first 18 holes in Scotland, are also big fans.

"Tom is absolutely right for the type of course we are trying to develop," said Siewert. "We want a course that looks like it has been there a hundred years and is fun to play. Every one of his courses that we have played has met those criteria."

Another firm devotee is Bill Foley, chairman and CEO of America's largest title insurance company, who put Doak and his crew to work at Rock Creek in Montana. "He really knows what he's doing," Foley asserts.

Doak has known what he's doing for 25 years. A graduate of New York's Cornell University, where he majored in landscape architecture, and a man who learned his trade digging ditches for Pete Dye in the early 1980s, Doak had played many of America's best courses by his early 20s. He spent a year in Britain in 1982 where he caddied at St. Andrews, an experience from which he clearly benefited.

"Over there it's a game for the people and not about airs and graces or pomp and circumstance," he says. "It's not that expensive and the people don't take it too seriously. It's a game after all and the British know that better than anyone. As far as architecture goes, I learned that conditioning goes hand in hand with design. In Britain it seems they understand a course needn't be immaculate for it to play well. I also saw a lot more variety, and that taught me how to incorporate certain features into my designs and get around potentially awkward pieces of ground. It taught me you don't have to dynamite a place to build a good hole."

Doak rates St. Andrews, Royal Dornoch, Muirfield, Royal St. Georges, Ballybunion and Royal County Down as among his favorites in the British Isles. But he is also very fond of a number of lesser-known courses. "I played over 170 during my trip in '82 and have visited several more since. I learned a lot through reading old magazines from the 1920s and Bernard Darwin's old books and found some very special places like Rye, St. Enodoc, Brancaster and Cruden Bay. Nobody talked about Cruden Bay back then. It was too far off the beaten track, like Dornoch."

His time in Britain and familiarity with America's best instilled in Doak a love of classic architecture, in particular that of Alister Mackenzie, one of only three architects Doak mentions by name when asked to list others he admires. "There are a few whose work I like, but Bill Coore and Ben Crenshaw are who I respect the most. We've spoken a lot about architecture and share a lot of the same philosophy."

That philosophy revolves around what came to be known as minimalism, of course, a belief that the best courses take advantage of the land's existing forms and features, and often cost the least to build and maintain.

"For the most part, minimalism is just good common sense," Doak writes on his company's web site. "It's the refusal to let design ideas out of thin air outweigh the realities of the site. Instead of reshaping a severe slope, we try to figure out how to use it to make a golf hole interesting. If it's too severe, we'll try a sequence of holes which avoids it entirely. The bulldozer is our third and last option."

And though he's no tree-hugger, Doak certainly dislikes giving the order to cut down healthy specimens. "Felling trees is one of the hardest parts of my job," he admits, wincing as he observes the swift and almost clinical decimation of a stand of pines near Rock Creek's 8th tee. "I don't like doing it, and it's contrary to minimalism, but sometimes it's necessary." The reality is, Doak's first consideration is always to build a great golf course but, he adds, the trick is to do it as unobtrusively and inexpensively as possible.

It's an approach he clearly feels would right a lot of America's course-design wrongs. "Everything is going towards standardization here," he laments. "The rules are becoming stricter on how golf is supposed to look and what people are supposed to score. Courses are therefore becoming more and more alike. They've got to be so many yards, and have so many par-5s, par-4s and par-3s. And most clubs are lengthening their courses in response to what they see on television."

Like Augusta National? "I think the changes they have made are unnecessary because I don't have a problem with low scores," he says. "It would still be a fine course and the Masters an exciting tournament without the changes. They just don't want somebody hitting an 8-iron to the same hole that Sarazen hit a 4-wood on 70 years ago. I can understand that and I don't vilify them for it, but they are doing what I hate most about American golf."

As they toil in the mud and below freezing temperatures at Rock Creek, it is clear Doak and his dedicated team are determined to stem the flow of what they see as insipid and homogenous golf course architecture. They are here to build courses that will hopefully captivate golfers for centuries to come. They did it at Pacific Dunes, Cape Kidnappers and a number of other places, and if that's the sort of thing we can expect from Tom Doak and Renaissance Golf, long may it continue.

The wisdom of Tom Doak

Here are some of Doak's thoughts on various subjects.

Defending a 7,000-yard Course

"There has to be more going on in and around the greens. That helps keep the better player honest. And there should be places where the long hitters have to consider laying up because that really messes with their heads. Play with their minds, you can't beat them physically."

Armchair Architects

"Most golfers have a good idea of what they like and why and yes, they can see great holes and could work them into a landscape. But you have to connect the great holes somehow and you have to be willing to sacrifice a potentially great hole to make a better course overall. Great holes are often preceded or succeeded by not so great holes. People like elevated tees, but how did they get there? By playing a steep, uphill hole that they probably didn't like so much.

"And there is a lot to consider besides making great holes: drainage, irrigation, budgets, the position of the clubhouse, etc. And I also fear the armchair guy would do too much rather than err on the side of doing too little."

Fairness

"Fairness is the 'F-word' in our office. There's nothing wrong with designing a difficult hole. The problem comes when an architect places his hazards in all the same places or if every hole hurts, or favors, a certain type of player. If all the fairway bunkers are located 250-260 yards off the tee, that's unfair for the guy who drives the ball that far. If every hole doglegs to the right, that hurts the guy who draws it. These days the range of distance people are hitting it is getting wider and some architects just kind of go with the median when placing fairway bunkers, but that makes it easier for the long guy and harder for the short guy. You need to vary the position of hazards."

Developers

"It's very important to choose your clients wisely. I got a reputation for being hard to get along with early on because I was building a lot of the course myself and was very emotionally consumed by the whole project. Now I have a team, I can get away from the site for a while and it's better for everyone. Most of the time, the developer listens to what you have to say, but if you really are at odds with him, like I was with Larry Young at The Legends in Myrtle Beach for instance, you shouldn't be building that course."

(Doak severed his relationship with Young midway though construction of the Parkland Course after it became clear it was going to be too subtle for Young's liking.)

This article originally appeared in Golf Pages (UK).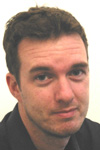 Tony Dear has been writing about golf for 11 years. A former assistant club pro from Sussex, England, Tony started out as a freelancer in 1992 before taking a staff writer's job at Fore!, a magazine based in Peterborough. As the magazine's chief instruction writer, it was Tony's job to compose instructional articles aimed at a youngish readership whose letters to the editor suggested they often got confused by technical jargon and theory. Tony brought his simple approach to teaching golf to the magazine, helping boost sales by 10,000 issues. As a result, he was nominated within the company and nationally for Young Writer of the Year awards.

From there, Tony moved 20 yards across the Emap UK office to join Today's Golfer. There, he was soon promoted to a senior editorial position, focusing on equipment, and became a significant part of a team that saw sales figures double within the magazine's first 12 months.

After three years at Emap UK, Tony was dragged kicking and screaming across the Atlantic by his American wife ("not really, I love it over here") and, after short spells in Phoenix and Denver, wound up in Seattle in May 2003. He recently moved to Bellingham in the far northwest corner of the far Northwest of the U.S. and became a father to a son on whom he has already staked £5 for the 2029 Open Championship. At present, he is freelancing for a number of print and online publications back in England including Today's Golfer, Golf World, Bogey, The Open Championship Magazine and Casino.com. He is also a contributing editor for Denver-based Colorado AvidGolfer.

Recent features include a look at Colorado's self proclaimed 'links' courses, an interview with Suzy Whaley, with whom he played nine holes ("and got soundly thrashed") and a 64-page instruction supplement for Today's Golfer.

Tony has authored three books in the last five years and been nominated for several specialist and young writers awards. "Although I've never actually won one," he admits. He is a member of the Northwest Golf Media Association and the Golf Travel Writers Association based in London.