A Day in the Life of a Professional Caddie
By: Jay Flemma
[Editor's Note: Cybergolf's Jay Flemma is at Whistling Straits in Kohler, Wis., all week covering the PGA Championship, the final major of the year. This is another of Jay's reports.]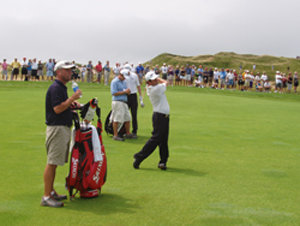 Caddie Steve Underwood & Tim Clark
A wine-dark sky of swollen clouds grumbled ominously with thunder before the heavens opened up and rained bricks and bats on Steve Underwood's head. It was okay though. He had Tim Clark's umbrella safely in the golf bag.
Meanwhile, Todd Sunderland counted D.J. Trahan's clubs one last time. Fourteen, everything is fine. So as soon as the weather clears, he and his man will be out on the range, and then off to the front nine of Whistling Straits for the final practice holes before the starter's gun fires Thursday morning, kicking off the final major golf championship of 2010.

And so begins another day in the life of the unsung heroes of the PGA Tour.

"Be on time," Underwood says with steely conviction. That's the first duty of a caddie, and one of the incontrovertible truths of the trade: Show up. Heck, Underwood is battling a vicious cold as he lugs 50 pounds of metal clubs, 10 Srixon golf balls, and sundry necessities like band-aids, aspirin, and Nature Valley granola bars in Clark's bag. His body aches and his head pounds, but he's still ready for his player. It's that devotion that got him to the highest echelon of competitive golf: Underwood's love of the game and his loyalty to the man who is not just his employer, but his friend.

"Absolutely," agrees Sunderland with a nod. "Be on time is rule number one." As long-time veterans of the trade, each has their routine down to more than just second nature; it's subconscious, as automatic as breathing.

Finally, the clouds evaporate, vanishing so suddenly, it's as if they were never there. The sun beams down like she was sending out a birth announcement of a newborn child, and the players emerge from the shelter of the granite-grey clubhouse, heading for the practice range. Steve and Todd tote Clark and Trahan's bags, their players walking in lockstep beside them while a gauntlet of well-wishers cheer them on.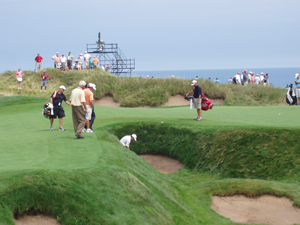 Tim Clark Almost Gets Lost in Fiendish
Bunker at 6th Hole
Then it's the long hours on the range. Just caddie, player, coach and a ziggurat of golf balls piled high, but slowly shrinking one by one. The club speaks its single word - THWACK! - and the ball flies skyward as the player seeks that perfect repetition of his swing: one, then another, then another. Lather, rinse, repeat.

"We've been testing out a new driver and the new Srixon ball," explains Underwood. "Tim is always looking for more distance, and with the aerodynamics of the head on his new club [a Taylor Made Burner Super Fast 10.5 degree], we get five more miles per hour swing speed, which means more distance. He's always looking for more distance."

That makes sense. David Feherty once wrote, "The shoes are on bigger feet on tour these days," but don't tell the 5'7' Clark that. Spirit is three-fourths of the battle and dedication is the rest and. with Underwood by his side, the plucky South African outdueled the game's titans at hallowed Sawgrass to win the Players Championship, golf's "fifth" major, also contested on a Pete Dye course, just like this week.

Both Clark and Underwood like the tough courses. When a tough course gets in the head of players, they are at a disadvantage already, before the first tee shot is even struck. That's another reason why the diminutive Clark has been peaking at the majors and big events over the last few years. He's been knocking on the door of the winner's circle at a major for a while now, waiting for his chance to close out a victory with his trademark smart, steady play. Of course Clark has much more than a puncher's chance here at Whistling Straits. Pete Dye courses reward the smartest, most patient, and most phlegmatic player.
Nevertheless, every good shot hit by Clark is built on a doubly-sure foundation: not just the player's skill, but the caddie's preparation. While Clark was checking in to the American Club and settling in, Underwood was on the course measuring distances, reading greens, finding the lines off the tee, and taking detailed notes of every inch of the entire course so nothing will come as a surprise over the course of 72 holes.

"On Monday, I was up at eight, and I walked the course," he explains. "I find the sight lines, I measure elevation changes, I review breaks of the green, and the run-outs on tee shots where the ball could go through the fairway. I need to know the maximum number Tim can hit a ball on a specific line without running through the fairway into the rough." He pauses to open his yardage guide and point out a particular hole and the danger that could arise from even a mildly off-line shot. "On a course like Whistling Straits, that makes a massive difference. At many courses, you can see your lines easily and find the distances without much trouble. But here, there's so much deception and intimidation it can get overwhelming."

"At first I didn't like this course," he continues, replacing a divot, "but it's really grown on me. There is a lot of deception here, much more than at other courses. That's what makes it not only challenging, but full of character."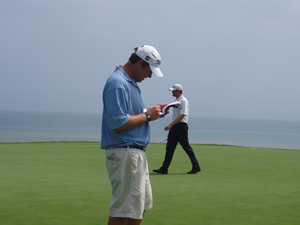 Caddie Todd Sunderland & D.J. Trahan
That's an understatement. If a player starts makes one ill-timed mental error here, a round can shatter. It's that detailed preparation that's the "keep up" part of "Show up, keep up." After all, you want your boss ready to play his shot when it's his turn. So have his number ready.

"Getting all the sites lines right is critical on this course," adds Sunderland. "Take the fourth and fifth holes for example. You have to know both carry and layup distances from many different points on the fairway. If you miss even a small section of the fairway in your analysis of a hole, you could leave your player with a blind shot. There is so much extra work you have to put in during the week of a major, and especially at a tricky course like this."

Sunderland both talked the talk and walked the walk, hitting the course even earlier than Underwood, arriving at Whistling Straits on Monday after a 6:30 a.m. date with the gym for a workout.

The work paid dividends. Trahan set out on the front nine, hitting towering drive after towering drive, so deep and penetrating a ball flight that the ball could have waved to the Snoopy 2 blimp as it soared by. But also, his pin-point accuracy in hitting his targets was remarkable. Time after time he and Sunderland traded fist bumps, hand slaps and compliments after good shots.

Indeed, the synergy between Sunderland and Trahan is as palpable and natural as Clark and Underwood. That implicit trust and mutual respect for each other's dedication allows each man to go about his business relaxed, but focused.
"We've been friends since second grade," Sunderland says proudly. "We grew up playing golf together, and DJ was best man at my wedding. It's been a great seven years working with him."

Underwood's journey to the PGA Tour was a little more roundabout. He was teaching at Florida's Orange County National when some of the golf pros from overseas were taking lessons. "I ended up going over to Japan and that's how I met Todd Hamilton. There are not many Americans on that tour, so it was logical we hooked up."

After a successful stint on Hamilton's bag, Underwood was hired by K.J. Choi and the two won a few smaller tournaments on the U.S. Tour before Clark and Underwood teamed up for the biggest win either of them had achieved.

"It was a wonderful moment," recalls Clark. "We had to wait a couple hours for the other players to come in and finish. It was a relief for both of us," he confirms, flashing that warm sincere smile that has endeared him with fans from Durban to Denver, and from Johannesburg to Jacksonville and all points in between. "Steve keeps me relaxed under pressure on the course, taught me how to play craps off the course, and even went to the Bahamas with me for a vacation. We have a great relationship and friendship."
The relationship and friendship: Isn't that the real alchemical formula? Knowing when to "show up, keep up, shut up," and when to "show up, keep up, speak up," makes all the difference in a player's psyche. Knowing the right time for sphinx-like silence or Lombardi-esque pep talks can make or break the week.

"Over time, you learn what to say. When you're first with someone, you shut up more than you talk," says Underwood. "Then, as you grow more comfortable in the relationship and grow as friends, you learn your player's idiosyncrasies and become more in tune to his needs. Take putting, for example. If Tim's on a good run putting, I'll leave him alone. If I have to, I might say 'This one may get away from you more than you think.' If I saw something from another player's putt, but I only pipe up when I have to."

"I don't have to push too many buttons," explains Sunderland. "I don't overstep my boundaries. I just stay even-keeled. It's mostly DJ. I'm just there making sure he's staying positive, and has good club selection so we always get the right distance."

Still, some days staying even-keeled isn't that easy. While on the Nationwide Tour, Trahan and Sunderland once had to endure one of the worst golf rulings imaginable: a controversial and unfair disqualification that would flummox even the most seasoned rules veteran.

"We hit a ball in a creek and it went through a drain, and under the fairway," said Sunderland. "The spotter never saw it go in the hazard, so everyone in our group - playing partners and officials - got together and determined the ball crossed in one place, so we dropped there, played on and finished the round."
Trahan and Sunderland went to bed, thinking they would start the final round the next day breathing right down the leader's neck.

"The next morning a rules official called and told us we were supposed the drop somewhere completely different. Apparently, although the ball entered the hazard in one place, it went back into play somehow, and we were supposed to have dropped in a different place nobody possibly could have conceived, even though the ball was in the water the whole time and traveled underneath the ground," he finishes, still astounded at the absurdity of it all. "We were disqualified, when we could have been playing for the win."

If that doesn't test a caddie's ability to soothe his player, nothing will. Still, Trahan and Sunderland bounced back and played their way to the PGA Tour and, this week, yet another PGA Championship.

So after the round, it's off to the practice green for more putting drills, or over to the player's dining area for a well-earned meal. When the day's golf ends, Underwood jumps in his dark blue Chevy Malibu rent-a-car, cranks up some Kings of Leon - one of both his and Tim's favorite bands - and heads off to the five-bedroom house he rented for some ping pong, air hockey or pop-a-shot basketball with a fistful of other caddies.

"The five of us had a deal that we made at Sawgrass," he says speaking of the caddies for other players including Brandt Snedecker, Freddie Jacobsen, and Stu Appelby. "Whoever's man finished highest at Sawgrass had to pay for the house this week at the PGA. I couldn't have been happier paying off that bet."

Meanwhile, Sunderland and Trahan head off together to the house they share with Trahan's dad, where Sunderland will switch jobs and become head chef for their party. Widespread Panic will play on the stereo until about 10 p.m., when it's lights out.

Tomorrow, they will all head set out in search of the Wanamaker Trophy. But win or lose, after watching the camaraderie, the friendship, the dedication, one thing is clear: you could search high and low and not find nicer people for the Good Lord to shine his light upon. This is the American dream in all its blue-collar glory.

And so they wait. They wait for that magical week, where everything comes together: driving, irons, wedges, putter, everything works at once and the subconscious takes over and they catch that lightning in a bottle that leads to the winner's circle, hoping that it's this week, which will change their lives forever.

Have you ever seen a firefly pulse? It's that fleeting moment where the entire cluster of fireflies gathers together, first all pulsing their light individually and sporadically. But then slowly, they begin to pulse in unison, every member of the cluster blinking brightly as one and lighting up the sky with a ghostly, bewitching halo? That's what has to happen to a golfer as well. Everything must come together as one. And when it does, it's a wondrous miracle to behold. That's how sports history is made by men who were once mere mortals. Though it's the player's name that is remembered, behind every great champion, there is his companion, his confidante, his comrade, his good right arm.

And so as the moon hangs in a velvet sky, caddies and players drift off to sleep, dreaming of that moment where they take the flagstick off the pin, and hand it to their victorious champion, beaming brightly.

It's close. It's oh so close.


Since launching his first golf writing website in 2004, http://www.jayflemma.thegolfspace.com, Jay Flemma's comparative analysis of golf designs and knowledge of golf course architecture and golf travel have garnered wide industry respect. In researching his book on America's great public golf courses (and whether they're worth the money), Jay, an associate editor of Cybergolf, has played over 220 nationally ranked public golf courses in 37 different states. Jay has played about 1,649,000 yards of golf - or roughly 938 miles. His pieces on travel and architecture appear in Golf Observer (www.golfobserver.com), Cybergolf and other print magazines. When not researching golf courses for design, value and excitement, Jay is an entertainment, copyright, Internet and trademark lawyer and an Entertainment and Internet Law professor in Manhattan. His clients have been nominated for Grammy and Emmy awards, won a Sundance Film Festival Best Director award, performed on stage and screen, and designed pop art for museums and collectors. Jay lives in Forest Hills, N.Y., and is fiercely loyal to his alma maters, Deerfield Academy in Massachusetts and Trinity College in Connecticut.