A Day to Honor Dottie Pepper & Play a Great Golf Course
By: John Torsiello
Head professional, media personality and all-around good guy, Brian Crowell, and the owners and staff at Glen Arbor Golf Club in Bedford Hills, N.Y., sure know how throw a party.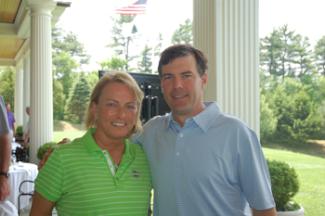 Dottie Pepper & Glen Arbor Chairman
of Golf Morgan Gregory
Crowell heads up the annual Traditions of Golf Invitational at Glen Arbor, located only a few well-struck drives from town center in the New York City bedroom community. Each year the event honors a person who has made outstanding contributions to the game, and the bestowing of the accolade serves as the focal point to a day of camaraderie among writers and others in the Metropolitan Area golf industry.

The first Traditions was held in 2009 and Gary Player was the honoree. It was fitting, because the nine-time major champion and worldwide ambassador of golf designed Glen Arbor, which opened in 2001. Others honored have been Dennis Watson, a trick-shot artist and motivational speaker who is handicapped; longtime New York Times sports columnist Dave Anderson; Jay Mottola, executive director of the Metropolitan Golf Association; and broadcaster Jimmy Roberts.
Pepper is a deserving honoree, having won 17 LPGA Tour events and two major titles. She also compiled a 13-5-2 record in the Solheim Cup and was an assistant captain for the 2013 U.S. team. But Pepper's contributions to the game have gone beyond playing it well and delighting fans with her fighting spirit. She is an award-winning broadcaster and has authored several children's books, in addition to supporting numerous charities and being named as an Independent Director of the PGA of America.

Pepper, obviously touched by the award, was presented by Major Dan Rooney, albeit via a pre-taped video, and again it was a nice moment. Rooney is the founder of the Folds of Honor Foundation and Patriot Golf Day, charities that have assisted the families of those in the military who have been wounded or lost. Talking about using golf for a worthwhile cause!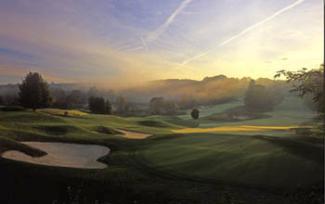 Early Morning at Glen Arbor
Rooney, a fighter pilot, is also a golf course owner and a PGA professional. After the lunch and ceremony, held on the patio of the spacious clubhouse overlooking Glen Arbor's 18th hole, we headed out to test the layout, which was in superb condition. Unlike previous Traditions of Golf events, the rain held off and we got to complete 18 holes.

Player utilized the natural terrain to create a number of elevated tee boxes and green complexes. An important factor of a sound routing, there is nary a hole reminiscent of another on the course, which features a pleasing mix of shortish and long par-4s, reachable-in-two par-5s and visually appealing but tricky par-3s.

The first hole plays longer than its yardage, 538 from the tips. It commences from an elevated tee to a valley below before climbing dramatically uphill. The second is a good, 389-yard par-4. The hole again starts at an elevated tee and bends to the left at about 230 yards, with a bunker grabbing overly long tee balls. It's imperative to hug the left side with your drive in order to leave a short-iron into a green that sits somewhat below the fairway.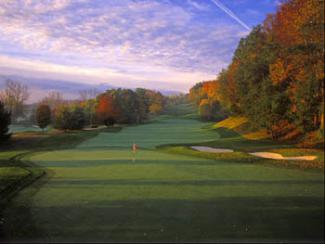 Glen Arbor's 4th Hole
The 11th is a 197-yard par-3 framed at its rear by maples, oaks and pines. The 14th is one of several sweet short holes at Glen Arbor. It plays 162 yards, with the tee shot needing to clear a pond. It's really only a short-iron, but the green is somewhat hidden by a bunker. This seemingly mild one-shotter can turn nasty in a hurry if you get too greedy and miss the green on the wrong side.

I think the best par-4 on the course is the 359-yard 16th. The drive must be struck accurately to avoid water and bunkers left of the fairway landing area. Then it's an approach across more water to a rather large green.

The course ends in dramatic fashion with a 414-yard par-4 that Player, again, made wise use of the topography in his design. Starting at another dramatically towering tee, it plays to a valley with water on the right, and then back uphill to a hidden green, which makes the approach shot somewhat of a guess.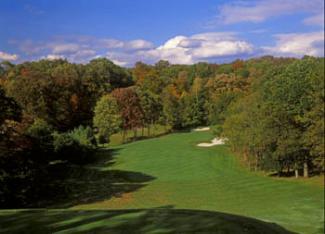 Glen Arbor's 7th Hole
Glen Arbor plays almost 7,000 yards from the tips. But there is unseen length as many of the greens are elevated, there are a number of doglegs, the rough is nasty, and the greens are kept on the rather fast side. If you play it smart off the tee, don't get too greedy and strike your driver and irons with authority you can score well here. But the course can also bite you in the backside (no pun intended), as it did to both me and my playing partner.

Glen Arbor has an expansive practice facility as well as a state-of-the-art leaning center, where Crowell and his assistant professionals ply their trade and the members hone their games. One of the most impressive aspects of the facility is a short-game area known as the Gary Payer Center that enables members and guests to work on various shots from multiple tees. The five regulation-sized greens are designed to be used as targets from the teeing grounds only and replicate actual conditions found on a golf course, such as shots to flags over bunkers and pitches to rising, rolling greens.

There's also an area where golfers can practice 50- to 80-yard sand shots. Crowell said the Gary Player Center allows golfers to hit shots they face when actually playing. They can work on various-distance shots (from around 20 to 118 yards) from the five tees and build a feeling of confidence that they can hit any short-iron shot when out onto the course.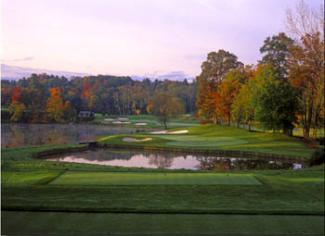 14th Hole at Glen Arbor
Glen Arbor offers what is known as The Legends Center, located in a small hollow close to the Gary Player Center, that's comprised of three separate green complexes. This is where golfers practice pitch shots and bunker play to a variety of pin locations. By the way, there are several traditional practice greens on the club's property, with the area of the practice facilities at Glen Arbor totaling around five acres.

The Teaching Center has all the bells and whistles and contains the latest in computer technology, with a V-1 Professional coaching system allowing students to learn at an advanced rate through a visual understanding of their golf swings. Through an online "lesson locker," students can receive via email videos of their swings and other instructional tools.

Being invited to honor Dottie Pepper proved a perfect way to test out what is one of the most all-encompassing playing and practice facilities in the Tri-State area of New York, Connecticut and New Jersey.
For more information, visit www.glenarborclub.com.
John Torsiello is an editor/writer living in Connecticut. He has written extensively about all aspects of the golf industry for a number of national and regional publications. He is a regular contributor to "Golf Course Industry," "Lawn and Landscape," "Golfing" and "Fairway Living" magazines as well as various online publications. He has strong, ongoing relationships with industry professionals and has worked closely with course owners, architects, developers, course superintendents and general managers around the country. He has won a number of awards for his writing, including first place from the Turf and Ornamental Communicators Association for a piece that appeared in "Golf Course Industry" magazine.