A 'Feel for the Game' In South Carolina's Lowcountry
By: Dave Droschak
Introduced to the game as a teenager in Pittsburgh trying to make a buck as a caddie, I've long believed one of the world's worst inventions was the golf cart. Wheels on a course should be reserved for mowers cutting fresh blades of grass, not for darting players from Point A to Point B.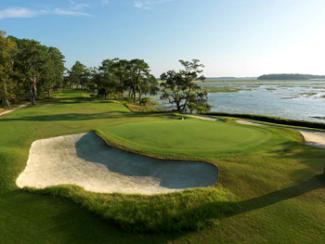 The Scenic Par-3 7th Hole at Chechessee Creek Club
My feelings were accentuated during a recent "pure golf" experience at Chechessee Creek, a private club in southern South Carolina tucked away between forest and brackish aqua that just happens to stage more working caddies (25) than mostly idle carts (24).

Teeing it up in the South Carolina Lowcountry is magical in itself, with its towering live oaks adorned with Spanish moss mimicking hanging ice to subtle breezes floating in off scenic marchlands to an occasional "Beware of Alligators" sign.

Add in an 18-hole walking round (at barely more than two hours and 20 minutes) at a marvelously schematic Coore-Crenshaw design and it's enough to make you feel like a true pro, which of course, I am not.

But on this day, carding a solid 85 on a layout where angles and alignments are more crucial than driving your tee ball or wishing you were "driving" a cart, was one of my best golf experiences of 2013.
When most private venues were adding pools, tennis courts and kids programs, Chechessee Creek Club approved an "understated" design by Bill Coore and Ben Crenshaw and opened in 2000, one in which greens complexes and strategy trump any other parts of your physical game.

"Everybody that is here is here for the game," said Chechessee Creek general manager and director of golf Franklin Newell. "They are not here because they are trying to keep up with the Joneses or the big houses in the development with the pool and the weight room. They are here because they love the game.

"When I'm talking to a member they have a different mindset than the casual golfer that plays at nice places but doesn't understand the game. We have members who have been around the game since they were young kids, they caddied - the Northeastern mentality of great clubs with caddie programs. For me, it's great to be around those types of people."

Newell has been here since the grassing and irrigation work took place on the course, seeing its humble beginnings. In 2003, the clubhouse was opened and a cozy lodge was later added to a few cottages sprinkled into the forest for rental purposes.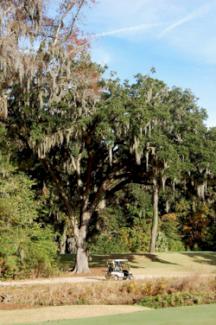 One of the Massive Live Oaks
at this Lowcountry Gem
(Photo by David Droschak)
There were only 40 proposed lots for sale - a fraction of what most of the excesses of the private-course models called for at the time, and with the combined recession things appeared bleak for Chechessee Creek less than a decade into its launch.

"We were dying on the vine," Newell admitted.

Members who were already asked to save the club once weren't necessarily enthralled with doling out more cash, but one member who prefers to stand in the shadows - a financial executive, agreed to purchase the club in February 2012.

"Had he not stepped in we wouldn't be here," Newell said. "He realized two things: No. 1 was that selling memberships was a dead animal. People were not joining clubs at a big number. And what we needed was activity and dues.

"He stepped in and paid cash for everything, with zero debt. Everything going on is ours; we're not paying a bank. He went to the membership immediately and said, 'I know a lot of you guys have paid a lot of money to be here and that money you spent is gone, it went with the original developer. Don't hold that against me. What I am going to do is allow you to invite 100 of your friends at no initiation fee and immediately start paying dues.' "
That program caught fire, and was extended for 18 months. At the time of the purchase, invitation-only Chechessee Creek had 178 members. It now proudly stands at 407, with roughly 100 more still available. On a Tuesday evening, there were more than 60 members eating dinner in the clubhouse and enjoying a beverage or two.

"We had a lot of members who had buddies, but they didn't want to get them involved and have their friends lose money," Newell said. "So when the new membership became available, and they saw the club was going to continue, they were very quick to bring those people in who had been standing on the sidelines."

Back to the golf course, a par-70 which measures just 6,641 yards from the tips. Coore and Crenshaw mixed in four par-4s of 350 yards or less that are intriguing tests of golf. The par-3, 171-yard seventh runs along the creek and adjacent marshlands to create one of the area's more visually enthralling holes. There is also a 602-yard par-5 on the back nine as this "throwback" layout offers golfers a little bit of everything.

"I love the simplicity here," Newell said. "It's very traditional. I have been very blessed and spoiled to play some of the great clubs in the country and around the world, so I've seen some of the great clubs and golf courses and how simple the old golf courses are, the shot quality is so good. You don't have to build waterfalls and huge bunkers to make it good. And that's certainly what Ben and Bill do; they just come out and say 'Here is the tee and here is the green, how do we get there?' It is fun to see people here for the first time; they feel like this golf course is 50, 60 years old, really because of the trees and the way the golf course is build, the ragged bunkers the pushed-up greens, the false fronts, not modern."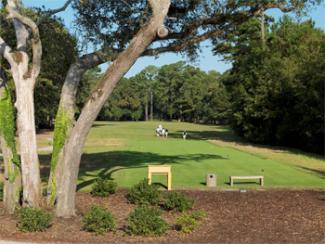 Caddies Walking with a Group
at Chechessee Creek Club
Even my caddie, Scott, was understated. I made four long putts thanks to his excellent and accurate reads. It was as if he fit seamlessly into my game, which tends to be on the fast side. Scott wasn't always breathing over my shoulder, trying to club a golfer he had seen for the first time. He was a joy to bring along for the "ride."

"Bill and Ben did a great job routing the golf course in and out and around the big oak trees so it feels like it has been here a lot longer than 13 years," said John Patterson, a former PGA Tour player, CCC's director of marketing and sales, and my playing partner for the day. "There is plenty of room to hit it off the tees on every hole, with a huge premium on iron shots. The golf course really starts after you get your tee ball in play."

"Our goal at Chechessee was to create a golf course of traditional character that would reward thoughtful, imaginative and precise play, while utilizing and showcasing the magnificent oaks and pines of the Carolina Lowcountry," added Crenshaw. "We believe the nuances of the course have revealed themselves over time, encouraging players to attempt a variety of shots and strategies to discover how best to reward their individual games."

And a walk in the park . . . indeed.

"When people come here it's a different speed," Patterson said. "It adds a whole different element to their golfing experience."
David Droschak has covered golf in the Carolinas for three decades, mostly with The Associated Press, where he worked for 20 years as AP sports editor in North Carolina prior to launching Droschak Communications, a full-service marketing and PR firm based in Apex, N.C. Dave, 53, has covered numerous major golf tournaments, including the 1999 and 2005 U.S. Opens at Pinehurst Resort, and is a longtime member of the Golf Writers Association of America. Dave will be hand in 2014 to provide coverage of the historic back-to-back U.S. Men's and Women's Opens in the North Carolina Sandhills.

Dave was honored with the Sports Writer of the Year award in North Carolina in 2005, and is currently editor of Triangle Golf Today (www.trianglegolf.com), a print and online publication regarded as the "No. 1 Source for Golf News in North Carolina." He is also golf editor for Pinehurst Magazine, an award-winning glossy publication.

Dave grew up in Penn Hills, Pa., about five minutes from famed Oakmont Country Club and was introduced to the game of golf as a caddie at Green Oaks Country Club in nearby Verona, Pa. Dave was the co-captain of the 1978 Penn Hills state championship baseball team, was a pitcher for the 1982 Atlantic Coast Conference champion University of North Carolina Tar Heels, and pitched professionally for two years in the St. Louis Cardinals organization. He is a member of the Penn Hills High School Sports Hall of Fame, which also includes NBA coach George Karl and former four-time Pro Bowl offensive lineman Bill Fralic.