A Fitting Tribute: Payne Stewart GC Honors the Late, Great Open Champion
By: Tony Dear
Bobby Clampett is on the phone describing his work on the Payne Stewart Golf Club in Branson, Mo. "We put a rock just in front of the seventh tee to act as an intermediary target," he says. "Payne suffered with ADHD (Attention Deficit Hyperactivity Disorder) and so had a few issues with concentration on the golf course. While he was usually hyper-focused at the majors, he sometimes wasn't there mentally at the less important events."
Payne Stewart Golf Club - No. 1
To combat the problem, Stewart had acupuncture, took Ritalin and saw psychologist Richard Coop. "Dick (Coop) suggested he get in the habit of using an intermediary target when setting up, and he did well with it for a while. But in '99 he stopped and at the U.S. Open Dick confronted him about it. Payne admitted he had stopped, committed to doing it again and six days later won the U.S. Open."
It's a great story, and every hole on the 7,319-yard course, a tribute to the three-time major champion, has one. The second, "Chandelle," gets its name from a maximum-climb, maximum-bank maneuver used by fighter pilots to increase altitude while making a 180° turn. Sam Snead used the term to describe a high fade. He passed it on to nephew J.C., who passed it on to Stewart. At the '99 Open, Stewart used his Chandelle to birdie the par-3 3 15th the first two rounds.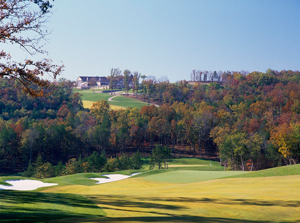 Payne Stewart Golf Club - No. 8
A plaque at the fifth - "Road Hole" - recounts the incredible par Stewart made in the first round of the 1990 Open Championship at St. Andrews when he was forced to knock his third shot against the wall behind the green at the Old Course's treacherous 17th. His ball finished just on the back fringe from where he chipped in.
"Divot Downer," the 15th, recalls the moment in the final round of the 1998 U.S. Open when Stewart's ball came to rest in a sand-filled divot on the 12th fairway. His approach shot came up short in a bunker from where he made bogey. He would eventually lose the tournament to Lee Janzen by a shot. Stewart had long argued that divots filled with sand and seed should be deemed ground under repair. Anyone finding a sand-filled divot at the Payne Stewart Golf Club can therefore lift and drop within one club's length of the nearest point of relief, not nearer the hole.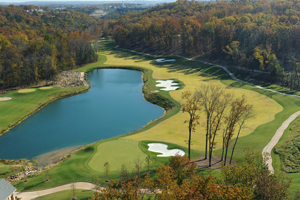 Payne Stewart Golf Club - No. 4
The idea to memorialize Payne Stewart by building a golf course that bears his name was that of Richard Brooks, director of the Payne Stewart Memorial, a golf facility and program at the Kids Across America in Branson which introduces disadvantaged, inner-city children to the game.
"Kids Across America is a part of Camp Kanakuk (also in Branson) and a Christian camp that was Payne's favorite charity," says Clampett, who played college golf against Stewart but became more than just an acquaintance through PGA Tour Bible studies and their mutual friendship with Paul Azinger. "Payne took his kids there in the summer, so it was appropriate for the Payne Stewart Memorial, which I founded and am still on the board of, to build the golf center there which we did in conjunction with the First Tee of the Ozarks.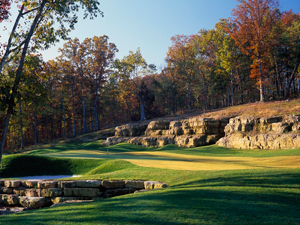 Payne Stewart Golf Club - No. 3
"Richard had heard that local developers HCW and Stonegate Realty were looking to build a course in Branson," Clampett continues. "So he contacted Mark Elgin, the CEO at Stonegate, to set up a meeting."
"We met for breakfast at the Chateau in Branson," says Elgin. "We hit it off immediately and actually discovered we had a connection going back 30 years to when we were both associated with the Landmark Company. I was a Landmark employee at the time and Bobby represented the company on tour."

That was in 2004, says Elgin, who was eager to get started. Before any work could commence, however, the concept would have to gain approval from D.J. Snell, head of Payne Stewart Enterprises and, of course, Payne's wife Tracey. "Once they understood our substance and experience as developers and our commitment to quality, they quickly embraced the project," says Elgin.

Ground-breaking on the $31 million layout took place on July 24, 2006. The site, part of the 1,200-acre HCW/Stonegate-owned Branson Hills development about 40 miles south of where Stewart grew up in Springfield, Mo., was typical of the Ozark Plateau, with rugged terrain complete with exposed rock and numerous natural waterfalls. "It was such a great site," says Clampett. "It had rolling hills, waterfalls, brooks and streams. It's a big course with big features, but we designed it to be enjoyable for everyone: professionals and 40-handicappers. We think it's a top 100 course."

Clampett's co-designer was little-known Chuck Smith, whose entire golf portfolio consisted of a couple of courses in Wake County, N.C. "I went to North Carolina to look at Crooked Creek and River Ridge, his other designs, and was impressed," says Elgin. "They weren't Trent Jones or Fazio, but they were good. I hadn't heard of Chuck Smith before, but he was a very pleasant surprise. He totally got what we were doing and what we were trying to build. The design is a little Fazio-esque in places I suppose. When Tom did Old Overton for us in Birmingham, Ala., he said it would be a great course if he could somehow tame the site. It was a bit like that for Chuck and Bobby at Payne Stewart Golf Club. But they did a great job. I think this course will put Chuck on the map."

Smith, who Clampett describes as a long-time friend and a very talented landscape architect, provided the technical expertise while Clampett worked on the routing, identifying the holes. "We had wanted to build golf courses together for many years," says Clampett. "He was the technical, engineering and landscaping brains. I was more a consultant designer with experience of what works and what doesn't."

The front nine opened for play late last year while the back saw its first play a month ago. The grand official opening which, like the course, was open to the public, took place on June 6th and offered guests course tours and open houses. "The Grand Opening was a huge success," says Director of Golf, TJ Baggett. "We estimate feeding about 1,200 people and had another 800 throughout the day. The morning scramble tournament was highlighted by the participation of Payne's son Aaron. Tracey Stewart was there, too, and very much enjoyed seeing how well the facility turned out. Local pros conducted tennis exhibitions, the SeeMore putter company, whose putters Payne had used, hosted a putting contest which about 300 people participated in and the Eagles tribute band 'Take It To the Limit' capped off our evening."

Attendees were also able to view the magnificent collection of Payne Stewart memorabilia in the clubhouse. "We have some really great stuff in there," says Baggett. "Payne played in five Ryder Cups and we have his bag from all five. We also have the irons with which he won the '99 U.S. Open. There are several putters, clothing obviously, a ton of great photography, and a replica of the U.S. Open trophy which he won twice of course."

As accolades for what is already considered a superb golf course pour in, spirits at Payne Stewart Golf Club are naturally high just now. But on October 25th, the mood will surely turn sour for a day as the plus-foured staff mark the 10th anniversary of Stewart's tragic death. Mark Elgin says the discussion on exactly what the club should do started earlier this year but, as yet, no decision has been made. "Whatever we do, it will, of course, be something respectfully observant," he adds. "But to be perfectly honest, it's not our occasion to mark."

It will be a somber occasion indeed for Clampett, who insists he and Stewart were never close buddies but were on a similar spiritual wavelength. "Towards the end of Payne's life we reconnected," he says. "We had a lot of things in common; love of family, friends and faith."

And of course, golf. Stewart would no doubt appreciate the course Clampett and Smith have built in his honor and Clampett hopes it will serve as an enduring monument to one of the game's most colorful and compassionate characters.

"Obviously I want everyone who plays here to enjoy it and think it's a great course," he says. "But more than that, it was created to celebrate Payne's life. It's a tribute to him and we want it to be a reflection of him as much as possible. With the design of each hole and the stories that are assigned to them, we hope those that play the Payne Stewart Golf Club will go home feeling that they know Payne, or at least remember what sort of man he was, a little bit better."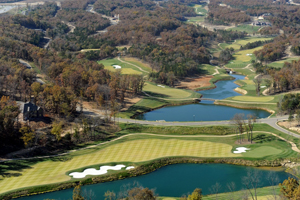 Aerial Shot of Payne Stewart Golf Club
Tony Dear is an Englishman living in Bellingham, Wash. In the early 1990s he was a member of the Liverpool University golf team which played its home matches at Royal Liverpool GC. Easy access to Hoylake made it increasingly difficult for him to focus on Politics (his chosen major) and, after dropping out, he ended up teaching golf at a club just south of London where he also made a futile attempt at becoming a "player." He moved into writing when it became abundantly clear he had no business playing the game for a living. A one-time golf correspondent of the New York Sun, Tony is a member of the Golf Writers Association of America, the Pacific Northwest Golf Media Association and the Golf Travel Writers Association. In 2009, Tony won first place for Editorial/Opinion in the ING Media Awards for Cybergolf. The article (http://www.cybergolf.com/golf_newsa_euros_take_on_the_2008_ryder_cup_matches) that impressed the judges was the one about Europe's Ryder Cup team and Captain Nick Faldo's decision to pick Paul Casey and Ian Poulter rather than Darren Clarke.