A Fond Look Back on 2013
By: Elisa Gaudet
This year I was blessed to have visited and experienced some of the most beautiful golf locations in the United States and the world. Beyond having the opportunity to play these amazing courses, cover tournaments and observe the planet's best players, it was the people I met along the way that made the real difference.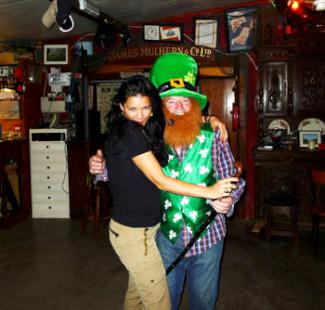 Elisa & the Leprechaun
The golf community, no matter where you go, is alive and strong. As if obeying an unwritten code, the love we all share for this game transcends the sport to unite friends, families, colleagues, celebrities and many others.

Quite often, that bond comes when we support a charity, a good laugh or a friendly competition. With that I lift my glass in "Two Good Rounds" fashion and toast all the golfers. I wish you a spectacular 2014 filled with more golf and more love!

Here's my version of a popular seasonal song. On the "12th day of Christmas" my bartender said to me. "After 12 months of golf travel this is what your passport and bar tab told me":
12 Gatorades with the Lee Westwood Golf School students
11 Glasses of chardonnay at Okeka Castle "Gatsby" style
10 Vodka sodas at the Peabody in Orlando
9 Practice pours at the Guinness factory in Dublin
8 Sips of grappa in Sicily below Mt. Etna
7 Bottles of Ernie Els award-winning Stellenbosch wine
6 Goslings Rum Swizzles & Dark 'N Stormy drinks in Bermuda
5 "Azalea" drinks at the Masters under the tree
4 Golf and vineyard tours in Burgundy, France
3 Beers in the cart while playing Liberty National a week before The Barclays
2 "Rhondaritas" at Shadow Creek during the Michael Jordan Celebrity Invitational
1 Arnold Palmer drink while having lunch with Tom Cousins at East Lake Golf Club
Along with a Bonus BIG kiss from a Leprechaun in Ireland at a "bar in the woods."
[Editor's Note: Elisa has just released her second book, "Two Good Rounds Superstars." It's available at http://www.twogoodrounds.com and http://www.pgatoursuperstore.com/two-good-rounds/200589010780.jsp. Some proceeds benefit the Els for Autism Golf Challenge.]
Elisa Gaudet brings a wealth of entertainment and golf experience to Cybergolf. Elisa has spent the past several years in the golf industry in the U.S., Latin America and Spain. She worked for the PGA Tour and the Tour de las Americas before founding Executive Golf International, a golf marketing company that works with clients to develop strategies using golf as the medium. Often referred to as the Maria Bartiromo (a business analyst for CNBC) of golf, Elisa says: "Golf, as a marketing tool, has been around for years. It's amazing how many new ways companies can align their brand with the golf market to reach their target audience. Our goal is to create alliances and establish cross-border relations." Elisa also worked in the entertainment industry for over 10 years, including five in Los Angeles as a model and actress. She can be seen at many celebrity golf events and often gets the inside scoop from PGA Tour players. In 2011, Elisa published her first book, "Two Good Rounds" (Skyhorse Publishing). Her second book, "Two Good Rounds Superstars," was published in late 2013. Her story for Cybergolf, "Golf a Romantic Affair at Cabin Bluff," won the top prize in ING's 2012 Travel Writing category, and that same year she won the ING's Outstanding Achievement award for the Op/Ed Writing Category for her Cybergolf article, "I Want to Fall in Love with Tiger Again." For more information about Elisa, visit her websites at www.onthelip.com or Executive Golf International www.execgolfintl.com.