A Friend & Colleague Remembers Bud Shrake
By: Steve Habel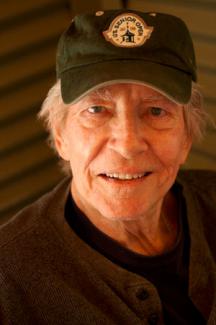 By now, you've probably heard about the passing of Edwin "Bud" Shrake, who might have been most famous for his work on "Harvey Penick's Little Red Book," the guide to golf and life that Shrake co-authored with the noted teacher and which was released in 1992.
I'd even wager a buck or two that many people reading this story have a copy of that book - or the three sequels it spawned - on a shelf somewhere in their home; mine is on a bedside table within easy reach.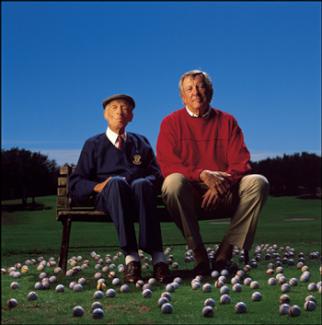 There was a reason that Penick picked Shrake to bring his 60-year compilation of considerable golf wisdom to life. Shrake had known Penick for years when Penick summoned him one day to Austin Country Club and Shrake joined the club's then 86-year-old Head Golf Professional Emeritus in his golf cart under the trees. "He reached into his attaché case and pulled out a five-by-seven, red scribble-text notebook," Shrake once said. "He said he'd never shown it to anyone except his son, Tinsley."
Shrake collaborated with Penick on writing the book and arranged a publishing deal with Simon & Schuster. The Little Red Book has become the best-selling sports book of all time, and Penick's basic advice - "Take dead aim" - is legendary among golfers. "I revered Harvey Penick," said Shrake, who begged off a movie commitment to take on the project. "At the time, I felt like I had been chosen by some divine source to do this."
Champions Tour professional Ben Crenshaw, Penick's longtime friend and fellow Austinite, said the teaming of Penick and Shrake made for a perfect blend.
"Harvey's books would have never existed without Bud," Crenshaw said. "He brought Harvey Penick (who died in 1995 at the age of 90) to life for everybody across the world, no question. They were two very understated, humble people who were unbelievably successful in their own fields, and it took both of them together to get the recognition they deserved."
But Shrake, who died of cancer in Austin on the morning of May 8 at age 77, was so much more that just Penick's collaborator. He was one of Texas's modern-day men of letters and his works included journalism (he was a staff writer at Sports Illustrated for 15 years), 10 novels (most recently "Custer's Brother's Horse"), as-told-to biographies - including one with Willie Nelson, and plays and screenplays, among them the notorious 1973 "Kid Blue" and "Songwriter," over a career that spanned nearly six decades.
Shrake enjoyed an epic life in which he traveled the world and hung out with oil barons, hippies, sports stars, musicians and even Jack Ruby, the man who later killed President John Kennedy's assassin, all the while having a Falstaffian good time and making friends at every turn. He smoked and drank and used drugs until the mid-1980s, when a doctor told him he might have only a year left to live if he didn't stop. "And I still had to think about it," Shrake famously remarked in 2007.
Shrake was also a friend of artists and musicians and fellow writers, and some of the lives and people he touched were on display at his service. The remembrance of Shrake's life was attended by the likes of former Texas head football coach Darrell Royal, longtime sports and golf writer and novelist Dan Jenkins (a colleague of Shrake's at the Fort Worth Press in the 1950s and a lifelong friend), and Nelson - who sang a tear-choked version of "Angel Too Close to the Ground" to conclude the goodbye, as well as myriad friends and family.

According to friends, Shrake - who played golf (and played it well) with kings, celebrities, roadies, singers, actors, writers and anyone else as one of his great passions - took to the links for the last time in December at the Crenshaw Cliffside course at Austin's Barton Creek Resort. Despite being too weak to put a tee into the ground, Shrake hit every fairway in his final nine-hole round.

Crenshaw said he played some and talked a lot of golf with Shrake. "I think the game gave him a lot of solace, especially in the last 20 years of his life," he said.

In March, Shrake, looking frail but hopeful, was lauded by The First Tee of Greater Austin for his sportsmanship during that organization's inaugural "9 Core Values" awards ceremony.

I am proud to say that I knew Shrake and that I wrote about him, that I played golf with him, and that I enjoyed several of the notorious parties he hosted at his home in the Austin suburb of West Lake Hills. I was also in attendance (along with about 400 others) when they put him in the ground at the Texas State Cemetery next to the body of former Texas Gov. Ann Richards, who had been his companion for 17 years until her death in 2006.

Although I had read Shrake's work on occasion (especially in Sports Illustrated), I met him for the first time in early 1992 when I was working as a stringer for the Associated Press. I was sent to cover a trial brought by former Daily Oklahoman journalist Jack Taylor in which he accused Shrake and former University of Oklahoma football coach Barry Switzer of libel in the Switzer/Shrake biography of the coach, "Bootlegger's Boy."

During the four-week trial (which was won by Taylor, but the verdict awarded him no damages) I was able to spend a lot of time with the defendants and heard a bunch of great stories. I was eventually invited to play golf with Bud and became a member of his large circle of friends, even though my position was far from the center.

Through the next 16 years I'd occasionally see Shrake around town, and we would always schedule a round of golf to catch up and enjoy fellowship. About a year and a half ago, I even asked him to contribute a forward to a book I was thinking about writing with golf architect Roy Bechtol, but he declined, without explanation; he didn't really need to tell me why.

The staff at Austin Country Club lowered its club flag to half-staff in recognition of Shrake's death. Austin native and PGA Tour veteran Tom Kite knew Shrake from the writer's Sports Illustrated days and ever since. Kite said "the honor was more than appropriate."

"Everybody there owes Bud the world," Kite said. "I don't know that there was an egotistical bone in Bud's body. He was just one of the boys, one of the good guys, and yet unbelievably talented, and he did some phenomenal work."

I will miss Bud. But I can go back to his work and enjoy it while knowing that his writing prowess and his love of life - and golf - is something toward which we can all strive. If you know of Bud Shrake only from is contributions to Penick's books, you owe it to yourself to read some of his novels and marvel at the intellect and skills he possessed.
Steve Habel is one of Cybergolf's national correspondents, contributing news stories, features, equipment and book reviews and personality profiles from his base in Central Texas. He is also the media coordinator for Bechtol Golf Design, the managing editor for Business District magazine in Austin and works as a contributing editor for Horns Illustrated magazine, a publication focusing on University of Texas sports. He also writes a blog (www.shotoverthegreen.blogspot.com), which features news on golf and the Longhorns.