A Full Day's Work - St. James Plantation Director of Agronomy Tends to 81 Holes
By: Dave Droschak
It is the middle of hurricane season along the southern North Carolina coast, so Conrad Broussard is even more attentive about the weather than normal - and that's saying something.
Broussard Places a Flag in a Freshly Cut Hole
as the Sun Rises along the North Carolina Coast
Broussard is a self-admitted Weather Channel junkie, a tag that sort of comes with the territory as director of agronomy at St. James Plantation, the ultra-successful private golf community situated a 3-wood or so away from the expansive beaches of the Atlantic Ocean.

"I like to treat my courses like kids," said Broussard, a dedicated 50-year-old father who also happens to be in charge of 81 holes of private golf designed by the likes of Jack Nicklaus and Hale Irwin. "The Weather Channel is on all the time; I've got it on my phone. I guess technology brings it to the forefront. My wife likes to kid me about it all the time. She tells me we do have more than 100 other channels on DIRECTV."

Broussard keeps abreast of more than storms and sprinkles, and with good reason. More than others in his craft, the climate determines Broussard's next move, considering the four courses at St. James Plantation each sport a different variety of grass on their greens - a unique agronomy challenge in itself.

But that's not all Broussard has to tend to. With that many holes, there are more than 550 pin placements to cut each week, 70 ponds to keep clean and clear of algae, an occasional alligator to remove and even rare Venus flytrap species to steer clear of when tending to numerous wetlands. And then there are the 170,000 rounds golfers at St. James Plantation log each year - a remarkable number even by retiree and second-home market standards.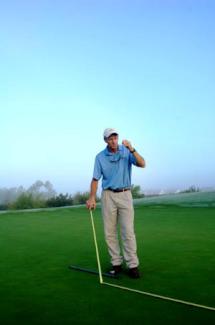 Broussard Measuring Putting Speed
at St. James Plantation
"Every now and then we'll have a pin placement that people aren't very happy with," Broussard laughs when asked about his biggest challenge - keeping the membership abreast of course conditions. "Sometimes you wish you could leave the hole in the same place, but we can't because of all the play that we get. We get so much traffic so we have to do some aggressive programs . . . just to keep grass on the greens. Imagine if you had as many golfers walk through your front yard as we have walk across our greens every day, you probably wouldn't have any grass left."

Broussard's annual budget approaches $4 million, and his staff ranges from 50 to 60 depending on the season. And there are 175 reels to sharpen each day.

"I'm sure the maintenance staff they would rather see five golfers a day out here so the courses are in perfect shape, but the challenge of doing 170,000 rounds of golf and keeping the courses in the condition that the members expect - I still don't know how Conrad does it," said Dave Kjome, director of golf operations at St. James. "He has a magic wand."

And some quick feet.

When he's not planning for a future budget, shopping for the best pesticide prices or ordering a shipment of carp from Georgia to distribute into the ponds to help keep algae in check, Broussard is trying to stay ahead of the game - literally.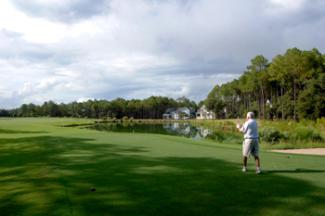 Director of Agronomy Conrad Broussard Tends to
40 acres of Ponds at St. James Plantation
"The challenge for me is just to get around and see as much as I can every day," he said. "We run so many players through and now we're running double tees almost every morning. The golf courses are almost packed by 9 o'clock, so I have to really hustle in the morning to get around and see what I need to see. I try to rotate nines and rotate holes so I can see different holes and different greens every day."

The former Texas Tech golfer realized in the early 1980s he wasn't good enough to go pro after playing some college golf rounds with Steve Elkington. Broussard worked in a pro shop for awhile (and got bored) and then went into the retail clothing business before returning to school in South Carolina to pursue a turf degree.

He landed at St. James Plantation 16 years ago and worked his way up to his current position in 2005 - the same time the community's Nicklaus-designed Reserve Club was coming on line.

Broussard didn't look at adding another 18 holes as more work. "I was excited when they built The Reserve," he said. "Part of that was getting to work with the Nicklaus Group. That was really cool. I got to walk the fairways and center lines, and the greens and tees with the architect. Then Michael Nicklaus came out and I spent some time with him and played the opening round with him."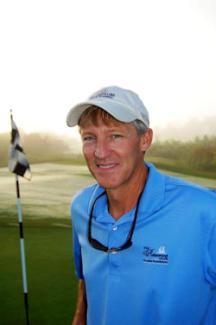 St. James Plantation Director of Agronomy
Conrad Broussard is in Charge
of 81 Holes of Golf
(Photos by David Droschak)
With putts rolling on four different grasses (two bent and two Bermuda) on the 81 holes, Broussard has to be extra attentive to the North Carolina's seasons, temperature changes and golfer's foot traffic.

"I have a superintendent in charge on each course and a few assistants, but the challenging part might be keeping the members abreast of what's going on just because there are so different (maintenance) practices that the greens can't be the same," he said. "They will want to know why the greens are so good here and not so good on another course.

"A lot of it has to do with the time of the year when the greens can actually peak. The bentgrass tends to peak early in the year - March, April, May, even in June if it's not too hot, and then they struggle a little bit in July and August. The Bermuda is going to really peak in June, July, August and September, and you can have some of your best putting surfaces in October, November and even into December. In this part of the country there were a lot of bentgrass greens, but there aren't many now. They are all switching. If you looked on a time scale, bentgrass is going to end up being just a little blip in the years to come."

Broussard misses a lot of the hands-on work, but occasionally gets out to rake a trap prior to a tournament, cut a hole or pull out a Stimpmeter and see how his greens are rolling.

"I probably would be bored if I went back to an 18-hole golf course," he says.
David Droschak has covered golf in the Carolinas for three decades, mostly with The Associated Press, where he worked for 20 years as AP sports editor in North Carolina prior to launching Droschak Communications, a full-service marketing and PR firm based in Apex, N.C. Dave, 51, has covered numerous major golf tournaments, including the 1999 and 2005 U.S. Opens at Pinehurst Resort, and is a longtime member of the Golf Writers Association of America.

Dave was honored with the Sports Writer of the Year award in North Carolina in 2005, and is currently editor of Triangle Golf Today (www.trianglegolf.com), a print and online publication regarded as the "No. 1 Source for Golf News in North Carolina." He is golf editor for Pinehurst Magazine, an award-winning glossy publication, and was instrumental in helping launch Triangle Golf Deals powered by Twongo (www.trianglegolfdeals.com) in the fall of 2011.

Dave also is the co-founder of www.HurricanesBeat.com, a website devoted to coverage of the Carolina Hurricanes, an NHL franchise he has covered since the team moved to North Carolina from Hartford in 1998.

Dave grew up in Penn Hills, Pa., about five minutes from the famed Oakmont Country Club and was introduced to the game of golf as a caddie at Green Oaks Country Club in nearby Verona, Pa.

Dave was the co-captain of the 1978 Penn Hills state championship baseball team, was a pitcher for the 1982 Atlantic Coast Conference champion University of North Carolina Tar Heels, and pitched professionally for two years in the St. Louis Cardinals organization. He is a member of the Penn Hills High School Sports Hall of Fame, which also includes NBA coach George Karl and former four-time Pro Bowl offensive lineman Bill Fralic.