A Glimpse at the Revitalized Fazio Course at PGA National
By: Rob Duca
When golfers think of PGA National Resort & Spa they think first of the "Bear Trap," a stretch of three consecutive closing holes on the Jack Nicklaus-designed Champion Course, site of the PGA Tour's Honda Classic.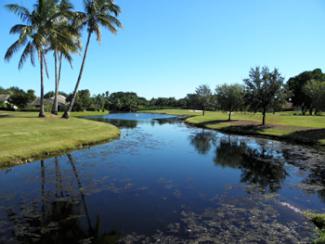 Water A Big Factor at Renovated Fazio Course
But there are four other courses on the property, including the renamed Fazio course, which held its grand re-opening November 1 following a major renovation by Tom Fazio II. It was part of a $100 million investment that included major upgrades and additions to the 30-year-old resort.

The Fazio course opened in 1980 and was previously called The Haig in tribute to five-time PGA champion Walter Hagen. It was originally designed by George and Tom Fazio, Tom's famous uncles. The younger Fazio, whose portfolio includes Trump National designs in New York and New Jersey, was given the task of modernizing the layout without sacrificing its traditional style.

"I wouldn't call it a complete renovation," said Fazio II. "That being said, it's such a better, fresher look. It almost feels like a full renovation without having done all the work."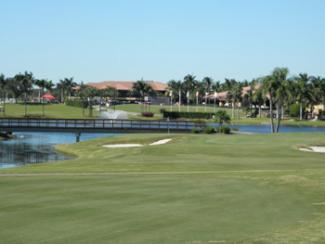 The New Finishing Hole at Fazio Course
Fazio is a famous name in course design, with his uncles and father, Jim, preceding him in the business. He was 10 and hanging around one of his father's projects when he first became intrigued with golf course design. After a year at Mississippi State studying landscape architecture, he headed to Italy for on-the-job training at a course being built in Rome. His initial foray into designing his own course was Eagle Marsh in Jensen Beach, Fla.

Tom Fazio II Design has been in business since 1995, with the proprietor essentially running the show by himself and hiring local employees to work on projects. He tackles only two projects annually and is a constant presence at every job site.

"One of the primary benefits of such a boutique company like mine is that you are getting a true Tom Fazio II design," he says. "You're not getting a design by one of my associates, or from a designer trained by me."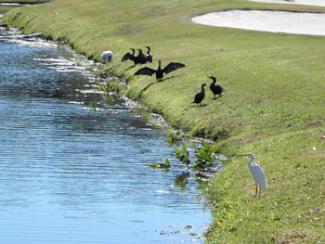 Wildlife Abounds on Fazio Course at PGA National
Asked if he felt pressure tinkering with a course designed by his famous uncles, Fazio said, "I over-think everything, so there's always a lot of pressure. I do all my plans myself and I'm on-site all the time, so I put pressure on myself for every job."

Although the original par-72 routing remains unchanged, the course features an entirely different feel. Bunkers have been redesigned, deepened and enhanced; green surfaces have been increased by nearly 70 percent and grassed with TifEagle; the fairways are now Celebration Bermuda grass; tee boxes have been reconfigured from free-form to square; and the total course yardage has been stretched to 7,000 yards.

"We focused on three major things," Fazio said. "One was agronomy. After 30 years you have a certain amount of organic matter that's built up, so on the greens we needed to get rid of that. We wanted to change the visual look of the golf course. And we wanted to make it easier for the high handicapper, which we did by adding at least one tee box, sometimes two, on every hole.

"Then we re-grassed the fairways, put in new tee boxes, new bunker complexes and new greens, creating entirely different strategies on how to play the holes."
Fazio wouldn't reveal the cost for the two-month project, but said he came under budget thanks to what he labeled "an industry secret that I use."

What is it? To save time and money by taking dirt or sand that had to be moved from one green or bunker and using it on the very next tee. "The contractor said it wouldn't work because nobody does it this way," he said. "It saved our budget by about 50 percent under the industry standard and actually speeded up the process."

Perhaps the most distinctive characteristic of the new design is the greens, many of which are split into quadrants and leave the golfer with a variety of options depending on the cup locations. "There's a risk-reward element to those quadrants, and it depends 100 percent on the pin placements," Fazio said. "The shot you play depends on your game, your putting, your irons, where your drive was, whether you're a better putter or ball-striker. It lends to a lot of thinking your way around the golf course."

The Fazio begins with an intriguing dogleg-left par-5 that can be a bit nerve-wracking for the day's opening tee shot. Leave the drive too far right and you're either out-of-bounds or facing a tight second shot. Favor the left side and water enters play on the drive and the next shot. Water also runs down the right side after the hole turns the corner. You must be precise on the first two shots or you will be sacrificing early strokes.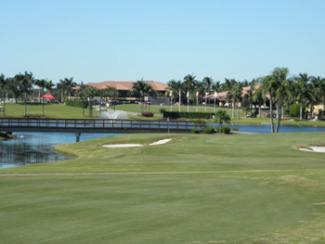 The New Finishing Hole at Fazio Course
The two nines almost feel like different courses. Five of the first seven holes (excluding two par-3s) are doglegs, most featuring deep fairway bunkers at the corners and around the greens. Once you make the turn, the holes are more straightforward and tree-lined. While water is in sight on virtually every hole, it winds around the perimeter of the course and doesn't really enter play unless you dead-hook or slice a shot. There isn't a single forced carry, unless you decide to go flag-hunting when the pin is left on the 18th.

The most distinctive hole on the course is the 215-yard par-3 seventh. The only hole that is completely visible from the road, it is both visually beautiful (palm trees and water line the left side, three Scottish-style bunkers guard the green) and challenging.
In addition to the changes in the course, the resort's 379 guest rooms underwent a floor-to-ceiling makeover and now feature stylish bedding, headboards, wall coverings and carpet, spacious and modern work desks, atmospheric lighting and elegant furnishings. The new "Media Suites," featuring theater-style leather couches and three flat-screen televisions, are ideal for settling in on college football weekends or during "March Madness" following a round of golf.

With a 40,000-square-foot European Spa featuring 32 treatment areas, the "Waters of the World" outdoor mineral pools, a striking zero-entry swimming pool, clay tennis courts, a health and racquet club and two instructional golf schools operated by David Leadbetter and Dave Pelz, there are no shortage of activities. And when it's time to unwind, the resort's contemporary iBar always seems to attract a lively crowd, whether it's a weekday or weekend night.
The property also includes a cigar bar, along with the recently opened Bar 91, yet another result of the renovation. The upscale Ironwood Steak and Seafood and the more casual Palm Terrace offer a pair of dining options.

For more information, visit www.pgaresort.com.
Rob Duca is an award-winning sports columnist who wrote for the Cape Cod Times for 25 years, covering golf, the Boston Red Sox, the Boston Celtics and the Boston Bruins. He is now managing editor of Golf & Leisure Cape Cod magazine and has written for a variety of other publications, including Sports Illustrated, the Boston Globe, Yankee magazine and Cape Cod Life.