A Golf Tournament in Kabul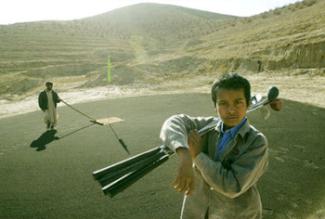 [Editor's Note: The following account was written by Amy Woodruff, a family friend who, while in between jobs, decided to enlist in the PARSA Community Foundation. The organization helps Persians foster goodwill in the communities locally, nationally and worldwide. Soon after she joined, Amy was sent off to Kabul, Afghanistan, a chaotic place that lacks the niceties of America and has a distinctly different view of women. Shortly after arriving in the war-torn country she helped organize a golf tournament fundraiser at Afghanistan's only golf course, Kabul Golf Club. Here is Amy's account of the event.]
The "tournament" was sponsored by a company called Adam Smith International and there were 11 foursomes playing nine holes. Entry fee was $100 per person, which included golf and dinner following, in a secure location!! It was a best-ball and each team had to have at least one novice and only one "good" player.
Many diehard golfers would be appalled. Kabul Golf Club was an actual course in the 1960's. Marnie's [her good friend and a PARSA executive director] dad was a frequent golfer on the course when they lived here in the mid-'60's.
When the Russians arrived, it became a mine field. Now that the mines are all taken care of, it is once again trying to become a golf course.
Despite the fact there was a tournament going on - there were still a number of Afghan families all over the place, small children running around, caddies wandering off with clubs, and the beer guy driving around the course in an SUV with a loud speaker calling out - "COLD BEER"!!! (Remember, in Afghanistan drinking is illegal.) And there were heavily armed police all around. Not your typical golf tournament.
That Kabul Golf Club is a nine-hole course is good thing. The greens are oiled sand, and the fairways are littered with rocks, long grass and anything else you can think of - beer cans, ice cream wrappers, chip bags, water bottles. At the fifth hole there is a well not too far from the green. After walking the course with Van and his foursome for part of the game - we left to get ready for a BBQ dinner. We were hot and tired and all needed a shower. So much dust.
It was like nothing I have ever seen before.
For more information about PARSA, visit http://www.parsacf.org/Page/1 or www.parsajournal.com.