A Legend in Northwest Golf Passes
By: Jeff Shelley
Pacific Northwest golf lost one of its true legends when Gene C. "Bunny" Mason passed away following a stroke last week. He was 81.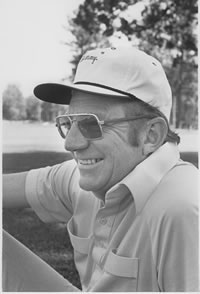 Bunny Mason
Bunny was born in Moro, Ore., on December 15, 1927, the youngest of eight children. He grew up in Salem and was active in sports at Salem High School. In 1945, he shared the title in the first Oregon High School Golf Championship with Bobby Jones of Grant. Jones later became Judge Robert E. Jones. Mason played high school golf with Kent Myers - perhaps the Northwest most decorated amateur player, Salem GC's future head professional, Paul Sundin, and Loren Lippert, a retired postal worker who's avocation is playing every golf course he can; Loren's total is now close to 1,300 courses played.

After turning pro in 1949, Bunny went to work at Walla Walla Country Club and stayed there until 1951. While there he worked for whom he considered a "great mentor," Jimmy Russell. He also met wife of 58 years, Mary, who passed away in 2009.

In 1951, Mason returned to Salem GC to become its head pro. He stayed there until 1960, when he moved on to Columbia-Edgewater Country Club in Portland to become its head pro. Until his death, he was still a teaching pro at Columbia-Edgewater. In 1956, he won the Oregon Open.
While with the PGA of America, Mason was president of the Northwest Section and became Vice President of the national organization. He founded the PGA Education Program and Business Schools, and for his contributions to PGA education was honored with the 1966 Horton Smith Trophy. The Section also presented him with Golf Professional of the Year and Teacher of the Year awards.

In 1970, Bunny was hired by Mike Hollern and Bob Harrison of Brooks Resources in central Oregon to go to work for them at a new resort - Black Butte Ranch - they were planning.

"The original plan was to build a nine-hole golf course and a large number of tennis courts," Mason said in 2006. "Tennis was a big game in the 1970s. But we worked things out in a hurry. We ended up with 36 holes of golf before it was done. I worked a small amount with Bob Graves (Robert Muir Graves) on the design of the Big Meadow course at the Ranch. Then I designed Glaze Meadow with the help of my great friend Bob Rickabaugh."
Thus was born a prolific side career in golf design. Besides Glaze Meadow, among the Oregon courses Bunny went on to design were Middlefield Village in Cottage Grove, Awbrey Glen in Bend, Crooked River Ranch, Eagle Crest in Redmond, Persimmon in Gresham, Indian Creek in Mt. Hood, and the Par 3 Mason Course and Short Course Practice Facility at Columbia-Edgewater. In Washington, Mason designed the courses at Skamania Lodge along the Columbia River, Green Mountain in Vancouver and Lakeland Village Golf & Country Club in Allyn.

He also was responsible for starting the careers of some of the region's preeminent club pros - 18 at last count, including: Craig Griswold, Mike Davis, Pat Fitzsimons (who played on the PGA Tour), Derrick Johnson, Rick Gloor, J.D. Mowlds and Marti Loeb.

Bunny was helped in Black Butte's golf operations by Sid Harman, former head pro of the Yakima Elks in central Washington. "At an unbelievably youthful 65 years of age, Sid did not want to retire," Mason once recalled. "He was with us as the finest teacher, player and public relations practitioner until his death in 1988. Every golfer can dream of shooting his age, but only one out of thousands ever succeed. Sid did it every year from age 63 until death took him at 80 - probably 750 times. He was also the finest fly fisherman I ever saw, too."
While at Black Butte, Mason reputedly established the first destination golf academy in the nation. According to Loeb, Bunny's approach to teaching golf was very straightforward: "He gave greater than 65 years of his life to the game," says Loeb. "Teaching was his true passion, continuing to teach until very recently. A fine instructor he was, a believer in Mason's 'No System System,' a simple, effective approach. And then there was the equally effective, but less tasteful approach: 'KISS - Keep It Simple S%&thead.' "

One writer who visited Mason during his early days at Black Butte was Cybergolf's Blaine Newnham. "I'd been in Eugene for about six years and written about the joys of Tokatee. Bunny asked me to come up and see what was going on on the other side of the mountains.

"I wanted to see the golf, he wanted to show me the trout pond behind the pro shop. He flipped a couple of flies, caught a couple of fish, threw them back, and then we took a look at the Big Meadow course. It was, predictably, stunning, but what I remember are the fish and the man who caught them.

"His designs are all over the Northwest, but it was his spirit that was even more pervasive and separated him from the others."
Another acquaintance, Allen Schauffler, now the weekend anchor for KING TV, Seattle's NBC affiliate, recalls Bunny when he was just starting out in the television business at a station in Bend. "It was 1987 and the story was about the season opening of Black Butte," says Schauffler. "It was my second or third story as a TV guy. I was not only the on-air reporter but the cameraman as well.

"When I got to Black Butte I found out I had forgotten the tripod and didn't have anything to put my camera on. So Bunny opened up a shed and took out a low glass-covered table. I couldn't get the camera height correct, so he had to slump down in a chair to make the shot fit. Bunny probably recognized me as a rookie and helped me out. All I remember was he was great and we got stuff on the air."
Michael Whitmore, who helped Mason with the construction of several of his courses, reminisced about Bunny on a blog: "Bunny was my mentor since I was a kid and when I played at the old Salem Golf Course. We teamed up later to design and construct some pretty neat golf courses including Skamania GC in Stevenson, Wash., and Persimmon GC in Gresham, all told maybe a couple dozen golf projects together . . . He will be greatly missed by many. He was one of a kind and a great friend."

Loeb recalled a couple of humorous anecdotes about Mason. "One day while I was working for Bunny at Black Butte, an extremely self-assured customer came in, threw money on the counter to pay for green fees and said, 'What's the course record?' Bunny replied, 'Two hours and 25 minutes for 18 holes!!!' The customer walked out shaking his head and deflated.
"When answering phone calls in March for starting times in July, people would ask, 'What will the weather be like in July?' Bunny would reply, 'I guarantee that we will have some weather!' "

Bunny and I go way back as well. He always respected my work, especially the three editions of my book, "Golf Courses of the Pacific Northwest." When he was active in course design, he also subscribed to my golf project-tracking reports, Golf Report Northwest, then Golf Report West, and later, www.golfconstructionnews.com, when it went online.

One day 15 or so years ago I received a letter from him. All it contained was a $50 bill and a note that read: "Jeff, thanks so much for all your hard work."

When I was in Bend during the construction of Awbrey Glen, Bunny took several hours out of his busy schedule taking me all over the property in his zeal to explain what he was doing on each hole. We just so happened to be making the tour in my wife's then-new Ford Explorer. Unfortunately, the site was comprised of red basalt - fine for golf but not for new cars. I remember going to a car wash in Bend and spending a lot of cash getting all that red grit off the outside and inside of the vehicle. I'm sure there was still some of the stuff in that Explorer when we sold it a decade later.
What a guy - one of my all-time favorite characters in Northwest golf. It's a sad day learning of his passing, but we all must go some time. May we all live such rich lives - and leave such long-lasting legacies - as Gene C. "Bunny" Mason.