A New Look to Cybergolf
You'll notice a new look to Cybergolf. Among other things, we've added several new features and made the site easier to navigate. Here's a sneak peek at what you'll find.
Cybergolf's Golf Search Engine

The most exciting new element of our redesigned home page is the addition of CybergolfSearch.com, "Golf's Search Engine." CybergolfSearch.com is a revolutionary search engine developed to return relevant golf-specific results.
With mainstream search engines, when you attempt to find places to play golf in, say, Los Angeles, what do you get? Type in "Los Angeles golf" in the search box and you'll get links to stories about L.A. golf along with a bunch of other stuff. The process to unearth golf courses in a specific area can be lengthy and time-consuming.
With CybergolfSearch.com, you'll be able to find golf course websites, golf news and general golf information quickly and easily. You can also locate golf course specials, events, gift certificates and tee times – and actually purchase these items online through our interface.
Freshening Up Our Golf News

On the news front, Cybergolf will maintain its regional focus and continue to provide local stories about golf throughout the U.S. and around the world. But you'll notice a fresh look on our home page as news and special story features have been reformatted for easier navigation. Golfers will now be able to find news and features quicker and easier.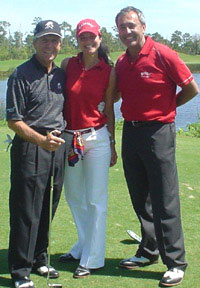 New Personality Added to Our Team

We'll continue with the entertaining updates in Jeff's Journal, Brauer's Book, Writer's Corner, and Architect's Corner. We're also adding a new section in our left-hand toolbar, On the Lip. On the Lip will be the place to find the considerable contributions of Elisa Gaudet, a native of Miami, Fla., who brings a new perspective to golf. (She's shown here with a couple of famous friends - Gary Player and Seve Ballesteros.) Look for celebrity profiles in Elisa's section and much, much more.

We're Always Looking to Make Your Visits More Rewarding

You'll notice a new Feature Course area. Each week in this area we'll showcase one of the nation's premier facilities, and provide Cybergolf visitors special incentives to play them.

Look for us to consistently tweak our popular website – a fixture on the Internet since 1995. We hope you'll enjoy these latest Cybergolf features. Let us know what you think.