A Q School Tale - Richard Lee
By: Craig Smith
The saying goes that "Q School is about stories," and one of them in 2011 has to be the pep talk Richard H. Lee received from his wife after a fourth-round 78 during the six-round grind in early December in La Quinta, Calif.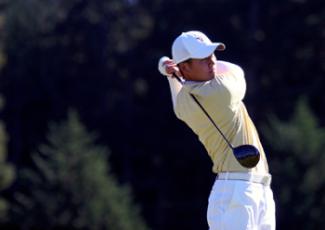 Richard Lee
"I was pretty bummed out," said Lee, who appeared to have fallen out of contention in the 160-man field after the 6-over score put him at 2-over for the tournament with two rounds left. "When I shot 78 I almost started to believe I had no chance. My wife said, 'I believe in miracles . . . It's not over until it's over.' "

Christine Lee, the woman Lee married when he was only 18, turned out to be correct. "She's the one who kept me in it," he said after attending a two-day PGA Tour orientation program for rookies the week following Q School.

Lee bounced back to shoot 65 on Sunday and followed that with a final-round 68 on Monday. After carding a 1-over 37 on his front nine - the back nine at the PGA West Stadium Course, Lee fired an eagle and three birdies on his final five holes for a 5-under 31 on the inward half.
Lee eagled the par-5 fifth hole (his 14th), then sank a 40-foot birdie putt on the par-3 sixth. "That's when I told myself, 'I might have a chance.' "

The feeling was reinforced when camera crews showed up on the next hole. "I figured I've got to be close," he recalled.

Lee, who said he was "getting in the zone," didn't seek specifics of where he stood in the field and just concentrated on each shot. After sinking an 8-footer on the 18th for his final birdie, he was told he had qualified for his PGA Tour card but had to ask in the scoring tent, "What did I shoot?"

The answer was 68, which put him into a tie for 24th. Because the top-25 finishers and ties get Tour cards, the three golfers who tied a stroke behind him at 424 also wound up smiling. Lee's victory celebration included hugs with his wife and 4-year-old daughter, Israella.
Last year, the ex-Washington Husky missed getting his card by a stroke. He played this year on the Nationwide Tour and calls falling short at the 2010 Q School "a blessing in disguise."

"Last year, I don't think I would have been ready for the big tour," he admitted. He said the year on the Nationwide Tour taught him things on and off the course, including travel skills. "I'm not scared or nervous about it," he said of the PGA Tour. "I'm ready for it."

Lee's route to the PGA Tour as a Q School graduate is less convoluted than his route to becoming a Washington Husky. Obsessed with golf, he dropped out of Newport High School in Bellevue, Wash., as a sophomore and went to the Philippines to train under a friend on the Asian Tour.

But after two years, he was homesick. "I missed home, missed school, missed my friends," he said.
He returned home but had fallen behind in school. His former classmates were no longer his classmates. He dropped out and successfully pursued a GED (high-school equivalency certificate) and played golf for Bellevue College (formerly Bellevue Community College).

With performances such as a third-round 62 that propelled him to victory in the 2008 Washington State Amateur at Moses Pointe outside Moses Lake, it was obvious that the 5-foot-9, 170-pounder had the distance and touch to be a top-level college golfer right away.

He played two seasons for the Huskies, earning All-America honors in 2010 and playing on two Pac-10 championship teams. Lee sank the winning putt for the Huskies' 2010 conference championship and was the regional medalist at the 2010 NCAA Championships. But he was overshadowed by teammate Nick Taylor, who won the Ben Hogan Award, college golf's version of the Heisman Trophy.
The 24-year-old Lee is now a resident of Scottsdale. He finished 37th on the Nationwide Tour money list this year, earning $143,243. Fans sometimes confuse him with Richard T. Lee, a Canadian from Vancouver, B.C., who is best known for qualifying for the 2007 U.S. Open when he was only 16.

The ex-Husky, who got a degree in Sociology at the UW, was runner-up in a Nationwide tournament in Mexico and had six other top-25 finishes this year. The top-25 players on the final money list "graduate" to the PGA Tour. With that door closed, Lee entered through the other door - PGA Tour Qualifying School - but only after what he calls "a roller-coaster week."

Q School is misnamed because it has nothing to do with schooling. The name refers to the era many decades ago when it was actually part of a "school" where players sat in classes and heard lectures on rules, etiquette and teaching techniques.

In his "Tales from Q School," author John Feinstein wrote: "The argument can be made that there are more legendary tales attached to the PGA Tour's Qualifying School than to any other event in golf. This may explain why players refer to it as the fifth major."

Feinstein also wrote: "Q School is not a place anyone wants to go back to, but most players will tell you they're glad they had the experience at least once." He quotes Steve Pate as saying, "Have you ever encountered a player who told you he didn't have a Q School story?"

Lee certainly now has one.
Craig Smith (aka "Sideline Smitty") is a retired Seattle Times sportswriter and was at the newspaper for 32 years. Golf was among his beats from 1995 until he retired in December 2008. His interest in golf started in the mid-1950s when he caddied at Inglewood Country Club in Kenmore, Wash. After graduating from Bothell High School, he attended the University of Washington where he became editor of the UW Daily and graduated in journalism. After a stint in the domestic Peace Corps (VISTA - Volunteers In Service to America), he worked as a reporter for the Charleston, W. Va. Gazette, Seattle P-I, Associated Press, Fairbanks News-Miner (where he switched from news to sports) and the Seattle Times. He lives in Kirkland, Wash. He and his wife, Julie, have two adult sons and a spoiled Springer spaniel named "Buck."