A Q&A with Golf's Travelin' Man
By: Jeff Shelley
Since we've both been swimming in the same pool - golf writing - for a couple of decades, I've known Hal Phillips for quite awhile. Despite him being an East Coast guy and me a Left Coaster we've still managed to cross paths either electronically or through our respective printed words over the years.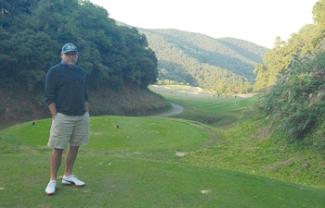 Hal Phillips at Mission Hills' Norman Course
Hal has enjoyed a diverse career, ranging from the daily grind of newspaper sports reporting/editing to overseeing the publication of golf magazines to running his own PR agency. This latter, ongoing gig is Mandarin Media, which he operates from offices in Maine and Vietnam, and which takes him - literally - around the globe to various exotic, far-flung places.

I finally got him to stop long enough - actually he was stuck on a long flight from Hong Kong heading home - to talk about his career and where it's taken him. Here's my Q&A session with Hal.

How long have you been writing about golf?

If you count the years I spent reporting for and editing the sports sections at several Massachusetts daily newspapers, it's been about 25 years, which dates me. But I didn't really get into the "golf business," writing dedicatedly about golf, until about 20 years ago.
What publications have you been involved with and in what roles?

I joined Golf Course News as editor-in-chief in March 1992. Some might not remember this pub (today it's known as Golf Course Industry magazine), but GCN was the first national business journal for the golf industry. During my five years there, we launched an Asia-Pacific edition, then a fully international edition. That really got me interested in Asia and reporting consistently from that part of the world.

I left in 1997 to form the media company I run to this day, but I also left GCN to more actively freelance in the consumer press. The first such piece I wrote was a profile of Mike Keiser for Sports Illustrated (the story was on his nine-hole course, The Dunes, which we had named the top nine-hole course in America; Keiser told me he had just bought 2,000 acres of links land on the Oregon coast, which struck me as the stuff of fantasy (that's why he's Mike Keiser and I'm not). I enjoyed a long freelance relationship with the USGA Golf Journal (R.I.P.) and still do with Links and Golf Magazine, where I've served as a top-100 course-rater since, I believe, 1999.

In the summer of 2001, I partnered with my fellow Maine resident, David DeSmith, to launch The New England Journal of Golf, a glossy consumer mag that's published six times a year. Bad timing there. It hung on for several years but ultimately didn't survive. I continue to freelance here and there, when the spirit moves me. Since 2010, I've blogged at www.halphillips.net, which is one of several sites that feed the mother site, www.TheAPosition.com
Have you written solely about golf or have you tackled other subjects (and in what form - magazines, books, etc.)?

I consider myself a sportswriter by trade. During my newspaper days I reported on everything from the Celtics, Patriots, Red Sox and Bruins to high school field hockey and lacrosse. I still weigh in on extra-golfing matters at halphillips.net. But the non-golf subject I write about most, and the one I still entertain dreams of developing more fully, is soccer. I played the game for 30 years and have delighted in its growth here in the U.S. the last two decades. I'm working on a soccer book that sadly isn't getting the attention it deserves. But it will get done eventually.

Where do you live (please provide any personal background information you're comfortable sharing)?

I live in New Gloucester, Maine, which is about 30 minutes north of Portland, with my wife Sharon, my son Silas, and my daughter, Clara.

Mandarin Media's Logo
What is Mandarin Media and how did it get its name?

MM (www.mandarinmedia.net) is a media company with multiple core competencies, as they say. It's a PR agency, meaning we handle media relations, custom content creation, branding, marketing and social media for clients that are mainly golf-centric. When you're in the golf niche, it naturally spills over into resort and hospitality, so we interact with and maintain big databases for those media, too.

MM also has an IT division, Mandarin Digital Media, which is based in Vietnam but handles web development projects for North American and Asian clients. The company I formed in 1997 was originally called Onintwo Communications, but shortly thereafter I got a curt letter from some outfit that published golf scorecards called Onintwo Publishing, or something like that. So I changed it to Phillips Golf Media. In 2004, when we started doing the majority of our PR work in Asia, and formed the IT division, Mandarin Media made good sense.
How did you get involved with Mandarin Media?

When I was working at Golf Course News, I was continually bombarded with press releases and story pitches that were just horrible, frankly. They were of no use to me, as an editor. So I launched the PR agency to remedy that situation - for my clients, at least. PR has never enjoyed the greatest rep among journalists. That has changed somewhat, as so many media have gotten into PR and the line between original, custom and paid content has blurred.

But even the crustiest, old-school editor still appreciates useful information, written in AP style, provided with great photography. A lot has changed in 17 years - we do all manner of social media for clients, plus strategic branding, digital solutions and whatnot - but working media will always make space for legitimate client-centered info and story ideas, if they're provided in a genuinely useful news or feature context.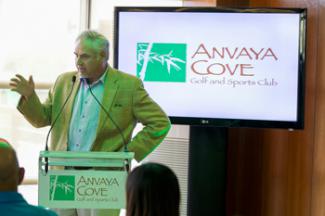 Hal Phillips Talking at Anvaya Cove
Has your work with Mandarin Media led to a lot of travel; if so, where and do you get to play golf on these trips (what are the courses like)?

The short answer is yes, and yes. In fact, I'm writing this on a flight from Hong Kong to Newark, after 13 days in HK, Shenzhen and the Philippines. I've been playing a bit better these days, so I'm bringing my clubs and playing more, when I have the chance. You know what they say, "So many courses, so little time."

The courses in Asia, especially the new ones, are, on the whole, excellent. They're diverse, of course. But if we were to generalize, Asian golfers tend to prefer garden-style tracks, heavily-landscaped and manicured, on the Augusta National model (while North Americans and Brits, in my view, tend to value more highly the St. Andrews-links model: brown, natural, scruffy). There are exceptions of course, but this tends to produce more parkland courses, in Asia. The clay soils and grasses you're dealing with in the warmer climates make it hard to build true links courses, even if they wanted to.
Care to share any interesting/funny stories about some of these travels?

Well, the best stories are the ones you can't relate in print, and they tend to happen on press junkets where you combine multiple journalists, some exotic location and way too much booze. I've attended dozens of these as a working journalist and organized just as many myself, on behalf of clients.

At least one bizarre thing happens on each and every trip. One time we were headed out very early to some course (in an Asian country I won't name), where our bus was stopped on the highway by a political protest - burning tires, chanting, the whole schmeer. We were trapped on this bus right across the median. That was interesting; we didn't make that tee time. In fact, we abandoned the bus and made a dash for it, eventually.

We've bailed guys out of jail and taken them to the hospital. Something untoward just always seems to happen.
I have one media acquaintance who is sort of famous, in our circle at least, for having cadged his way onto more of these trips than anyone else. I've been telling him for years he should put together a book-length compendium of the best stories. I'd buy it.

The most interesting part of travel generally is the exposure to so many cultures, and the cultures within cultures. Southern China is so different from Beijing, for example; Hanoi so different from Ho Chi Minh City. Morocco and the Algarve are separated by a thin strip of the Atlantic but couldn't be more different. I was out to dinner on this last trip, in Manila, where this classy, urbane place featured crickets on the menu. Had to try those (they were really good).

What is your biggest challenge working with clients?

Well, that's a tough one. Maybe the hardest thing is making clients appreciate that any media firm worth a damn has two sets of clients: the clients themselves and the media. If we don't serve both sets of interests, we're not doing our job - for the clients. The moment we start sending out releases devoid of news value, or pitching stories that celebrate some meaningless anniversary, the media stops thinking of the media firm (and the client) as useful sources of information. That serves no one's interest.

What are your thoughts on the future of golf, especially internationally?

I've been thinking a lot about this lately, in the context of several stories I've been working on. Golf power, influence and taste-making have, over the decades, moved steadily east. All three started in the UK, of course before migrating east to the U.S., and now they are moving east to Asia. In 1880, if you had told some British golf poobah that, in just 40 years, all the great champions and all the great courses would emanate from America, he would not have believed you.

I think we're on the cusp of another such eastward shift in power and influence, to Asia. That's where all the money is these days. It's where player and course development is happening most in earnest. Influence in the women's game has already shifted to Asia. It wouldn't surprise me to see the men's game follow suit, and it'll happen much faster than we might ever expect.
Jeff Shelley is the editorial director of Cybergolf.