A Rising Star Surprises the Women's Golf World
By: Dave Andrews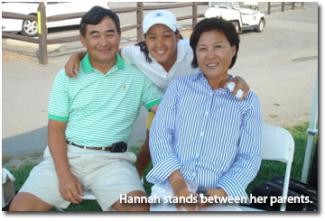 She is an amazingly gifted and extremely bright 16-year-old who dreams of playing on the LPGA Tour. She has such a single-minded determination to achieve that goal that she made a dramatic decision this fall . . . one that would surprise most people. It has certainly surprised, some would say stunned, many in the women's golf world.
Until late-October, Hannah Yun, who lives in Bradenton, Fla., with her father Changsu and mother Joy, starred as a sophomore on the University of Florida Gators' women's golf team. In her first year on a full golf scholarship, Hannah was selected to the All-SEC Freshman Team as well as the All-SEC First Team. Hannah was inarguably one of the best players to enter the Gators' women's golf program in many years.
However this October, following the next-to-the-last tournament on the Gators' fall golf schedule, Hannah surprised her teammates and coaches when she announced she was giving up her scholarship, leaving the team, and withdrawing from the university.
Why would a rising young star (also an "A" student and Psychology major) walk away from one of the best collegiate women's golf programs in the country?
Yun decided to leave Florida because she felt her development as a golfer was being hurt there. The strenuous academic demands coupled with the social distractions of college life did not allow her time for the intensive training she had grown accustomed to before entering college. She felt that her game was actually "going backwards" while playing at Florida and that it was threatening her goal of becoming an LPGA Tour professional.
Hannah left Florida and re-enrolled in the IMG/David Leadbetter Golf Academy in Bradenton, where she is now devoting 10 hours a day to working on her game. She had spent her high school years at the academy, graduating at the tender age of 15 with a 4.0 grade point average. Still just 15 (most college freshmen are 17 or 18), this brilliant teenager enrolled at the University of Florida in 2007.
This past summer during the off-season in college golf, Hannah, who had just turned 16, played as an amateur in 11 events on the Duramed Futures Tour, competing alongside many of the upcoming stars in women's professional golf. In 11 events, Hannah made seven cuts and her scoring average was 74.3. That ranked her 57th out of more than 150 players on the tour, most of whom had spent four years in college golf programs before turning pro. Hannah was the youngest player on the tour in the 2008 season, six or seven years younger than most of the players she competed against. Her results on the Duramed Futures Tour have guaranteed her playing status for the 2009 season.
In another surprising move, Hannah filed a formal request with the tour to be allowed to play as a professional next year. She will need a special exemption for that to happen because she will not turn 17 until April 2009 and does not meet the tour's minimum age requirement.
Hannah's parents are fully backing her decision to leave Florida and behind her attempt to turn pro at a young age. They also believe Hannah's future as a professional golfer could have been jeopardized if she remained at the University of Florida.

Many will disagree with Hannah's decision to leave college, arguing that she should not have passed up the opportunity for a free university education. Thousands of young women have used their skills as golfers to obtain collegiate scholarships, with most either choosing to chase other dreams or not having the ability to make a career out of professional golf. But many left college with a degree that allowed them to pursue other avenues outside of golf after graduation.

However, Hannah Yun has a goal, one she's quite passionate about. She has made the decision to devote her young life to golf and will take it as far as her skills will allow. Other players on the LPGA have chosen the same route. Paula Creamer and Morgan Pressel are two of the most recent players to have skipped college and turned professional in their teen years. Vicky Hurst, the leading money winner on the Duramed Futures Tour in 2008, will be going directly to the LPGA next season at age 18. She also decided to forego a college education.

Hannah Yun plans to be on the LPGA very soon. Judging by her drive, determination, and focus at such an early age, it would probably be unwise to bet against that lofty goal.
Dave Andrews is a Harvard-educated former television news reporter. He's also an avid golfer who has become a fan of the Duramed Futures Tour. His home course in Concord, N.H., is annually the site of one of the tour's events. The inspiration for Dave's 2007 novel, "Pops and Sunshine," came from meeting many of the young aspiring women golfers on that tour. Each of them has a passion, dedication and determination that he finds remarkable. His novel is a fictionalization of the dream that these young women share. To order Dave's book, visit http://popsandsunshine.com.