A Room with a View
By: Tony Dear
There is no better place from which to watch golf than the balcony of Room 236 at the Old Course Hotel in St. Andrews (okay, 234 and 238 are probably pretty good, too). Tony Dear took in the view last month, then left for a short tour of the Highlands.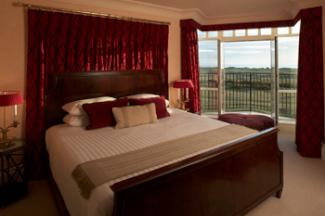 Old Course Hotel Guest Room
I'm standing next to an ornate writing desk in my room at the Old Course Hotel in St. Andrews trying desperately, and unsuccessfully, to hold back tears. The desk is undoubtedly a magnificent piece of furniture, and one at which it is easy to imagine an elaborately-garmented Louis XIV dipping his quill and staining his parchment, but it is not the reason for my unfortunate display. Rather, it's the view.

As a guest of the 41-year-old hotel that has welcomed the likes of Jack Nicklaus, Lee Trevino, Seve Ballesteros, Tiger Woods, Nick Faldo, Padraig Harrington and various international dignitaries, it really wasn't for me to request a certain room prior to arriving. I assumed I might be given something next to the kitchens or a busy elevator. The view would most probably be a collection of garbage receptacles, or the parking lot if I was really lucky. And I would have been grateful for it, of course.

It turns out the Old Course Hotel doesn't actually have any badly positioned rooms. What more affordable accommodations there are look not toward the Old Course but the Eden.

Plus, $1,050 a night, east-facing Room 236, overlooking the Road Hole, was vacant. So I moved in for a couple of nights.

In the distance, the imperious Royal and Ancient clubhouse is ablaze in early evening sunshine and the red Dumfries stone of Hamilton Hall positively glows. From half a mile away, it doesn't matter one bit that the former St. Andrews University hall of residence is actually in a state of disrepair, having been sold in 2006 to Rhode Island's Wasserman Real Estate Capital LLC who had hoped to break it up into 23 luxury, fractional-ownership apartments and rename it the St. Andrews Grand, but who have yet to follow through with the plan.

Below me, a procession of Americans, Swedes, Germans (the accents and attire give them away) and, who knows, maybe even some Scots, is fouling up the 17th with a series of tops, shanks, chunks and half-stifled profanities. The Jigger Inn, bordering the fairway, looks cozy and inviting with the promise of two or three after-dinner Glenlivets.

For anyone with even the remotest interest in golf and its history, the scene is a bit special and, even though I've been to the Auld Grey Toon and played the auld brown links several times, the vista from this particular vantage point is overwhelming.

Unfortunately, I'm not alone. Caroline, the impossibly polite and professional concierge who has led me to the room in order to check me in (no messing about in the lobby for this VIP) is also present and is wearing a look of genuine concern.

"I'm really sorry, I don't know what's the matter with me," I stammer.

"It's perfectly alright, Mr. Dear. It happens all the time."

Pause.

"Really?"

"Really. Most of the guests I bring into this room to check in break down at some point. I totally understand. I've been here 12 years and still get a lump in my throat when I look out over the links."

Eventually I stop weeping like a child and Caroline leaves. Had this been a Howard Johnson, Double Tree or even a Grand Hyatt, I would now have spent half an hour unpacking, 15 minutes trying to figure out the alarm on my clock radio (before giving up and phoning the front desk for a wake-up call) and perhaps 30 more flopped on the bed looking for the Golf Channel and then cursing the fact that this two-bit hotel doesn't have it.

Instead, I stand on the balcony for what seems like 10 minutes but which was actually closer to 60. I remember Tommy Nakajima putting into the Road Hole Bunker at the 1984 Open Championship and taking four to get out; Seve Ballesteros chopping out of the rough on the left with a 6-iron in the final round and Tom Watson overshooting the green with a 2-iron a few minutes later. I recall Nick Faldo's clinical dissection of the Old Course in 1990, Costantino Rocca's miracle birdie on the 72nd hole in 1995 and John Daly's subsequent playoff win.

And I remember following Tiger Woods all the way round in 2000, the year he beat Faldo's scoring record. Most of all, I remember my first visit to the Old Course, with my Dad in 1985, the year I discovered inland golf and seaside links golf were only very loosely related.

The Old Course Hotel opened in 1968 on the site of the town's original railway station. To counterbalance the moving sand on which it was sited, the 144-room building was constructed on underground floats. The original owner was the British Transport Authority, which had plans to add 45 chalet-style houses, an outdoor swimming pool and squash courts following the '78 Open where Jack Nicklaus won by two shots over Ray Floyd, Ben Crenshaw, Tom Kite and New Zealand's Simon Owen. The development would have had a significant, not to say negative, impact on the 17th hole, and fortunately it never materialized.

The BTA sold the hotel in 1982 to European Ferries, which remodeled it in time for the '84 Open and then sold it on to an international consortium called Old Course Limited in 1988. The hotel got a second facelift soon after. Upon it re-opening in 1990, it no longer resembled a "dresser with its drawers pulled out" as Henry Longhurst had once described it, nor was it the "horrible eyesore" that former R&A Secretary Keith Mackenzie had labeled it. It wasn't the Burj El Arab in Dubai or New York Plaza either, but the exterior certainly had improved.

In 1992, Japanese publishing and printing giant Kosaido Co. Ltd became the majority shareholder in Old Course Ltd, and added the Millennium Wing for the 2000 Open and, in 2002, tripled the size of the spa. In mid 2004, Old Course Ltd put the hotel up for sale and in October Herb Kohler purchased the property for an undisclosed sum but which was rumored to be approximately equal to a rough estimate in the general area of more or less £35million or thereabouts which, at the time, was equal to about $63 million.

Kohler, the plumbing magnate who bought the property following the great success his American operation - the American Club in Wisconsin - was reporting, soon set about upgrading his new purchase with the intention of making the Old Course Hotel one of the greatest golf resort hotels in the world. French designer Jacques Garcia, who worked on the Spice Market restaurant in New York, Hôtel Costes in Paris and Hôtel Metropole in Monte Carlo, was commissioned to remodel 23 suites whose walls now have a distinctly French look with a dark red, silk-lining. Given where we are, it seems a strange choice; a nice tartan would be more appropriate perhaps. But the longer you stay, the more it grows on you.

In the bathroom you find top-of-the-line Kohler products, including the Chromatherapy (color therapy) Bath, showers that spray you from three different directions, and colorful hand-painted wash basins, like the Mottahedeh design in 236, manufactured by Kallista (a Kohler brand).
A major redesign of the Duke's Course, which the hotel had built in 1995, was also undertaken. Five-time Open champion Peter Thomson designed the original course, a heathland beauty five miles inland from the hotel with great views of the town and St. Andrews Bay. But it drained badly and was considered too difficult for resort golfers. Tim Liddy, an Indiana-based architect who has worked a great deal with Pete Dye over the last 20 years, reshaped and added bunkers, built five tees for each hole and added sand to the topsoil to improve drainage. A handful of greens and the last four holes were virtually rebuilt, and the result is a major improvement of what was already a good course. It cracked the top 100 in Britain's Golf World magazine for the first time last year and certainly provides an enjoyable diversion from all that links golf.
But heck, this is Fife, you're here for all that links golf, so let's head back towards the North Sea. The Old Course you already know about. It's hosted the Open Championship 27 times and will do so again in 2010, when Tiger Woods will be going for his third straight win there and fourth Claret Jug altogether (he also won at Hoylake in 2006). You may be less familiar with the year-old Castle Course, which the St. Andrews Links Trust developed a couple of miles east of town on a drab bit of clay-based farmland that sloped from the A917 down to the cliffs at Kinkell Ness.

David McLay Kidd who built the excellent Bandon Dunes in Oregon and whose American operation is based in Bend, Ore., was chosen as architect and started by covering the 220-acre site with thousands of tons of sand to establish firm, close-cropped turf as similar as possible to that of the town's links courses. With the sand in place, Kidd and his shaping team which included a number of local greenkeepers, attempted to create 18 entertaining holes from what was a particularly uninspiring site . . . except for the views, of course.

Some say he overdid it, creating a sort of links theme park with excessive mounding, too many pot bunkers, over-the-top contouring on the greens and too many instances where golfers might get to their ball and think to themselves "Er, where now?"

It's a valid question. At the par-5 fourth hole, I hit what I thought was a decent approach. When I arrived at the putting surface, however, I saw no sign of the ball. I looked behind the green and in the greenside bunker. Nothing. It wasn't in the cup either. After a few minutes, I gave it up and headed for the next hole.

Having hit off the tee at the fifth and after walking 30-40 yards down the fairway, I glanced back at the fourth green and saw a ball. No one was playing the hole, so I quickly nipped back and was astonished to discover the ball was indeed mine. It was on the front edge of the putting surface, at the bottom of an absurdly severe slope, not 25 feet from the hole. And I couldn't find it!

And this was after several of the greens had been softened following the course's first summer season in which reviews had ranged from gushing to downright rude.

Links fans should satisfy their curiosity with a visit. It is, after all, a magnificent achievement considering what it replaced, and the views looking west are fantastic. It's perfectly possible you may fall for its 6,759 quirky yards, but don't be surprised if you walk off the 18th green cursing the very ground David Kidd walks on.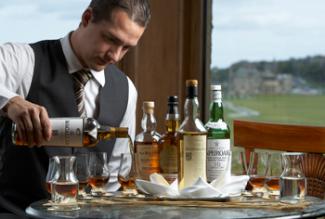 Road Hole Bar
Back at the Old Course Hotel, it's time for some whisky in the awesome new fourth-floor bar, with leather sofas and floor-to-ceiling windows that look out on the 17th hole. Behind a set of double-doors across the corridor from the main bar is the whisky-tasting room where the bar manager, a young German lad by the name of Christian Zeiss, warned me of the dangers of not only drinking whisky neat, but also adding too much water. "Just a drop or two is all you need," he says in his clipped, but perfectly fluent, English. "Neat is probably a little harsh, while a few drops of water help release the flavors. Too much water drowns them."

I'm curious to know how on Earth a 20-something from Germany came to be managing the whisky-tasting room at the Old Course Hotel. "I come from a college town called Giessen, about 60 kilometers north of Frankfurt," he says. "I used to work as a bartender in a place called 'Havana Club' for six and a half years. A friend of mine came to Scotland to work in the Fine Dining Restaurant here at the hotel and then emailed me to say they were looking for experienced bar staff and ask if I would be interested in coming over for a season. It's been a pretty long season now - I started over three years ago. I haven't been back to Germany in that time, and for the moment don't have any plans to."

Zeiss picked up a lot of his knowledge from his sister who translated numerous books by whisky writer Michael Jackson into German. In his free time, he reads a lot about spirits and visits local distilleries - "I've been to about 30." What he doesn't do in his free time, however, is play golf.

"Believe it or not, in the three years that I've been here, I have never touched a golf club. My closest connection to golf is picking up the golf balls from the upstairs terrace from time to time."

Zeiss can't specify a favorite single malt as it "depends on his mood and what time of day it is." However, he does admit to being a big fan of Islay's potent and smoky whiskies - Ardbeg and Lagavulin for example, and also some Speyside malts such as Mortlach and Macallan.

Together, Zeiss and I work through a trio of Scotland's finest: Laphroig, from Islay, even a faint whiff of which can put the unprepared tester off whisky for life; the very popular Macallan, which is produced in the Speyside town of Craigellachie, 40 miles east of Inverness; and Highland Park, which I'd never actually heard of but which became my favorite whisky by about the third sip. Distilled in Kirkwall in the Orkney Islands, 18-year-old Highland Park was named the best spirit in the world in 2005 by Sprit Journal's F. Paul Pacult who said that, "Out of the hundreds of whiskies from Scotland, Canada, the U.S., Japan, India, and Ireland, Highland Park 18-year-old is the finest of them all, and right now my favorite distilled spirit."

F. Paul was right on the money as far as I'm concerned. After Christian had dismissed me and the other tasters, I went back to the bar and ordered a large one, with just a few drops of water, of course.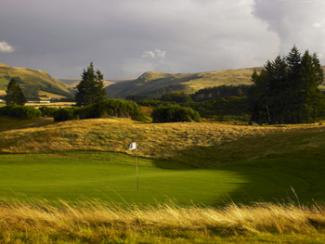 18th Green at PGA Centenary Course
Leaving the Old Course Hotel is so very hard to do especially as Caroline is there to say goodbye. It's dreary out so missing a morning's golf to make the hour-long drive to Gleneagles and the PGA Centenary Course, venue for the 2014 Ryder Cup, is actually time well spent.

Christened the Monarch's Course and opened in 1993, the PGA Centenary Course (renamed in 2001 to celebrate the British PGA's first 100 years) at the magnificent Gleneagles Hotel in Auchterarder, Perthshire, is to the resort's King's and Queen's Courses what Bandon Trails is to Bandon and Pacific Dunes: it's a worthy addition for sure, but will probably never be afforded the same level of affection as the originals. Had it been built 100 miles away, the PGA Centenary would no doubt have received more glowing reviews, and may even rank higher than 88th in the UK's top 100 (according to Golf World). But with neighbors like these, it pales rather.

That is absolutely, positively not to say there aren't a number of really good holes. The par-5 second, par-4 third, par-3 sixth and par-5 ninth are the highlights of the front nine while the deceptive short par-4 11th and par-4 15th, which provides the course's best view of the surrounding hills, stand out on the back. Actually, the only holes that aren't that stimulating are the somewhat mundane 10th and 17th, both seemingly innocuous par-3s where even a mediocre mid-iron will find the green.

The mystical Ochil Hills and sublime Scottish heathland give character to the site which Nicklaus described as "the finest parcel of land in the world I have ever been given to work with" (this was before Reflection Bay, Pronghorn, Cap Cana, Cabo Del Sol, Mayacama, Manele and Hualalai remember, but surprisingly, after Muirfield Village, Valhalla, Castle Pines and Desert Highlands). Recently, however, the Golden Bear threatened to remove his name from the course after McLay Kidd was asked to make some alterations - without Nicklaus's consent - in readiness for the Ryder Cup. Thankfully, the two sides settled their differences in May when Nicklaus paid a visit, and his signature remains in place.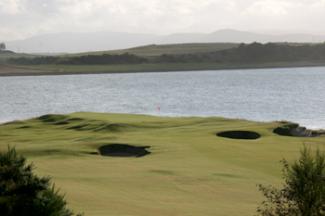 Third Green at Castle Stuart
After another inland odyssey, it's time for another visit to the dunes. Castle Stuart, the new Mark Parsinen/Gil Hanse design near Inverness is where I'm headed as I've heard it's so good it won't be five years before it breaks into the world's top 100.

Parsinen, a Californian who studied in London in the 1970s, was the driving force behind the superb Kingsbarns in Fife which he designed alongside fellow Californian Kyle Phillips. The 60-year-old then spent a number of years following Kingsbarns' introduction combing the Ayrshire, Perthshire, Aberdeenshire, Morayshire and Banffshire coastlines in search of another desirable site and, having found it, chose Pennsylvania-based Gil Hanse, who built the Crail Golf Society's Craighead Links in 1998, to craft the new course.

"Dr. Robert Price, who wrote a book about the geomorphology of Scottish golf courses, pointed me to this area," Parsinen told www.golfcoursearchitecture.net in July about locating his site. "I followed his directions and went out to where the ninth green is now. I found an open piece of ground that looked like a bunker - obviously an animal scrape - and the soils were wonderful. You stand right there and can see the lower topography and what the whole site was about. And that was immediately interesting to me. I called and thanked Dr. Price for tipping me off and it turned out I had been in the wrong place. He was actually telling me to go near another farmhouse which has since become part of our property."

With views over the Moray Firth and west toward the Kessock Bridge, which golfers cross on their way to Royal Dornoch, Castle Stuart is a modern masterpiece that Parsinen likens to Royal Portrush in Northern Ireland and which has quite justifiably put its hat in the ring for future Open Championships. "Call it a fantasy, call it a dream, but we want the Open Championship to come here," Parsinen says. "And when Peter Dawson (Secretary of the Royal and Ancient Golf Club which controls the championship) was here, unlike Donald Trump, I didn't say we deserve it. I just told him that we'd like to think if Castle Stuart is worthy of an Open, that we'd get his consideration."

There is, of course, a catch. Open venues tend to be well into their second century, while one notable course is in its sixth or even seventh. Castle Stuart is barely six months old and adding it to the list will have opponents for sure. But if the world we lived in was simple and could award Open Championships to clubs based purely on the merit of its course, then Castle Stuart would take its place alongside the Old Course, Troon, Birkdale, Hoylake, Sandwich, Muirfield and the rest of them before very long. Lump it in with Royal Dornoch, Royal Aberdeen, Nairn, Cruden Bay, Boat of Garten and the wonderful Moray Golf Club in Lossiemouth and you have a Northern Scotland itinerary you will never forget and which many might consider the equal of Fife and Ayrshire.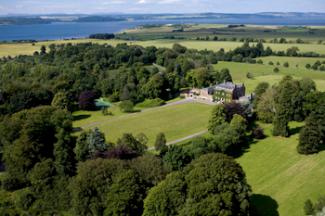 Culloden House Hotel
The perfect preparation for a round at Castle Stuart is a night at the exquisite 28-room Culloden House Hotel in Balloch. Just a few miles from the site of the Battle of Culloden (1746) - the last battle ever fought on British soil, where the Hanoverian British Government routed the Jacobites who wanted a Stuart king restored to the British throne, the existing house is over 200 years old, but certainly not the first ever built here. Originally a 16th century Jacobean castle, it was taken over by Bonnie Price Charlie (Charles Edward Stuart) just prior to the Battle of Culloden and used as the Jacobite headquarters. In the 1770s, by now restored to the Forbes family which had owned it since 1625, the house was rebuilt by architect Robert Adam who left its thick walls and dungeon intact.

The rooms at Culloden House are delightful, but it's as much for the food that the hotel earns its reputation. You may balk, indeed wretch, at the very idea, but I urge you to try the award-winning black pudding (or "blood pudding"). Black pudding is made with pig or cattle blood and typically filled with meat, fat, suet, bread, sweet potato, barley and oatmeal. Bought from a supermarket, it can be somewhat bland. Culloden's pudding is absolutely delectable, however, and though nutritionists might not wholeheartedly agree, the perfect prelude to a round of golf.

It would be wrong, however, to judge Chef Michael Simpson's superb menus by the black pudding alone. Simpson has been here for over 20 years and, in that time, created one of the finest restaurants in Scotland. The Tournado of Scottish Beef Fillet, and Timbale of Haggis, Neeps and Tatties with Whisky and Chive Jus are the creations of a genius.
So, too, are Scotland's golf courses, some of which are the work of the divine creator Himself. The good Lord is omnipresent, of course, but after a week like the one I recently enjoyed in Fife and the Highlands, you come away thinking He must have spent an awful lot of time in Scotland.

Useful Websites

www.oldcoursehotel.kohler.com (Duke's Course)
www.standrews.org.uk (Castle Course)
www.gleneagles.com (PGA Centenary Course)
www.castlestuartgolf.com
www.cullodenhouse.co.uk
Tony Dear is an Englishman living in Bellingham, Wash. In the early 1990s he was a member of the Liverpool University golf team which played its home matches at Royal Liverpool GC. Easy access to Hoylake made it increasingly difficult for him to focus on Politics (his chosen major) and, after dropping out, he ended up teaching golf at a club just south of London where he also made a futile attempt at becoming a "player." He moved into writing when it became abundantly clear he had no business playing the game for a living. A one-time golf correspondent of the New York Sun, Tony is a member of the Golf Writers Association of America, the Pacific Northwest Golf Media Association and the Golf Travel Writers Association. In 2009, Tony won first place for Editorial/Opinion in the ING Media Awards for Cybergolf. The article (http://www.cybergolf.com/golf_newsa_euros_take_on_the_2008_ryder_cup_matches) that impressed the judges was the one about Europe's Ryder Cup team and Captain Nick Faldo's decision to pick Paul Casey and Ian Poulter rather than Darren Clarke.