A Round of Golf with Mike Keiser - The Visionary behind Bandon Dunes
By: Tom Cade
In early April, while attending a media day at Bandon Dunes Golf Resort in advance of this summer's U.S. Amateur Public Links and U.S. Women's Amateur Public Links Championships, I was asked while standing near the putting green of the resort's Old Macdonald course whether I'd seen the day's pairings for the round of golf. I hadn't, and was told I would be starting on the first tee of the shotgun start, and that I would be playing in a foursome with Mike Keiser.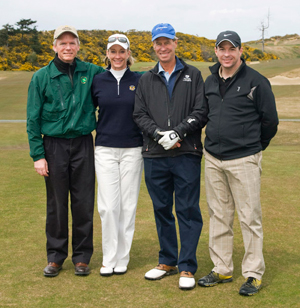 First Tee at Old Mac (left to right) Tom Cade,
Christie Austin, Mike Keiser & Tom Ward
Keiser, you should know by now, in the year 2011, is the owner of the resort and is the subject of books, articles and conversations in the far reaches of the golf universe; of stories which are fact, fiction, myth and apocryphal.

This was going to be good.

Our foursome greeted each other on the tee - Christie Austin of the USGA, Tom Ward (a sports director from a TV station in nearby Eugene, Ore.), Keiser and me. We had our photo taken. Then Mike chose the friendly game for the day (a $2 Nassau) and chose the tees we would play (gold). No fuss. We teed off on the short par-4 first, and away we went.

It turns out that Keiser plays a consistent game and is a solid 12 handicap. During the four-and a-half-hour round he spoke truly, modestly, fairly and openly. No artifice of any kind. Everything was practical; everything was common sense; nothing grandiose or mystical.
As we walked, mostly I kept quiet and listened, letting him offer what he would. Here are a few of the items that stuck with me.

While walking to the fifth tee, he asked us if we'd like to see where they had initially thought of putting the Old Macdonald clubhouse. So we hiked up the bank above the tee box and at the top turned and saw the sweeping view of Old Mac and beyond it the Pacific Ocean. A marvelous setting. "But we decided against it," he said, "because of the constant traffic of all the delivery trucks - food, produce, beer, equipment - coming and going to this site."

This was the same reason he gives to those who tell him he should have built the resort's main lodge along the cliff overlooking the ocean, rather than its ultimate location inland at the start and end of the Bandon Dunes course. "And besides, it would have taken a spot away from where we have some of our best holes along the cliff," he said.
A true believer in amateur golf (witness his giving up two of the resort's courses to host the two USGA championships this coming June during the height of the resort's money-making season), Keiser questioned whether the college kids playing in events such as the U.S. Amateur can truly be called "amateurs" because they're really just gearing up to play professionally. "Pure amateurs are golfers who will be playing as an amateur 10 and 15 years from now," he said. "Not those who are looking for the chance to turn pro." He was disappointed to learn that Lion Kim, who won last summer's U.S. APL, will turn pro in May, rather than wait a month so that he could defend his title at Bandon Dunes.

I asked him how often he visited the site during construction of Old Macdonald. "I came out at least once a month," he said. "You can't trust architects." At first I thought he was kidding, but he wasn't. So I told him I'd heard a story that during the creation of the original Bandon Dunes course he had come out and took a look at the wild undulating greens that David McLay Kidd (the architect) was building, and had told Kidd to make them flatter. "Yes, that's true. I told Kidd to make the greens more playable, 'or I will fire you today.' Can you imagine getting fired from your very first job as an architect?"
Keiser's reining-in of Kidd proved that his instincts were good, that he knew what golfers would want and he knew how to handle tough men in a tough situation. Later, others would let Kidd do as he pleased, and they have since paid the price - while the Bandon Dunes course continues to garner global acclaim in the golf industry, Kidd's Tetherow design in Bend, Ore., which opened in 2008, is currently undergoing renovation of many of its greens because of unfavorable reviews; and plans are in the works to blow up the disastrous Kidd-designed Castle Course in St. Andrews, barely two years old, and on a once-in-a-lifetime piece of property at the Home of Golf in Scotland. "Kidd was left alone to do whatever he wanted (at the Castle Course)," said Keiser. "The committee from the St. Andrews Trust overseeing the construction never checked in on him."

On hearing the news that Herb Kohler and Pete Dye, the duo responsible for the Whistling Straits juggernaut along the shore of Lake Michigan, have been looking at property on the Oregon Coast south of Bandon Dunes, Keiser said he has no problem with that. "It would bring more people into the area, which would be good for us and good for the community." Keiser said he has proposed to the state of Oregon the idea of the creation of a "Links Golf Trail" all along the Oregon Coast.
Back in the mid-1990s, Keiser had originally sold the idea of the resort to Coos County by telling them the facility would create jobs for local residents, and he has remained true to his promises. Although there are a few employees from other regions who have made the pilgrimage to work at the resort, for the most part the staff is hardworking and friendly locals from the surrounding small towns and farms. He didn't import a busload of attractive twenty-somethings from the big cities of Portland or San Francisco to be waitresses in the resort's restaurants and pubs, as others would have done. Again, a practical, friendly approach by Keiser, which has created thousands of loyal (and repeat) golfers.

His affection for the caddies at the resort is clear (there were three caddies in our foursome). He is proud of the number of caddies working at the resort (it will peak at 350 during the summer months), and walking down the fourth fairway I overheard him kidding with his own looper, asking rhetorically, "How many flat TV screens - with cable - are in the caddie house (answer: two)?" and "How many prepared meals are available each day for caddies (answer: three)?" and "Are you provided with uniforms, locker room and showers (answer: yes)?"
After the seventh hole, which sits on a cliff overlooking the Pacific, Keiser asked us if we'd like to see the turn-stand. So we walked around a dune there it was, hidden from view, a little snack shop building with a lone, but cheerful, attendant. There were two tables on the cliff overlooking the pounding surf on the beach below. A hidden and wonderful place. "Hank (Hickox, the resort's general manager) didn't want us to put this here because he's afraid the golfers would hang out here in the evenings drinking beer and he'd have to send a shuttle out in the dark to pick them up." But that hasn't happened yet.

When asked how often he visited the resort, Keiser said, "I usually come in for three days at a time. This seems to be just the right amount. I check in on things and take a look around. If I stay longer than that, then people find out I'm here and start coming to me with their problems, and that's the job of my management staff, not me." Keiser said he stays in different rooms at the resort every time he comes, so he can see firsthand the conditions of the accommodations provided guests.
And more practical business wisdom: "You will never hear the word 'spa' attached to the name of this resort," Keiser said. "It's a losing proposition. You spend $15 million to build a spa, and the return on it will not match the investment. We have a modest locker room, with available massage services, and we've found that's all that's really needed or wanted."

Very common sense.

We played a $2 Nassau game on our round at Old Macdonald, and on Old Mac's 18th green I handed two dollars to the man who is king of all he surveys. I couldn't have enjoyed it more.
Tom Cade is the editor of Pacific Northwest Golfer magazine, published by the Pacific Northwest Golf Association. He is also the current president of the Northwest Golf Media Association, for which he served as managing director in 2005-06. From 2004-07 he produced television commercials for golf resorts and travel destinations.