A Surprise in the World Rankings
By: Dave Droschak
When the top 100 golf courses in the world as voted on by golf course architects was recently released the usual suspects made the list. St. Andrews topped the Golf Course Architecture Magazine chart, as did Cypress Point, Pine Valley and Augusta National.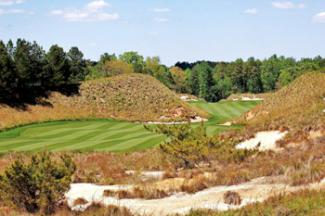 Tobacco Road's Opener Catches Your Attention
Immediately(Photo by David Droschak)
And famed Pinehurst No. 2, which in 2014 will host its third U.S. Open in the past 15 years, was in its rightful place at No. 15.

But there were some surprises, most notably Tobacco Road Golf Club in Sanford, N.C., 25 miles north of the Pinehurst area, which was ranked 50th on the list of the world's best layouts.

Many golfers who have traveled to the Sandhills over the last 15 years to golf at Pinehurst Resort, Pine Needles or any of the 40 or so courses in Moore County have ventured over the county line to test their patience and skill, or likely both, at Tobacco Road, a course carved out of a former sand quarry by Mike Strantz.

Dubbed "Pine Valley on Steroids" in its early years, Tobacco Road has enjoyed a love-hate relationship with the conventional and traditional game of golf. The course is filled with sandy graveyards - some 30 feet deep - a series of blind shots, bells to ring for the "all-clear" signal, and a pair of 100-foot-high mounds to needle a drive through on your opening tee shot.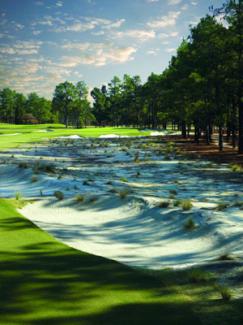 A Classic Restored Waste Area on the
2nd Hole at Pinehurst No. 2
(Photo Courtesy of Pinehurst Resort)
Visually, it's clear to see what all the fuss was about.

With the second-highest Slope rating in the Carolinas (the Ocean Course at Kiawah Island is No. 1 and made the list at 33rd best in the world), Tobacco Road can be a hard day at the office. But Strantz designed the course for fun and for golfers to figure out, not necessarily overpower. From the Ripper tees, it measures only 6,532 yards - hardly a brute when compared to some courses that extend 7,500 yards.

With just eight courses beside his name prior to passing away from throat cancer, Strantz was clearly on to something with his brilliant mind and even more astonishing golf artistry. His redo of the Monterey Peninsula Shores Course made the architect's list at No. 80.

Golf isn't played in an arena, so there are no real boundaries - and Strantz stretched Tobacco Road to the limits. If Donald Ross was about strategy, some would argue that Strantz was left of center. But the further away we get from this fine piece of art the more we can appreciate his intent, his vision, his absolute golfing madness.

For the most part at Tobacco Road, Strantz laid the painting out for display; it's up to us to interpret it.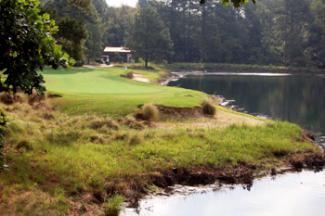 Like Most Par-3s at Tobacco Road, the 14th
Involves Skill to Reach Its Trouble-Guarded Green
(Photo by David Droschak)
"We see the excitement here every day from golfers," said Joe Gay, the director of golf at Tobacco Road from Day 1. "I will say most likely a friend referred them to play Tobacco Road; they have heard about it and kind of know what to expect, but the excitement is still in their eyes. Fifteen years ago they didn't have a clue. You got some of that love-hate back then because golfers were trained to what great, traditional American golf was supposed to be and Tobacco Road didn't fit the mold. Now I think they have an idea of what they're getting into."

Most fail miserably at their first attempt. So what, it was fun, correct? Robin Hiseman of European Golf Design voted Tobacco Road his No. 1 course in the world. While that may be a stretch, he made the following point:

"It was a course that transformed what I understood to be possible with golf architecture," he said. "Mike Strantz had the nerve and commitment to try things that others would never dare to. He was the 'Evel Knievel' of golf architects, always looking to jump more buses than anyone thought possible."

Contrary to popular belief, there are no buses buried at Tobacco Road, just conventional golf course-design wisdom. But as we see now with some of the more recent restorations of some famed courses, including the work performed by Bill Coore and Ben Crenshaw at Pinehurst No. 2, Strantz may have been more on target than a threat to the architectural establishment.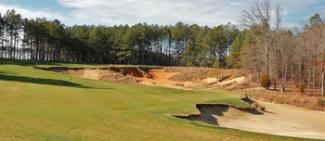 The 11th Hole at Tobacco Road
Displays the Course's Sandy Strategy
(Photo by David Droschak)
"Twenty years ago (golf design) was wall-to-wall green grass, tree-lined, no blind shots and I think Mike, whether he had a vision or it's just what he liked, saw the future," Gay said. "There is a movement now toward what Mike did, and he was doing it before everybody else was. I don't know if he saw the future or he saw the past and brought it to the future. He may be responsible for the formation of that trend.

"Look at what Coore and Crenshaw are doing. Look at what Tom Doak is doing. This is the product they are coming out with now. Now fast forward 15 to 18 years and Mike's designs are becoming the standard of what is accepted, the look people are gravitating to. It's back to the past to grab some of the natural waste areas and natural foliage."

If you ask most golf architects, they'll tell you Tobacco Road and Pinehurst No. 2 have a natural advantage - sand, which provides for good grass growth and an even better natural hazard.

"We get excited anytime we see sand because sand and golf just go together," Crenshaw said. "That is how the game was born. It means that things are going to drain easier. Sand is vibrant to the eye and sand is natural here in its form.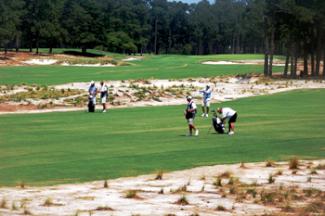 The Back Nine at World-Renowned Pinehurst No. 2
(Photo by David Droschak)
"Golf was born on land that was not meant to farm," the two-time Masters champion added. "It was considered throwaway land. But when they started to build golf courses they started looking for conducive land that could drain. They didn't want to alter the land too much and they looked at it from an agronomic point of view."

Pinehurst No. 2 doesn't display as much topography as Tobacco Road, but both offer a visual stimulation that many agree is difficult to match in other locations, and both require mind over matter when teeing it up.

"For 10 years our marketing told everybody that Tobacco Road was the biggest, baddest rollercoaster in the world," Gay said. "But word of mouth has gotten around that it's really not as hard as it looks. Golfers had to convince themselves that 'Hey, listen, there has to be some fairway up there' and they find out there is."

Numbers don't lie. Tobacco Road is wildly successful, and as much as 85 percent of its business is from return golf packages.

"A lot of people think they are trying to slay the beast the first time and they may not have their best round, but they want another crack at it," Gay said. "The course certainly leaves an impression on them. People are always saying, 'Man, I want to go back and get my revenge.' "

Strantz was never one to say "I told you so" to the doubters. So I will for him.
David Droschak has covered golf in the Carolinas for three decades, mostly with The Associated Press, where he worked for 20 years as AP sports editor in North Carolina prior to launching Droschak Communications, a full-service marketing and PR firm based in Apex, N.C. Dave, 51, has covered numerous major golf tournaments, including the 1999 and 2005 U.S. Opens at Pinehurst Resort, and is a longtime member of the Golf Writers Association of America.

Dave was honored with the Sports Writer of the Year award in North Carolina in 2005, and is currently editor of Triangle Golf Today (www.trianglegolf.com), a print and online publication regarded as the "No. 1 Source for Golf News in North Carolina." He is golf editor for Pinehurst Magazine, an award-winning glossy publication, and was instrumental in helping launch Triangle Golf Deals powered by Twongo (www.trianglegolfdeals.com) in the fall of 2011.

Dave also is the co-founder of www.HurricanesBeat.com, a website devoted to coverage of the Carolina Hurricanes, an NHL franchise he has covered since the team moved to North Carolina from Hartford in 1998.

Dave grew up in Penn Hills, Pa., about five minutes from the famed Oakmont Country Club and was introduced to the game of golf as a caddie at Green Oaks Country Club in nearby Verona, Pa.

Dave was the co-captain of the 1978 Penn Hills state championship baseball team, was a pitcher for the 1982 Atlantic Coast Conference champion University of North Carolina Tar Heels, and pitched professionally for two years in the St. Louis Cardinals organization. He is a member of the Penn Hills High School Sports Hall of Fame, which also includes NBA coach George Karl and former four-time Pro Bowl offensive lineman Bill Fralic.