A Tiger & Bear Tale at PGA National
By: David Wood
As Tiger Woods warmed-up on the range at the Champion Course at PGA National Resort & Spa for his 12:30 p.m. tee-time in the opening round of the Honda Classic, there was little doubt whom the hundreds of spectators lining the fence were there to see. The positive comments were unanimous: "We only came to see Tiger," said Mallory Johnson of Delray Beach. "It's very exciting that he lives nearby."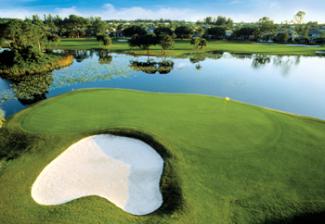 The Champion's 15th Green
"I've never been to a golf tournament before, but when Tiger entered I bought tickets for the entire week," said Ralph Belvins of West Palm Beach. Ben Miller, a Canadian gentleman from Toronto who vacations at PGA National each winter, said, "I hope he wins. It's fantastic he's playing in this event now that he's a local."

And when Tiger was introduced on the first tee as "from Jupiter Island," the welcoming roar was significantly louder than that of the other players. The Honda Classic is now a home game for the winner of 14 major titles.

There was also quite a bit of "Bear" talk on the manicured grounds of PGA National as the "Bear Trap" - holes 15-17 - must be negotiated successfully for any hope of holding the trophy come Sunday. In last year's Honda, the industrial-strength trifecta lived up to its billing as No. 15, a par-3 of 179 yards, tallied 60 balls in the water. The 434-yard, par-4 16th gobbled up 25. Number 17, a 205-yard par-3, was a watery grave for 65 more balls, bringing the grand total to 150 - the most ever for the event.
"There's a pretty good reason they call it the 'Bear Trap' because if it doesn't get you one way, it's going to get you another," says Rory Sabbatini, last year's victor. "It definitely caused some stress for me."
When asked about the Bear Trap, course designer Jack Nicklaus noted, "It's not about length, it's about precision. It's about guts. It's all about what do you have in your chest that you can finish those holes."
Australian Robert Allenby, known as one of the best ball strikers on the PGA Tour, says, "On Sunday when the pin is in the back right on No. 17, this is the hardest hole we play on Tour."
Jesper Parnevik agrees with Allenby, "No. 17 is one of the hardest holes we play."
Boo Weekley might have best summed up the "Bear Trap" as only he can, "It's the good, the bad and the ugly. It's one of the hardest three-hole stretches on Tour."
To test your own game against the Champion Course and its Bear Trap, PGA National offers several golf stay-and-play packages. Visit www.pgaresort.com to learn more.
In addition to writing on golf and travel, author and noted speaker David Wood has made several appearances on "Late Night with David Letterman" as well as dozens of other television shows. His book - "Around the World in 80 Rounds" - was just released in paperback on www.Amazon.com. Currently he works in public relations with Buffalo Communications in Vienna, Va. His website is www.DavidWoodSpeaking.com.