A Touch of 'Tillie' at New York State's Lynx at River Bend Golf Club
By: John Torsiello
Several buddies and I had spent a couple of days at the superb Woodloch Springs Golf Club in northeast Pennsylvania and were heading back to Connecticut through New York State. I stumbled across a course on the Internet that I thought would be fun to play during the ride home.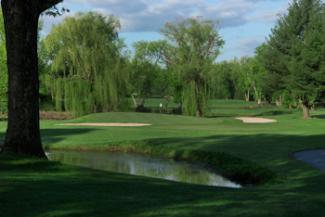 4th Green at Lynx at River Bend Golf Club
The Lynx at River Bend Golf Club in Port Jervis is just across the Delaware River from Pennsylvania. I got in touch with head pro Joe Stead to ask if we could stop by and play; he was most welcoming.

It turns out that the Lynx at River Bend Golf Club was once the private Port Jervis Country Club before it was purchased by Drew and Elaine Koch and reopened in 2011 as a semiprivate facility following some renovations. Nice little story. But the really cool thing is that A.W. Tillinghast - yes, one of the game's premier and legendary golf architects - designed 10 holes at the course in 1915.

Drew Koch told me that Tillie's holes are currently Nos. 10, 11, 3 through 8 and 17 and 18, basically now the course's perimeter holes. Apparently, sometime in the early 1920s a couple of members, Chet Spears and Bill Gray, assisted in building the other eight holes of the present layout. They did a nice job fitting those in with the master's work.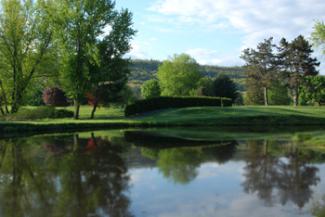 14th Tee at Lynx at River Bend
Tillinghast, who designed such historic courses as Bethpage State Park, Baltusrol, Winged Foot and Newport Country Club - courses that have hosted many major championships over the years, apparently left the job at Port Jervis in mid-stream when he got a better offer to design Baltusrol. Koch said the whole historical timeline of the Lynx at River Bend is a bit fuzzy, except for some reworking of Tillinghast's holes due to runoff and drainage challenges. But Tillie's holes remain the way they were when the club first opened nearly a century ago.

Tillinghast wrote in one of his books about course design that the third hole at Lynx at River Bend was one of his all-time favorites. I can see why. Embodying the name of the club, the 365-yard par-4 literally bends around a river on the right side of the hole. Daring you to take off as much as you can with a driver, the distance to safe ground is tricky to gauge and there is a large fairway bunker lurking straightaway. The approach shot is also dicey, as the water goes almost all the way to the green. The third hole is indeed, a classic risk-reward test, relying on intimidation and temptation to cause problems despite having modest length.

The entire course plays just 6,222 yards from the back markers. But typical of so many older routings you have to put your golf ball in the right place off the tee to leave unfettered approaches to the greens, which, of course, are small and a bit mounded as befitting the architectural style at the time they were built.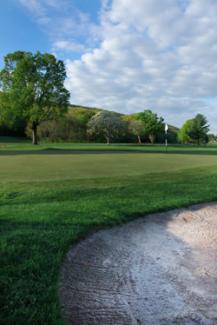 17th Green at Lynx at River Bend
The fourth is a really good 315-yard par-4 that's bordered by woods on both sides and has a pond guarding the front and left side of the putting surface, which takes driver out of your hands.

The 11th plays 387 yards from the tips and is a demanding par-4 because trees hug the right side and there's small wooded area that bisects the fairway, with a big drop-off to the left. I took a chance, hit the big stick and was left with a wedge to a green sunken sitting below the fairway. This is one of the prettiest approach shots on the course.

The 14th is perhaps my favorite hole here and is visually pleasing off its slightly elevated tee. The par-3 plays only 129 yards, but you'd better select the proper club as there is a pond and bunker in front of the green.

The 338-yard 15th, a hole Tillinghast didn't design, is another fine short par-4. The drive is over a pond and must clear a rise to get beyond trees along the left for a clear shot to the green.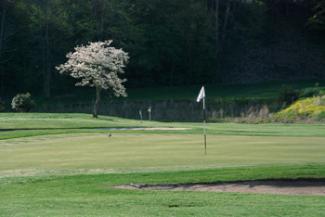 Lynx at River Bend Golf Club's 18th Green
The course ends in strong fashion, with a 409-yard par-4 as the penultimate hole and a monstrous 573-yard par-5 for the finisher. You'll need two strong shots on 18 to put yourself in short-iron territory for a chance to hit a green that slopes back to front.

I love old courses, and to play the 10 holes Tillinghast designed at Lynx at River Bend was a treat. You can still see his attention to detail and the way he skillfully used the land to create holes where you have to use your mind as much as muscle.

The course suffers a bit at times, I'm told, because of its low-lying locale and position beside the river, but the conditions were good through the green when we played. It's a course where you see a few homes along with natural views of the majestic Shawangunk Mountains, allowing a relaxing round.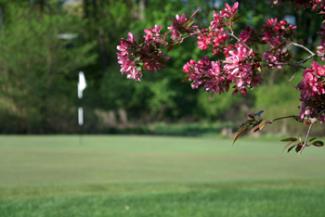 Lynx at River Bend's 14th Green
The greens were a bit slow for my taste and could have been notched up 1 or 2 on the Stimpmeter. But I imagine the undulations and slopes of the putting surfaces would make them brutal if they are shaved down too much.

That may sound like quibbling because the owners have made the Lynx at River Bend Golf Club very affordable. You can loop it Monday through Thursday for only $36, and there's a Friday special where $39 gets you 18 holes and lunch at the club's grille, which I'm told puts out some very good food. After 3 p.m. Tuesday through Thursday, you play 18 for $29.

That's a bargain for a place where you can immerse yourself in a bit of golf history while playing a testy course that's fun and won't beat you up too bad. Give the Lynx at River Bend Golf Club a try when you're in the area.
For more information, visit www.thelynxgolfclub.com.
John Torsiello is an editor/writer living in Connecticut. He has written extensively about all aspects of the golf industry for a number of national and regional publications. He is a regular contributor to "Golf Course Industry," "Lawn and Landscape," "Golfing" and "Fairway Living" magazines as well as various online publications. He has strong, ongoing relationships with industry professionals and has worked closely with course owners, architects, developers, course superintendents and general managers around the country. He has won a number of awards for his writing, including first place from the Turf and Ornamental Communicators Association for a piece that appeared in "Golf Course Industry" magazine.