A Visit to Colorful Texas Hill Country
By: Steve Habel
A trip through the Texas Hill Country toward the city of Kerrville, long noted as one of the Lone Star State's most popular escape destinations, makes one think a lot about the beauty of this often-austere landscape and the will and work it took settlers to bend the land in ways to make life a little easier.
Kerrville, about an hour's drive from San Antonio and twice that distance from Austin, was built by those settlers in the early years of Texas as a part of the United States. Surrounded by bony hills, outcrops and rolling pastureland and nurtured by the sparkling, spring-fed waters of the Guadalupe River, Kerrville attracts tourists, summer campers, hunters and (for our purposes) golfers from around the world.

Aside from its setting, Kerrville's resort-city atmosphere stems from the combination of its many attractive features: unique antique stores and unusual gift shops in Old Town Kerrville; the exceptional gold and silver jewelry of world-famous James Avery Craftsman; the significance of the Hill Country Museum's rich history; and the truest testimonies of the Old West portrayed in the art displayed at the Museum Western Art, which houses works by some of the nation's most distinguished living artists following the tradition of Remington and Russell.

There's natural scenic beauty for miles in every direction, and many artisans and musicians make Kerrville their inspiration and their home. The Texas State Arts & Crafts Fair, held at the River Star Event Park on Memorial Day Weekend and officially endorsed by the State of Texas, showcases the jury-selected works of more than 200 local artists and crafters.

If music is your ardor you can find it here in spades. With 18 days of outdoor musical events, the Kerrville Folk Festival has, for more than 30 years, drawn performers and audiences from around the globe. Beginning on the Thursday before Memorial Day, the festival is held at the Quiet Valley Ranch south of town.
Then there are the ranches. Perhaps the most famous is the legendary Y.O. Ranch, which spans more than 50 square miles and contains one of the nation's largest registered herds of longhorn cattle. Also roaming the range are zebras, giraffes, antelope and more than 36 other exotic species spotted on a guided tour.

Golf is a true passion in Kerrville and a draw to the region as well, and a venture to the city and its surroundings showed us a trio of courses that rival any in the region. There's a little bit of everything for golfers here - a top-of-the-line municipal course, one of the nation's top golf communities and a track that no less than the great Byron Nelson preferred to play above all others.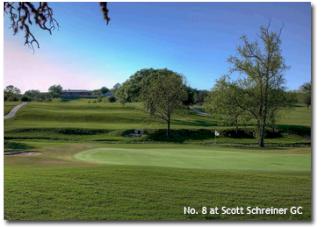 A Venerable Muni

History and challenge rule the day at venerable Scott Schreiner Golf Course. Set against the foothills of Tivy Mountain, the city-owned and operated layout provides both challenge and fun. The par-70 track plays to 6,453 yards from its back tees and features mounded greens in a variety of sizes and shapes. Schreiner's fairways offer generous landing areas, yet are tight enough to present a test.

Originally opened as the Kerrville Country Club in 1923, the vintage nine-hole course was the design of John Bredemus, the true father of Texas golf and the architect of such gems as Colonial Country Club in Fort Worth and Memorial Park Golf Course in Houston. Throughout the Roaring Twenties Kerrville Country Club was the social and recreational hub of the region as its original clubhouse was an inspiring stucco building with a large gallery, ballroom and band alcove.

Situated on gently rolling terrain and offering many holes with scenic vistas, Scott Schreiner Golf Course was taken over by the city in 1933 and nine more holes were added in 1977. The facility, named for a former civic leader and rancher and a member of the famous pioneer Schreiner family, underwent extensive renovations by renowned architect Joe Finger, who had retired in the area, in 2000.

Finger came out of retirement to make the $2 million Schreiner renovation his final project - he reportedly charged the city nothing for the design and only half his usual fee for overseeing the work. "Joe had played the course and heard comments about it, and he hoped it could be improved so Kerrville could have a better municipal course, so he took it upon himself to do it," Julia Finger recently said of her husband's interest in improving the Schreiner layout.

Despite a rating of 70.4 and a slope of 122, Scott Schreiner Golf Course has plenty of teeth. The outward nine has three par-3s, all of which play less than 178 yards, and is highlighted by the 582-yard par-5 third with water cutting into the fairway twice and an elevated green that requires a perfect approach. Another great offering is the 407-yard par-4 eighth, which plays downhill from the highest spot on the course near the newly refurbished clubhouse. Your tee shot here is always under scrutiny from those gathered to settle scores and enjoy a pre- or post-round libation on the nearby veranda.

Take advantage of the short (342-yard) par-4 10th because you will need all your game on the next three holes. No. 11 is a 443-yard, dogleg-left par-4 that requires a big ball off the tee and precision to reach the green, which is surrounded on both sides by trees and on the front-right by a sand bunker. The 12th is a tight hole that sports trees and a creek bed down the entire left side and requires an approach that will have to carry uphill and over that creek near the putting surface.
After that tough pair, you'll need perhaps your best shot of the day on the uphill par-3 13th, which - at 226 yards from the tips - usually plays into wind and is guarded by a bunker front-left and two more traps front-right.

The signature hole here is No. 17, a 535-yard, par-5 where water comes into play on the second shot, then again on the approach to a green ringed by water on three sides. A waterfall to the left adds an aesthetic touch to the proceedings, but is of no help if you hit your shot in that direction. Because of the various shots required during your round, Scott Schreiner proves a good test for all level of golfer and is well worth the trip.

For more information, visit http://www.golfkerrville.com.  
Comanche Trace

All you might have heard about Comanche Trace is true - and then some. Just a few miles south of Main Street in Kerrville and nestled among meadows, hills and woodlands is Comanche Trace, a layout within a 1,300-acre residential community. The course at Comanche Trace is gracefully integrated into a rural landscape that enhances both golf and everyday living.

The course features 18 holes designed by the partnership of Tom Kite, Roy Bechtol and Randy Russell, and another nine fashioned by Jay and Carter Morrish, and serves as the primary recreational amenity for the community.

The original 18 holes at Comanche Trace opened in 2000 and were recently ranked as the No. 1 Golf Community in Texas. Golf Digest named it as one of the top-20 golf courses in the state in 2005-08; Travel+Leisure Golf listed Comanche Trace as one of America's Top 100 Golf Communities in 2006-08.

Stone-embedded streams flow through Comanche Trace, providing natural hazards while adding an audible flair. The course is designed to coexist with local wildlife and blend seamlessly into the surrounding Hill Country. Though meadow-like, Comanche Trace features a deceptively complex design, adding a strategic component that improves as it matures.

Natural drought-resistant native grasses designed and selected especially for the native environment were used in non-playing areas. In the springtime, much color is on display as black-eyed susans, Indian paintbrushes and bluebonnets paint the landscape. The tees, fairways and roughs are Tiff-sport Bermuda to insure a sharp contrast to the native grasses and wildflowers. The putting surfaces are a blend of two bentgrasses - L93 and Crenshaw, and they result in some of the best greens in the Lone Star State.

Taking advantage of the contours, slopes and ancient Live Oak trees, the much ballyhooed original layout is a strategic track that presents the player a goal to be reached and problems to be avoided. Playing to a par of 72 at 7,103 from its back set of seven tees where it merits a 75.1 course rating and a 139 slope, the original course - now differentiated as The Valley (holes 1-9) and The Hills (holes 10-18) - is tailored to normal conditions so that any given hole will not change par even in different wind conditions.

But because this is Texas, the wind introduces an important variable, and Comanche Trace's initial 18 holes are pointed in differing directions to make players weigh their options.

The course features variable green sizes and shapes; while one putting surface is large and contoured, others are relatively small and flat. On the 362-yard fifth on The Valley, hitting the green is easy, but its huge green can result in a three- (or even four-) putt. Three-putting may not be as problematic on a smaller green like that found on the fourth, a 523-yard par-5, as this hole has a flat surface and is easier to navigate.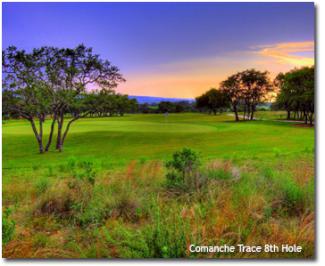 Comanche Trace 8th Hole
Because of the overall quality of the track, it's hard to single out holes on Comanche Trace's original layout. Among our favorites were the 390-yard par-4 first on The Valley, which drops some 80 feet from tee to landing area, and the 448-yard par-4 ninth on The Valley with its "string-of-pearls" bunkers on the right of the landing area and an elevated green where it is virtually impossible to hit your ball past the pin.

Then there's the 437-yard, par-4 No. 2 at The Hills nine, where you must hit your tee shot through a space guarded by two large oaks and avoid a gaping (and near-inescapable) bunker on the front-right of the green; the 461-yard par-4 fifth at The Hills with a split fairway and green that is totally void of bunkers, allowing for a run-up shot if required; and the 525-yard, uphill par-5 ninth at The Hills, which calls for you to work the ball right and then left to the elevated green.

In July 2008, Comanche Trace opened the Morrishes' new nine holes, called The Creeks, which plays 3,821 yards from the tips and, combined with The Hills nine, boasts a rating of 76.2 and slope of 139, and, with Valley, a 76.3 rating and 140 slope.

With Comanche Trace's clubhouse looking down from one of the largest hills in the region, The Creeks nine forms a unique "V" shape that extends from the back end of The Hills and makes its way back toward the clubhouse for the final five holes. "At the end of the day, we just wanted something to blend in and have some continuity between the existing 18 holes," said Trevor Hyde, Comanche Trace's president.

Included on the new nine is one of the most talked about golf holes in the state - the 636-yard par-5 fourth hole, one of the longest golf holes in Texas. This hole asks for accuracy as well as length because it is segmented into three distinctive areas by a creek that flows in an "S" shape throughout, creating an island landing area.

Also of note on The Creeks are the 438-yard par-4 second hole, with water down the entire left side, and the 447-yard par-4 No. 9, where you will play a 3-wood or rescue club to the bottom of a three-tired fairway that ends at a huge drop-off filled with rock and native grasses. Your approach on No. 9 is to a bunker-squeezed green some 60 feet below your feet.

Comanche Trace will appeal and challenge enthusiasts of every age and ability. I've played several much-hyped courses but this one more than measures up.

For more information, visit http://www.comanchetrace.com.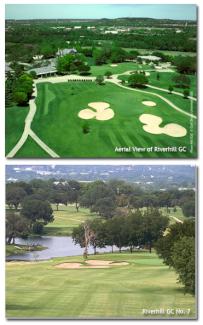 Nelson's Touch on Display at Riverhill

No trip to Kerrville is complete without a round at the demanding Riverhill Country Club. All you need to know about the course are these few and choice words, delivered by none other than one of the greatest golfers of all time - the immortal Byron Nelson: "If I had only one golf course to play it would be Riverhill."

Riverhill, located between the Guadalupe River and Comanche Trace just south of downtown, was designed by Nelson and Finger. The course features slick bentgrass greens with severe slopes and subtle breaks; an interesting mix of water hazards, fairway and green-side bunkers; and more than 25 varieties of trees lining the classic layout. There's also a mix of up and down holes that keep players on their toes and elevated greens to ensure proper club selection.

The centerpiece of Riverhill is main clubhouse, built in 1899 and once the stately, three-story mansion of the Gustav Schreiner family. The site of the present Riverhill golf course is approximately the same acreage deeded to Schreiner in 1907, when life was slow, elegant and refined. The sense of place in the Texas Hill Country is enhanced at Riverhill.

The honeysuckle creeping over the clubhouse's rock walls clearly reflects living evidence of the Schreiners' interest in flowers and gardens. A huge oak tree, encircled by flowers at the entrance to the club, is more than 200 years old.

In the spring of 1973, Stuart and Sherman Hunt of Dallas purchased the community's 1,100 acres and - with Nelson as architect - began the long process of creating Riverhill. Its operation as a private club began in the fall of 1974 with the opening of the 18-hole course. Nelson remained closely associated with Riverhill as a golf course consultant and neighboring homeowner until his death in 2006. Nelson's former residence is near the landing area on the 10th hole.

Riverhill is an exceptional track and consistently rated in the top-50 in Texas. An outstanding test of golf with breathtaking views of its environs, Riverhill plays to a par of 72 and an all-you-want-and-more 6,855 yards from the tips, where it gets a 73.2 rating and a slope of 135.

"What you see is what you get, and every day it plays a little different, depending on the wind," said Matt Trevino, Riverhill's head professional. "Like all Nelson's courses, this is a traditional layout, which is hard to find these days."

There are a bevy of quality holes at Riverhill, and finding a few to highlight is a tough exercise. The second - a par-3 playing at 199 yards into the wind and over water to a wide-but-shallow green - can be even quite difficult if the pin is back-left on a small shelf. No. 6 is just 372 yards on the scorecard, but is uphill and plays longer than its length. The approach on this par-4 is to an elevated green; any shot coming up short will roll back to the bottom of the hill.

The 177-yard 11th is a beautiful par-3 where the tee shot, usually into the prevailing wind, is over water and must clear a short rock wall in front of the green. No. 12 - which Nelson felt is the hardest hole at Riverhill - is a 380-yard par-4 that requires the player to place his tee ball at the corner of the left-bending dogleg about 260 yards out. This will allow an unobstructed approach over the water to a raised green.

The 14th is a monster par-5 that veers left and plays uphill. After two lengthy shots, the player will probably have a tough pitch to a perched green that slopes toward the front; two-putting on this green masterfully designed by Finger is a rarity.

The closer is 400-yard, dogleg-left par-4 with out-of-bounds left. Don't go too far right on the drive, though, as a bunker lurks about 280 yards out. Sand surrounds the green, so accuracy is the byword to finishing your round at Riverhill.

The real challenge here is the putting surfaces, because there's not a flat putt to be found. "Every putt moves inches, if not feet, and that's where it's tough," Trevino said. "When you get to the greens you're pretty busy, and that's where you have to step up your game. You really have to think around the greens."

One of the best ways to enjoy Riverhill is through the club's "Stay and Play" package. As a guest at one of the cottages or casitas, a round is only $54-plus tax. The tariff, which includes green fees, range balls and cart fees, provides a fun and economical getaway.

Riverhill should be placed in a small group of must-play traditional Texas golf courses; the others include Oak Hills and Pecan Valley in San Antonio, Memorial Park in Houston and Colonial in Fort Worth. It's truly a jewel and a privilege to play fairways once trod by "Lord Byron."

For more information or a tee time, visit http://www.riverhillcc.com/golf/proto/riverhillcc.  
Other Surprises in Kerrville

When in Kerrville stay at either the expansive YO Ranch Resort Hotel and Conference Center (check out the huge pool and chandeliers made of branding irons in the hotel lobby) or the Inn of the Hills Resort and Conference Center. Both hotels are run by 1859 Historic Hotels, Ltd., a firm known for quality and service.

As far as restaurants, we visited a few that were awesome. You must try the steamed mussels at River's Edge Tuscan Grill on the banks of the Guadalupe River (try to get there before sundown for Mother Nature's ultimate show). We were supremely pleased with the offerings at Francisco's Restaurant on the square downtown; order the Veracruzana nachos (they are made with a signature chicken salad) and sit back, relax and contemplate your next round in Kerrville.
Steve Habel is one of Cybergolf's national correspondents, contributing news stories, features, equipment and book reviews and personality profiles from his base in Central Texas. He is also the media coordinator for Bechtol Golf Design, the managing editor for Business District magazine in Austin and works as a contributing editor for Horns Illustrated magazine, a publication focusing on University of Texas sports. He also writes a blog (www.shotoverthegreen.blogspot.com), which features news on golf and the Longhorns.