A Visit to Pronghorn in Central Oregon
By: George Fuller
If there's a silver lining to the economic doldrums of recent years, it is that many once-very-private golf communities have opened their gates to the public. Pronghorn, set in idyllic Bend, Ore., is one such community.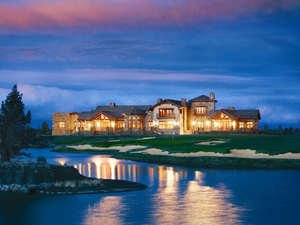 Pronghorn's Clubhouse
Anchored by two impeccably groomed golf courses - one each by Jack Nicklaus and Tom Fazio - a PGA Tour Academy and a stone-and-timber clubhouse that ranks as one of the best you'll ever see, Pronghorn is among the finest golf and lifestyle experiences America has to offer.

Guests stay in luxurious, two-story villas overlooking the 18th green of the Nicklaus course. One-, 2-, 3- and 4-bedroom villas are available, complete with kitchens and living rooms, starting at around $200/night. Like the clubhouse, the rock-solid construction of these villas is the first thing you notice. Then there are the details. Every need is anticipated and no corners are cut. The coffee machine is top-of-the-line Cuisinart, the flat-screens are Sony, the light fixtures, door and cabinet handles, the ceiling fans . . . all are carefully selected and meticulously placed.

Upstairs, the marble floor in the master bathroom is polished and lovely, but a plush rug has been thoughtfully placed in front of the double sinks, as marble can get cold in winter months. The spacious bathtub has Jacuzzi jets, the separate shower is enclosed in floor-to-ceiling glass. The soap and shampoo holder is not some random dish, but a piece of art unto itself, a bird bath if placed in a garden, but just perfect for the use here.
A Master Suite at
Pronghorn Resort
Resort amenities include a full-service spa, a small but nicely equipped fitness center, a fine dining restaurant where regular events include winemaker dinners - many featuring the best wines of Oregon and Washington - an activities coordinator, a fantastic kids center with popular programs and games, pools and hot tubs, a three-meal casual restaurant and a comfortable bar that beckons after a round of golf.

As impressive as Pronghorn's clubhouse, accommodations and amenities are, though, it is the golf courses that steal the show. These high-desert courses sustain bentgrass fairways and putting surfaces, and they are as manicured as those you'll find at Augusta National, a result of 300 days of annual sunshine and the stellar agronomy standards of management company Troon Golf.

But this is not desert golf as you'll play in Palm Springs or Phoenix. Situated at 3,625 feet above sea level in the eastern foothills of the Cascades Mountains, there's plenty of land movement and elevation change, combined with interesting features such as canyons, crevices and caves that Nicklaus and Fazio made the most of in their masterful designs. The fairways of both courses are lined with juniper trees - Pronghorn is built on 640 acres in the middle of a 20,000-acre juniper forest - but the horizon and view planes are vast, with snow-capped Three Sisters Mountains, Broken Top and Mt. Washington visible from every hole and Mt. Hood occasionally emerging in the distance.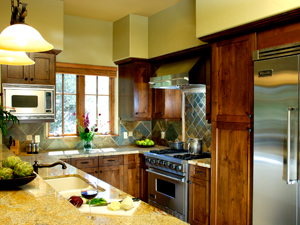 Full-Service Kitchen at One of Pronghorn's Units
Resort guests have access to the Nicklaus Signature course, a demanding par-72 layout that can play as far back as 7,381 yards. The first of the two courses to open at Pronghorn, the Nicklaus saw its first play in 2006, and Golf Digest called it one of the two best new courses to open that year. In 2010, Golfweek ranked it the No. 21 best resort course in the nation.

The course starts to get really good at hole 12, a short par-4 (tees from 234 to 342 yards) that plays over a lava rock outcropping to an elevated putting surface. Immediately following is another short par-4 (236 to 378 yards), with a lake spanning its entire length and a scenic waterfall tumbling over a rock wall behind the green.

Number 15 is another remarkable test, an uphill par-5 (423 to 543 yards) that weaves between rocks and juniper trees and gives players a right or left fairway option on their second shot, with a rock and shrub outcropping in the center of the fairway that you do not want to be behind. Your forecaddie - required for outside players - will do an excellent job guiding you around this challenging design.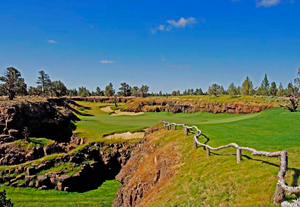 The 8th Hole at Pronghorn's Fazio Course
The Fazio course is reserved for Pronghorn members, which is a shame, as it is a lot of fun to play, and features the unique par-3 eighth - a mid-yardage hole (with tees measuring from 106 to 187 yards) that plays over a 45-foot-deep canyon, with twin caves that extend into the ground from each side of the green entrance - that every golfer should get a chance to experience.

The courses at Pronghorn make you realize that "high-desert golf" is in its own category, because there's nothing quite like it. It is as ideal a setting for the grand old game as the sandy links of Scotland, the parkland of Augusta, Ga., or the desert-scapes of Scottsdale and Palm Springs.

Another selling point for Pronghorn is its proximity to the charming town of Bend, population 76,000. Being on the eastern side of the Cascade Mountains, the four seasons are more defined than Portland or Seattle. With winter activities including top-tier skiing and snowboarding at Mt. Bachelor, an hour's drive from the property, it's possible to golf and ski on the same day some months of the year.

But while winter certainly has its draws, my favorite time of year to visit Bend is summer, when the weather is ideal for golf, fly-fishing, hiking, horseback riding, family activities and much more.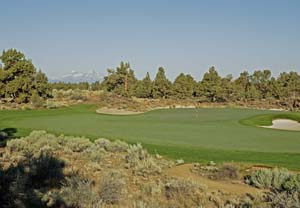 The 14th at Nicklaus Course
Plus, on the third week of August each year, the Bend Brewfest takes place. Held on the Les Schwab Amphitheater event lawn in the Old Mill District, more than 40 craft breweries from up and down the West Coast and as far away as Hawaii came to pour samplings of their suds in 2011. You can try all the local brews - there are now 12 breweries in Central Oregon, including Deschutes, the area's original - and discover new and exciting beers you've never heard of too.

You need to make an effort to get to Bend - a 3.5-hour drive from Portland or a commuter flight into nearby Redmond - but the people are friendly, the craft brews are stellar and with a top-tier golf resort like Pronghorn now at your disposal, it is an effort well worth making.

For more information, visit www.pronghornclub.com.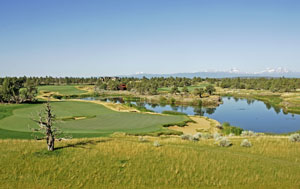 The 18th at Pronghorn's Private Fazio Course
Award-winning publisher, editor, writer and photographer <>George Fuller has been covering golf travel and lifestyle for more than 30 years. From 1992 to 1997 he was editor of LINKS-The Best of Golf, based in Hilton Head, S.C. In 2005, after having spent several years in the Pacific starting two magazines for Continental Micronesia Airlines and writing two books, Fuller launched GOLF LIVING Magazine for the Los Angeles Times, a "super-regional" magazine of travel, real estate and the lifestyle surrounding the game of golf. In 2009, he helped redesign and re-launch TEXAS GOLFER, a magazine with 25 years of history in the Lone Star State. Most recently, Fuller partnered with Troon Golf to launch TROON GOLF & TRAVEL, a monthly eMagazine with an annual print component. In addition, Fuller's newspapers and magazines credits include TIME, Wall Street Journal, San Francisco Chronicle, The Los Angeles Times, Robb Report, Coastal Living, Palm Springs Life, Estates West, GOLF Magazine, Golf Digest, Travel & Leisure Golf, LINKS, Successful Meetings, Honolulu and many others. He has reported for Reuters, United Press International (UPI), written for Copley News Service and is a regular on-line travel correspondent for Cybergolf. Based in Pacific Palisades, Calif., he can be contacted at gfuller@earthlink.net or 310/245-9550.