A Winter's Tale - Golf Shines on the Oregon Coast
Few elements in nature contain as many secrets as the greens of Bandon Dunes Golf Resort's extraordinary new Old MacDonald course. The Oregon coast's weather is one such element. While people travel from far and wide to nestle behind bay windows to watch the fronts roll in, chances are also strong visitors may also hit a "dud" day of sunny skies and temperatures in the 60's. While one can certainly never promise that every day will be lousy for storms and excellent for coastal golf, chances are pretty good that at least a couple of your rounds here will be played in "What, you call this winter?!" conditions.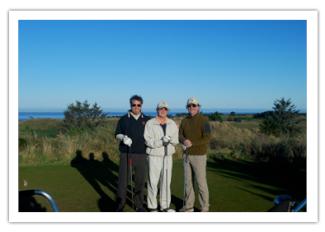 Author Bower & Friends at Bandon Dunes
One statistic doesn't waver here, however: Off-season green fees mean you can still brag to your home foursome about playing North America's finest golf resort without having to take out a third mortgage to do so. Cost for a Bandon Dunes resort guest is just 75 bucks until the end of January, with half-price replays on your choice of the four courses.

But Bandon Dunes shouldn't be your only winter destination on the Oregon Coast. You may consider warming up north of that fabled resort, where two very different but significant tracks await you, both designed by famous architects for playability and, this being the Pacific Northwest, potentially wet conditions.
Salishan & "Jake" A Portland native, PGA playing professional Peter Jacobsen knows something about playing in the rain, which explains why he and his architect-partner Jim Hardy were the perfect team to redesign the course at Salishan Spa and Golf Resort. The Jacobsen-Hardy team specializes in natural golf architecture that is extremely playable, an unusual trait for a multiple PGA Tour winner. The Salishan redesign fits these goals like that new grip on your 56-degree wedge.

"Golf is meant to be inclusive and not exclusive," explains Jacobsen, the 2003 PGA Tour Comeback Player of the Year (at 49 years old!). "Hitting a wedge up in the air for 150 yards and stopping it on a dime is rarely an amateur golfer's go-to shot. Why should a high wedge be better than a low-skulled 3-wood, it's still a shot? We don't build courses for the Tour players. We build a golf course for every level of player. The third hole may be the hardest for the Tour player but easiest for the amateur."
Hugging both sides of Highway 101, Salishan could feel like a commuter course, but this is far from the truth. I played with two three-times-a-week duffers who never tire of playing the course. The opening holes play up and down the valley in a natural layout of doglegs and elevation changes, but the finishing holes allow vistas of the Pacific that make a lack of tee-off concentration an easy excuse. Several other natural obstacles, from wetland carries to an occasionally stubborn tree, bring your attention back into focus.

Jacobsen explains this natural layout is completely by design. "We always look at what kind of environment we have. There may be a crazy trunk tree that grows sideways, we may have a boulder to work around. An architect and player both should dissect every hole, because if one is constantly thinking about his next shot, he never gets bored."
If you still have a few games in your bag, I suggest you make a night of it at Chinook Winds Casino Resort. Located just 20 minutes north of Salishan, Chinook Winds is a full-blown casino experience. Meat Loaf plays on January 24th and 25th, and the hotel offers excellent room pricing and an affordable steak house.
Sandpines & "The Open Doctor"

The Oregon Coast is geographically diverse, including Coast Range forests, extreme elevation changes and one of the great coastal dune structures in the world. Playing Salishan and Sandpines Golf Links in the same day exemplifies this variety, as one leaves the wetlands of Salishan for the sandy links of Sandpines, located outside of Florence just over two hours south.

The Rees Jones-designed "links style" course was designated the "Best New Public Course in America" in 1993 and would probably receive much more attention had not a world-class golf destination launch down the Oregon Coast Highway in Bandon just five years later. Buffeted by the winds from 100-foot-high dunes, 7,190-yard Sandpines is not strictly a true links as water comes into play on several holes and numerous fairways are lined with coastal pines. Still, the fairway undulations and creative shot-making potential is more reminiscent of a links than a parkland design.

Waste areas line many fairways, including along the 591-yard, uphill par-5 seventh, which yawns toward a postage-stamp-green like the City of Oz awaiting the Tinman and Scarecrow. One slips out of the trees to begin the back nine as well, playing beside peculiarly testy beach grass-lined fairways in an environment that is much more typical of the Oregon coastal environment than Bandon Dunes, which was shaped to imitate Scottish links in its purest form, imported gorse bushes and all. Still, no one will regret taking a stroll along Sandpines' challenging track.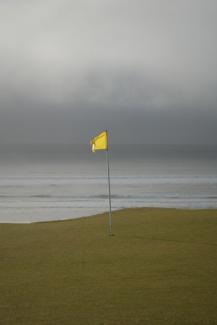 A Typical Wild Weather Day at Bandon
I wish I could be the first golf-travel writer to suggest that you can play golf on the Oregon Coast without visiting Bandon Dunes, but I'd be lying. I've played some pretty great tracks from Maui to Maine, Jupiter to Banff but I've found nothing on this continent that compares to Bandon. Four incredible courses (we'll save the storied Sheep's Meadow for another assignment), impeccable service and, because we're in the mellow Northwest, none of the "duffer foolery" associated with golf Meccas like Pebble Beach and Pinehurst.

And though it could be argued that messing with success - Bandon Trails doesn't quite measure up to Bandon and Pacific Dunes, Old MacDonald blew me away, even though from viewed from afar when playing Pacific, I couldn't tell what all the fuss was about.

It's hard for me to smile more broadly playing any other course here besides Pacific Dunes, designed by the hero of natural golf architecture, Tom Doak, and the site of my lone ace, on the 208-yard 17th. (Though my bizarrely heroic moment arrived via a 5-iron struck at 156 yards - I swear there was a stiff breeze.) Like Jacobsen, Doak believes that entertainment trumps excessive challenge on the golf course.

"I'm less interested in making a course that is really challenging than making it more fun," the maestro explains. "When you think about fun, the hole can be almost any length, when you are thinking about challenging, you have to make it a long par-4 even if there is no good place to put a tee that far back."
As a travel writer, I rarely play a course more than a couple of times. An additional consequence of the itinerant duffer life is that I tend to get bored when I do play the same place a few times. Not so with Old MacDonald. I believe I could play this course twice a week for the next 40 years and remain intrigued. I might play the entire course with my 7-iron occasionally, or make a rule that no ball can travel above 30 feet in the air. I watched Bandon's director of instruction Grant Rogers putt from close to 200 feet away. Rogers says the rumor of Old MacDonald's fun factor has resulted in plenty of repeat visitors this year.

Whether you make an annual pilgrimage to the Oregon Coast or want to celebrate a special occasion with a golf trip of a lifetime, few places on Earth compare to these well-weathered greens and fairways. And even though all cart paths lead to walking-only Bandon Dunes, don't forget to give some of Oregon's other coastal gems a peek, come shine or rain.
The Details

Bandon Dunes Golf Resort, 888/345-6008, www.bandondunesgolf.com

Salishan Spa and Golf Resort, Gleneden Beach, 800/452-2300, www.salishan.com

Sandpines Golf Links, Florence, 800/917-4653, www.sandpines.com
Crai S. Bower publishes 80-plus articles a year in over 30 publications. He has written about golf in Alaska Airlines Magazine, Journey, Travesías and Travel.MSN.com, among others. He received the 2008 Northern Lights Award for Excellence in Canadian Travel Journalism. He contributes "Destination of the Month" for aaajourney.com and is the travel commentator for NPR affiliate, KUOW. For more details about Crai, Twitter @craisbower or visit his website: www.FlowingStreamWriting.net.