A Yankee Down Under
by Bruce Babbitt

Editor's Note: Bruce Babbitt, an attorney from Seattle, is spending the next couple of weeks in Australia playing golf. Bruce, an engaging sort with an arid sense of humor, will be sending us dispatches from Down Under. Here's his first installment of random observations.
The flight, which included going from Seattle to San Francisco to hook up with Qantas, to Sydney and thence to Adelaide, is 18 hours. The SFO-Sydney leg is not as bad as I feared, even in economy as I had an empty middle seat. The other seat on my row was occupied by a young lady from Seattle who was off to Notre Dame University in Perth. Since her mother is Australian, the cost, including two trips a year to and from Seattle, is less than her UW tuition.
After flying for 18 hours, we men of a certain age need drugs in order to get through a round of golf. The malady is called SD (Swinging Dysfunction). After about eight holes, things begin to seize up and Aleve becomes really necessary.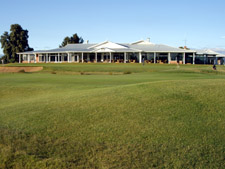 As I was changing planes in Sydney, a fellow tried to crowd past me. He was wearing a black "Jim Beam" T-shirt. I figured that tourists from Tennessee were invading Australia after abandoning their double-wides. Wrong! Aussies are mad about the bourbon distiller. Jim Beam racing gear and other logoed clothing are everywhere. Liquor stores sell six packs of Jim Beam premixed with Coca Cola.
A lot of Jim Beam gear was on display this past weekend as Adelaide hosted one of the continent's biggest auto races, the Clipsal. Tens of thousands of people spend days watching a combination of NASCAR and sports-car track-racing in the hot sun. The finals were Sunday February 24th. It was 26 degrees Centigrade, there were many wrecks in the race, and a lot of beer and Jim Beam was downed. By 6 p.m., when it was all over and an hour or so later, scores of sunburned fans were staggering down the main street like extras in the horror movie, "Dawn of the Dead."
Adelaide has the look and feel of Vancouver, if that British Columbia city was perpetually hot and sunny. A lot places - including casinos - are labeled "King," "Queen" and "Royal." The city has light rail, which is air-conditioned and allows you to get to the Southern ocean in half an hour. Adelaide also boasts a nice river walk, university and art museum. Everybody here sounds like "Mad Max," even if they look like Mad Marco, Mad Muhammad or Mad Ming.
The par-73 Royal Adelaide is a true links at 6,246 meters in length (roughly 6,600 yards - no worries though as the ball rolls a long ways in Australia). The course has hosted nine Australian Opens and many Australian Amateurs. The greens are crowned and balls tend to skid off. The saving grace is that the rough is clipped down so that most balls can be found. It has a nice, understated clubhouse.
I joined up with a father-son twosome - John and Brad Eldridge - from Royal Freemantle CC near Perth. John is chief of Airport Customs Operations at Perth Airport. Brad is 16 and, of course, hits the ball out of sight. What they and my mate Ron Barber - more about him in the next few days - raved about is Tasmania as a tourist destination. John goes there to cool off. He commented that he can usually walk his course in Perth until the temperature gets over 35C. Tasmania is a nice respite.
In a related story, over 400,000 Australians are diagnosed with skin cancer each year. They lead the world in this disease.
Tomorrow it's off to the Barrossa Valley for a Shiraz tasting.