Advice from a Golf Bag & Head Cover Fashionista
By: Nancy Berkley
Don't look at me. Look at my beautiful golf club head covers. They were hand-knitted to my custom specifications for color, design and tassel style by Jan Craig Headcovers (www.jancraigheadcovers.com).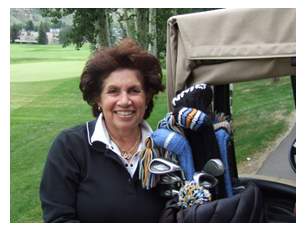 Nancy and Her Headcovers
I have one set of head covers that I use with my Burton travel golf bag with the self-zip cover. I love this travel bag because it eliminates the need for any other cover for airplane travel or if you do put it in a plain zip-style bag cover (one that's big enough for it) there is still lots of room to stuff in jackets and shoes in the outer zip-up travel cover.

And, I have another set of golf club covers that is on my brand new Ogio golf bag that stays at home with me in Florida. "What a great Christmas gift!" I hear you saying. And for those thinking about dressing up your golf clubs and covers, I want to share my experience with you. It will make your shopping much easier.

Thanks to lessons from my golf club's director of golf, I really improved my game over the spring. "Enough with my old brown Ogio golf bag and random covers," I said at the time. I decided to get something spiffy and new. I was even going with monogramming on this bag, something I've never done.

I shared my intention to get a new golf bag and covers with the merchandise manager at my club and she wisely advised, "Pick your golf bag out first and then we will match the head covers." Makes sense and I highly recommend you follow that advice.
I have been using Ogio's women's feather-light golf bags for years. I am a fan of their "Woode Club-Management-System" club-dividers and their bag-pocket system in general. The problem is that Ogio appears to be cutting back the number of golf bag designs for women golfers. The best choice for me was their black and white version. Decision made, bag ordered and it arrived in a few days.

Oops. The order didn't make it clear that I wanted the bag monogrammed with not only my golf club name but with my name, too. So, the bag had to be sent back to Ogio because the monogramming of golf bags is done by the golf bag manufacturer or a contractor of the manufacturer. And, if you are applying a club logo, then the copy for that logo has to be sent to the manufacturer as well.

In other words, if you pick out a golf bag at your local Edwin Watts or Golfsmith store, most of those stores will not be able to custom monogram for you. You may have to work through a green-grass facility that can deal directly with the golf bag manufacturer.

So the next issue was to select where I wanted my name "Nancy Berkley" and where I wanted my club's name and logo "Banyan Golf Club." At first, I thought, let's put my name n the long side panel and the club logo on the front ball pocket.

That wasn't right. My game has not improved that much - I'm still just a good bogey golfer - and I didn't want to have my name emblazoned in big letters on the side suggesting that I was even close to a pro golfer. So, by default given the design of the Ogio bag, my name had to be on the ball pocket.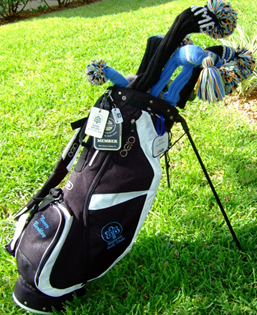 Nancy's New Ogio Bag
The merchandise manager sent the request to Ogio for monogramming my name and the club logo and luckily, we asked for a "proof." I strongly recommend this if you are going the monogrammed route.

What came back from Ogio was my name in big block letters: NANCY BERKLY and in the manufacturer's standard shade of blue. Both were wrong. I wanted my name in a script font and in upper and lowercase: Nancy Berkley. Eventually we got the font right. And, now about the color.

I had been looking at the Jan Craig Headcovers on their website and knew I wanted their "French blue" to be the dominant color in my club covers. But what one company calls "French blue" is not the standard for all companies.

The only way I could make sure that Ogio's monogramming of my name and club logo on my bag was the same color "French blue" that my head covers would be was to find out the PMS (Pantone Matching System) color that Jan Craig calls "French Blue." And that's what I did.

I called the Jan Craig office and spoke with a sales contact there. He contacted the knitters and identified my French blue as number 279. Color problem solved. The order went into Ogio for my name on the ball pocket and the club name and logo on the side in French blue - PMS #279 - and we asked for a proof!! When the proof came back, I noticed that since I was purchasing a stand bag, Ogio's monogramming policy is to set the side monogram for my club's type of logo so that it is parallel to the ground when the bag is standing on its legs. The side logo will look off-balance when the bag is just standing on its base without the legs for support, so be prepared.
The easiest part of my project was ordering the head covers. Jim, the Jan Craig salesman I worked with, was very helpful. He said he has seen so many different versions there are no right or wrongs; it's all about personal choice. I liked the samples with stripes. I like the colors orange and green with the French blue. (If I had used purple, I think it would have been the FedEx logo!) And I used black and white accent stripes to carry out the black and white color of the bag itself. I had lots of fun making the choices.

Since black was the color of my bag, I decided to go with a black head cover for my driver with my initials in white. As I figured who would want to "accidentally" walk away with a driver cover with NMB on it. If I were doing it again, I might use a French blue head cover on my driver with black initials. But, I'm hitting my driver pretty well so maybe it's because of my "black magic" head cover.

In spite of a few glitches in the beginning, I had lots of fun as a fashionista designing my head covers and matching monogrammed golf bag. These make great holiday gifts. My advice: start shopping now and don't wait too long to put in your order.
Nancy Berkley, President of Berkley Golf Consulting, is an expert on women's golf and junior-girls golf. She is a frequent contributor to www.cybergolf.com/womensgolf. Her book, "Women Welcome Here! A Guide to Growing Women's Golf," published by the National Golf Foundation, is an industry reference on marketing golf to women and spotting trends within the industry. She offers information and advice about the golf industry on www.berkleygolfconsulting.com and is often quoted in national publications. She was a contributing editor of "Golf for Women" magazine and a founding advisor of "Golfer Girl Magazine." Her interviews with women in the golf industry now appear on www.golfergirlcareers.com. Nancy lives in Palm Beach Gardens, Fla., and is a graduate of the University of Minnesota, Harvard University and Rutgers Law School. After a business and legal career, she decided to write about the game she learned and loved as a teenager. She describes herself as a good bogey golfer with permanent potential.