AHSF Tackles Renovations in Oslo, Dallas & Naples
Arthur Hills/Steve Forrest and Associates continues to rank among the busiest course designers in the business, adding three refurbishment projects - in Oslo, Norway, Naples, Fla., and Dallas, Texas - to its portfolio of 130 renovations worldwide.
In the Norwegian capital, ground was broken this fall on a major renovation of Oslo Golfklubb, the country's oldest and most prestigious course and home club to LPGA Tour player Suzanne Petterson. Hills/Forrest partner Steve Forrest is directing the $10 million project with assistance from Oslo GK superintendent John Riiber. The course will reopen for play in July 2008.
"We're authoring some major changes in the course routing and feature work, but serious turf and drainage issues prompted this project and addressing those issues is the main order of business," said Forrest. "The season is so short over here, and the property was so wet, that the only months when they could accommodate sustained member play were July and August. Something had to be done."
What Forrest devised was a series of 360-degree, spoke-and-wheel drainage systems underlying the entire golf course, complemented by a extensive sand-capping in the fairways - a measure usually reserved for putting surfaces. The architect's master plan also calls for a thorough rebunkering of the 18-hole course; the reconfiguring of several holes to eliminate blind shots; and the recontouring of nearly every putting surface, including the relocation of the 16th green to the edge of an expansive lake.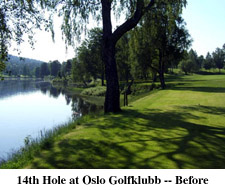 Forrest is particularly pleased with the redesign of no. 14, a short par-4 that had doglegged awkwardly around a grove of trees and virtually ignored the large lake to its left; when Oslo GK reopens, members will find a driveable par-4 with a green perched at water's edge.
"It's been fascinating working with Steve Forrest on our project," said Oslo GK President Einar Skogstad. "He has used tremendous skill to renovate our golf course. When it's finished, it will be amongst the top golf courses in Scandinavia. The way Steve has redesigned holes 11, 12, 13, 14 and 16 - and brought the river, our spectacular waterfall and Bogstad Lake more into play - is just fantastic. Our members, all 2000 of them, are looking forward to playing our 'new' course in 2008."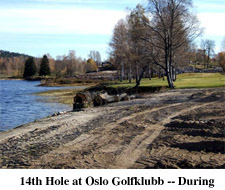 Forrest acknowledges that without the extraordinary drainage improvements, none of this design work would have been worth doing. "There was no sense in bettering the golf experience if that experience lasted only two months a year," Forrest said. "It's an amazing drainage system, to be honest ¬- the most extensive and expensive I've ever seen. It's what made this a $10 million project. Of course, the U.S. dollar has rarely been weaker and you can spend $30 on a hamburger here. Oslo is a wonderful city, but it's definitely the most expensive place I've been, save a few specific parts of downtown Manhattan."

Forrest is the president of the American Society of Golf Course Architects (his term runs through March 2008), but he may be the busiest architect in Europe. Course architecture cognoscenti have lauded his two recent Swedish designs - Sand Golf Club, just more than year old but already ranked by Golf Digest among the world's Top 100 courses outside the United States (No. 82), and Hills Golf Club, named by Travel+Leisure Golf magazine among the top 10 courses to open worldwide in 2005. His new course at Vasatorp GK, near Helsingborg, will open in June 2008, and ground was broken this fall on Forest Hills, an 18-hole resort track outside Moscow.

Though based in Toledo, Ohio, Arthur Hills/Steve Forest and Associates (AHSF) has crafted nearly 200 original course designs on three continents, along with its impressive renovation portfolio.

Course construction in Oslo is being handled by Swedish course contractor MS Golf, and Forrest freely admits his previous work in Scandinavia has informed and assisted this Norwegian project, AHSF's first. "Oslo is even further north than Gothenburg, but the climates are similar, which helped in the specification of grass types," said Forrest, who noted that he and Superintendent Riiber went with bentgrass wall to wall, and a rough mix of fescue, rye and barcampsia, a Barenbrug product and the first commercially available cultivar of tufted hairgrass.

"It was also a blessing to work in Norway with the same contractor we had worked alongside in Sweden, MS Golf. This saved time and ensured quality because MS Golf knows of our obsession with quality and had implemented the same hyper levels of drainage at Hills GC, though not quite so much of it. And together we had sand-capped the entire site at Sand GC, which has moved that process along efficiently in Oslo."
American Projects

Some 5,500 miles southwest of the Norwegian capital, AHSF partner Chris Wilczynski will break ground this April on a $6 million renovation of Forest Glen Country Club, a golf/real estate community in Naples, Fla. This project would technically be termed a renovation, as the routing will remain virtually unchanged. But everything else - every green, tee, bunker and fairway, every blade of grass - has been re-imagined and will be rebuilt accordingly.

"The old golf course wasn't that old (it was built in the early 1990s), and it wasn't that bad. It was, however, extremely penal and the average handicap here is somewhere in the mid-20s," said Wilczynski, who noted that Forest Glen is slated for an early December 2008 reopening. "We proposed a bulldozing of the entire golf course, then starting from scratch and the members approved that plan overwhelmingly."

Few places in the golf world have more respect and faith in the design approach of Hills/Forrest than Naples, where AHSF has designed more than 20 separate layouts, including Fiddler's Creek and Bonita Bay, both ranked in 2007 among the nation's top 40 real estate courses by Golf Connoisseur magazine. Wilczynski, whose most recent design - the Wolfdancer Course at the Hyatt Regency Lost Pines near Austin, Texas - was named among Golf Magazine's "Top 10 New Courses You Can Play" for 2006, is eager to work the same magic at Forest Glen.

"We're going to create a lot more width in these fairways, we'll vary the size of the greens to make each hole distinct, and we'll completely regrass the golf course with Sea Isle Supreme paspalum," said Wilczynski, noting that AHSF last year completed a similar regrassing with the popular salt-tolerant paspalum at The Oaks in Osprey, Fla. "We'll keep some of the existing roll, but we'll also create further rolls and landforms that will capture balls instead of kicking them into hazards, which was a real problem with the old routing.

"Our master plan also calls for a major beautification program here. Some holes at Forest Glen border Collier Boulevard, and we plan to screen that out entirely. We've also planned to install littoral shelves on all the ponds, creating shallow wetland areas around the edges of all these hazards. The old ponds were just dug straight down; when the water receded, you were left with these ugly soil banks. This shelving scheme solves that problem and supports a greater diversity of wildlife, as well."
In early 2008, Wilczynski and the AHSF team will also initiate a comprehensive master plan program at Columbian Country Club of Dallas, where extensive course improvements mirror the membership's desire for club-wide change. The club has already changed its name to Honors Golf Club Dallas.

"The members at Honors Golf Club are determined to make this one of the pre-eminent clubs in Dallas, and they want it to be more of a player's club," Wilczynski said. "The market has changed in Dallas. Several new projects here have obliged existing clubs to re-examine where they stand. The new focus here is the golf, and they're fortunate to have here the sort of quality terrain to yield a superb golf course."

The existing layout at Honors Golf Club Dallas features nine holes from Ralph Plummer, laid out in the 1950s, and nine more designed by Leon Howard. Joe Finger redesigned six holes in the 1970s, and D.A. Weibring did further renovation work here in the 1990s.

Wilczynski will unify what is a hodge-podge of design styles, providing Honors GC with a classic, vintage feel that is consistent from hole to hole. "The routing here is good, and it's a core golf course with hardly any housing intrusions," he said. "In refurbishing all the tees, bunkers and greens, we'll make the course more attractive but we're aiming for something more strategic and challenging. Our master plan calls for smaller greens and more random, strategic bunkering. It's going to be a beautiful course but, when we're finished, it will be serious test."
For more information on Arthur Hills/Steve Forrest and Associates, call 419/841-8553 or visit www.arthurhills.com.