'Alabama Has a Coast??!!??'
By: David Wood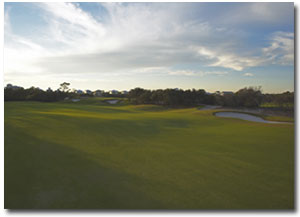 I'm willing to bet everything in my meager Roth IRA that about as many people know that Alabama has a scenic shoreline on the Gulf Coast of Mexico as who knows how to spell "Kyrgyzstan" (which has to be one awesome play in Scrabble).

Not only does Alabama have a coastline a few miles due east from the start of the Florida Panhandle, its happens to be 32 miles of as glorious a waterfront as you'll find this side of mesmerizing St. Thomas in the Caribbean. We're talking wide expanses of dazzling sugar-white sand so soft and powdery you want to lie on your back and create sand angels. Surprising is the word that comes to mind.

The golf is surprising as well with the superb Kiva Dunes – a real honest-to-goodness links course played through sand drifts and hollows with roughs of sea grass as penal as Muirfield (the real one).

Designed by 'Bama's own Jerry Pate, Kiva Dunes gives ample proof that Mr. Pate has a fondness for Scottish-style golf as he's built a layout where consideration must be paid to the wind gusts off the nearby Gulf before attempting your shot. Most of the dune-flanked green fronts are able to accept an old school "keep-it-out-of-the-breeze" run-up. One can imagine Old Tom Morris offering Pate a wee dram and a hearty, "Well done, laddie!"
Two Kiva Dunes holes are of the highest order. The par-3 13th – at 175-yards to an exposed flag perched menacingly on a giant dune rising up out of the earth like a burial plot for a wooly mammoth – tests your mettle from tee-to-green. Your mettle better have one heck of a short-game if you don't have a putter in your hands for your second as the green has more twists and turns than a 22-year-old Elvis after a triple espresso. Lurking silently left is a canal which bisects the course and is very much in play for any pitch hit too strong or played off the wrong swale. Good luck.

The par-5 15th is flat-out worth the airfare from wherever you are to the Pensacola Airport – about 40 minutes away as the seagull flies. With the teeing ground slightly raised behind a grove of brush, you are just able to spy the flagstick fluttering atop a dramatic hillock 540 yards straight ahead with cavernous steep bunkers surrounding the plateau in a sinister semi-circle. All the lurking trouble is in plain sight; all that is required is three perfect shots and the finesse of a cat burglar. The hole could be airlifted and dropped right onto Ballybunion or Dornoch and nobody would be the wiser. Mr. Pate, a U.S. Open winner at Atlanta Athletic Club in 1976, obviously has more in his quiver than just a first-rate golf game.
Here's my idea for you and your golfing pals. Forget your annual Myrtle Beach golf trip for one year and give Gulf Shores a try as there is more than the superb Kiva Dunes to scratch your golfing itch. There's a ton of golf within minutes of the beaches.

Craft Farms boasts 54 holes of first-rate golf built on 870 acres of old coastal wilderness. The land was formerly a gladiola nursery and then a sod farm – perfect ingredients to brew excellent golf. The Arnold Palmer-designed Cotton Creek championship 18 takes you through soft rolling hills, quiet lakes, with groves of pine, oak, and cypress trees framing the pristine fairways. The tranquil surroundings are a magician's sleight-of-hand as your score creeps higher and higher as Mr. Palmer's diabolical design continually teases you to cross water hazards that seem well within your capacities, but aren't. This is death by a thousand cuts – you don't even know how bad you're bleeding until you're back sipping something cool in the spacious and comfortable clubhouse. Throw away the scorecard and enjoy the sweet Alabama air.

Craft Farm's Cypress Bend, another Palmer layout, is a more forgiving 18 with fairways wider than a Disney World parking lot. That's not to say there isn't water and trouble on this Bay Hill clone, but Mr. Palmer has given you plenty of room for your hook or slice to do-the-voodoo-that-they-do and still land in the short grass. The greens are slick and well-guarded, but you should get within hollering distance of your handicap.
Lost Key Golf Club, just across the nearby Florida border, is as tight as Cypress Bend is wide. Lost Key was the first golf course in the world to be certified as an Audubon International Silver Signature Sanctuary. Most every hole is flanked by swampy bogs full of critters with no shoulders and giant waterfowl with beaks longer than most one-irons. My advice is to take plenty of golf balls and play Lost Key as your starter round. You'll get a taste of what a petri dish this section of the world is and every other course in the area will seem as broad as the Grand Canyon.

With nine courses in the immediate area, including the not-be-missed Peninsula Golf and Racquet Club, you can golf to your heart's content, but save plenty of time for the mesmerizing sunsets over the stunning beaches. If you can't lower your blood pressure on the Gulf Coast of Alabama, no amount of Lipitor is going to help.
To make your Alabama golf journey stress-free, contact the Gulf Shores Golf Association for their myriad of stay-and-play packages at www.golfgulfshores.com, or call 888/815-1902 for details. Beachfront accommodations run the gamut from hotel rooms to comfy beach houses big enough to hold a Walton Family Reunion.    
Myrtle Beach will still be there next year. I'm not sure about Kyrgyzstan.
David Wood – writer, corporate speaker, and humorist – is the author of the soon-to-be published book "Around the World in Eighty Rounds." With several appearances on "Late Night with David Letterman," Wood combines humor with his love for golf and adventurous travel. For comments or inquiries on having him speak to your group, contact David at David@DavidWoodSpeaking.com. His website address is www.DavidWoodSpeaking.com.