Alabama's Gulf Shores - A Different Destination
By: Blaine Newnham
A different destination? With all the attention appropriately given the Robert Trent Jones Alabama Golf Trail, the Yellowhammer State might not sound that different.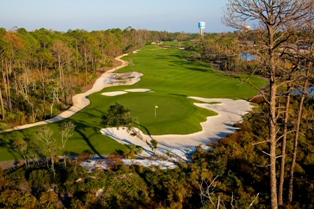 Lost Key Golf Club
But it can be. I'm talking about the Gulf Shores, the southern tip of Alabama where it kisses the Gulf of Mexico and sidles up to the panhandle of Florida. Here on 32 miles of coast, there are hurricane-surviving condos, sugary stretches of beach, boiled shrimp, fried okra, a few recalcitrant rednecks and a dozen friendly and varied golf courses.

They tout the area (www.golfgulfshores.com) as a "whole-in-one" destination. In this case, the ad campaign is valid. Unlike the Alabama Trail, where courses are a couple of hours apart and nights are spent in hotels, the Gulf Shores are self-contained; all its courses within 45 minutes of each other, all of which makes staying in a beach condo not only delightful, but convenient.

I was there in August and not sure if I'd survive the trip as well as the temperature.
From Seattle, it took about as long as driving to Bandon Dunes, about an eight-hour trip. I flew to Atlanta and then to Pensacola. It was hot, in the low-90s, but we religiously replenished our fluids, draped a mango-scented ice-water-dipped towel over our heads and did just fine.

The two things I feared most, bugs and grainy, Bermuda greens were thankfully missing. The golf was good, the bugs gone. (It might be worth noting that a water moccasin slithered by during one round, and I learned no golf ball was worth going in the deep rough. But, then, this is the Southeast.)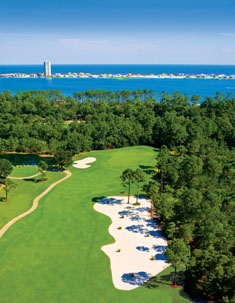 Peninsula Golf & Racket Club
I thought our first stop, Lost Key Golf Club (www.lostkey.com) - just over the border in Florida - would be typical of the Gulf Shores courses, an Arnold Palmer design through swamps and lagoons that reminded one of target golf in Arizona. But there is no typical golf course in the south of Alabama. That's the point. Rock Creek Golf Club (www.rockcreekgolf.com) in Fairhope, near Mobile, weaves through rolling hills - real hills.

It struck me that the courses were designed for fun, if not fame. Many of them are the work of Earl Stone, a Southeast golf architect who understands that golf should be less about a designer's ego and more about an 18-handicapper's enjoyment.
"No forced carries if I can help it," said Stone. "I was once a single-digit player but I try to envision each hole the way an 18-handicapper would. Then I build a couple of tees back in the woods for the big boys."

It is all about playability, of allowing golfers to get around the course quicker and with fewer strokes and lost balls. Stone's courses generally have a slope of less than 120 from the white - or everyman's - tees. He's never won any awards for his courses, but he has won an astute following.

Gulf Shores courses are all of high quality. They have the look of half-resort, half-country club, and are operated that way. The rack rate - $50-$99 - is slightly higher than the Alabama Trail, but still well below Arizona and Hawaii.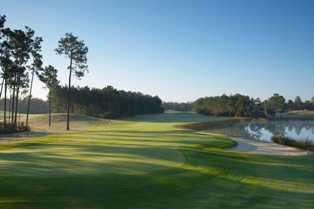 Soldiers Creek
The piece de resistance is Kiva Dunes (www.kivadunes.com) in the town of Gulf Shores. Voted at one time the top course in Alabama, the Jerry Pate design looks and feels linksy, especially when the coastal winds blow. It recently reopened after all its greens were replaced with a new hybrid grass that plays more like bent than Bermuda.

Besides Stone's work at Peninsula Golf & Racket Club (www.peninsulagolfclub.com) in Gulf Shores, and Timber Creek Golf Club in Daphne (www.golftimbercreek.com), he did the splendid Rock Creek, which has a hole with a bulkhead behind, not in front of it, producing some interesting shots.

Palmer's design group did the two courses at Craft Farms Golf Resort (www.craftfarms.com), which led the way to golf in these parts, replacing what had been a gladiola farm. Jay Morrish, and his son, Carter, did a remake of the Wharf Golf Resort (www.thewharfal.com) in Orange Beach, which I enjoyed very much. Glenlakes Golf Club (www.glenlakesgolf.com) in Foley, and Soldiers Creek Golf Course (www.soldierscreekgolf.com) in Elberta, offer additional quality in the area with even lower green fees.
For this spring, www.Golfgulfshores.com is pushing customized stay-and-play packages. Cram a bunch of guys in a condo and you can pay as little as $75 a day to play and stay. Fully-occupied condos tend not only to be more economical than hotels, but also provide a common area for having breakfast, playing cards or reliving the events of the day.

Simply, the Gulf area is more attractive that you might think as a destination. The seafood can be wonderful, while the beaches are flat and fine. There is an amusement park in the area and Fairhope has been called the "Carmel of the Southeast."

I enjoyed it, even in August.
Blaine Newnham has covered golf for 50 years. He still cherishes the memory of following Ben Hogan for 18 holes during the first round of the 1966 U.S. Open at the Olympic Club in San Francisco. He worked then for the Oakland Tribune, where he covered the Oakland Raiders during the first three seasons of head coach John Madden. Blaine moved on to Eugene, Ore., in 1971 as sports editor and columnist, covering the 1972 Olympic Games in Munich. He covered five Olympics all together - Mexico City, Munich, Los Angeles, Seoul, and Athens - before retiring in early 2005 from the Seattle Times. He covered his first Masters in 1987 when Larry Mize chipped in to beat Greg Norman, and his last in 2005 when Tiger Woods chip dramatically teetered on the lip at No. 16 and rolled in. He saw Woods' four straight major wins in 2000 and 2001, and Payne Stewart's birdie putt to win the U.S. Open at Pinehurst. Blaine now plays golf at Wing Point Golf and Country Club on Bainbridge Island, Wash., where his current index is 12.6. In 2005, Blaine received the Northwest Golf Media Association's Distinguished Service Award. He and his wife, Joanna, live in Indianola, Wash., where the Dungeness crabs outnumber the people.