Alamo City Offers Lots of Public & Resort Golf
By: Steve Habel
Buoyed by temperate weather featuring an average of 300 days of sunshine and sporting a bevy of great resort and public golf courses, the truly international city of San Antonio wants badly to earn notice as the Lone Star State's premier golf destination.

test
That quest will be aided greatly next year when the TPC San Antonio and its 1,002-room JW Marriott Resort opens in the city's northern end. In the meantime, there are plenty of golf options for visitors to this historic and vibrant city - and even more to do when your day on the course winds down.

San Antonio has never had a problem attracting satisfied visitors from near and far. With its boundless scenery and the dynamic River Walk, the old Spanish town of San Antonio dates back to 1718 when it served as a way station for road trippers en route to east Texas missions. The city grew around the scenic San Antonio River, which gave life to the settlers who were busy founding missions and fighting Apache and Comanche Indians.

Continually under duress in those early days, Texas's most defining moment occurred at the Alamo when Mexican president and dictator Santa Anna laid siege to the city's old mission, making martyrs out of its defenders before eventually losing control of the colony that became the Republic of Texas and - in 1845 - a member of the United States.

Today San Antonio is perhaps the Lone State State's most romantic and welcoming city, acting as the gateway to south Texas and its endless ranches and shorelines or central Texas and its rolling hills, lakes and prairies.

Golf really started to boom here in the early 1990s, and in the years since there has been a steady stream of new courses to complement longtime favorites in the birthplace of Texas golf. Longtime local promoter Buddy Cook - the man behind Briggs Ranch and the Golf Club of Texas on San Antonio's southwest side - says there's no place quite like the Alamo City.
"You can compare San Antonio to Palm Springs," said Cook, who has served as a golf professional in both cities. "Each has a variety of interesting and excellent golf courses, but when the sun goes down, that's when San Antonio really shines."

The true beauty of public and resort golf in San Antonio is that the fun doesn't end after you sink that final putt of the day. Unlike many destinations that boast fine courses but have little to do after golf, there's no such problem in San Antonio.

We spent a long weekend in the Alamo City in late February, playing golf on some of San Antonio's top resort and public tracks. Five rounds in three days produced loads of great - and some not so great - shots to go with a true appreciation of San Antonio's slew of great golfing opportunities, a sampling of its wonderful restaurants and, perhaps most of all, its friendly citizens.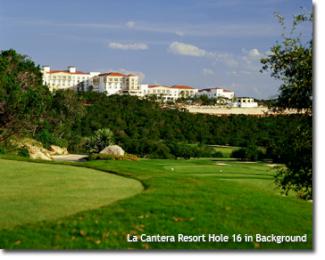 La Cantera is Twice the Fun & Double the Challenge

Any talk about golf in San Antonio has to begin with the Westin La Cantera Resort, a 1,600-acre master-planned development that includes two championship 18-hole layouts, a gorgeous hotel built in 1999 and modeled after famous King Ranch's "Big House," two stunning clubhouses and an academy of golf to hone your game.

The Westin La Cantera has consistently been ranked one of the best resorts in America by Golf Magazine and, for the past four years, has earned a spot on Conde Nast Traveler's "Top 100 Golf Resorts" list, marking it as one of the top golf destinations in the world. It moved up to No. 19 from 41st last year in becoming the top-ranked golf resort in Texas.

"We are very pleased to receive recognition from such a well-respected publication in the travel industry, and we're happy to be part of the effort to make San Antonio a major golf destination," said Tony Cherone, the Westin La Cantera's general manager. "With our $10-million room renovation project scheduled for completion in the spring of 2009, we look forward to continued success as a premier golf destination."

The digs are nice at La Cantera, but it's the two golf courses that are the resort's biggest draw and they are superior in every sense of the word. The Resort Course, the final project by the former design team of Tom Weiskopf and Jay Morrish, and the Palmer Course, fashioned by (you guessed it) Arnold Palmer with help from longtime collaborator Ed Seay.

The Resort Course opened in 1995 and offers a handful of natural water features, 75 sand bunkers and an up-and-down ride that sports half-a-dozen holes with panoramic views of the city and the surrounding Hill Country. Its majestic beauty is marked by rock outcroppings, running streams, mature trees and holes that work their way through and over land that was once a stone quarry.

The Resort Course - site of the PGA Tour's Valero Texas Open - plays at 7,021 yards and par of 72 from its back set of five tees. With a rating of 72.5 and a slope of 134, it challenges golfers with a mix of tightly tree-lined and open fairways and with numerous elevated tees and raised landing zones.

Opening with its hardest hole by handicap, a 665-yard downhill par-5, the Resort Course continues with the rightward-turning 448-yard, par-4 second, a hole that requires target golf strategy and unerring iron play.

The downhill and snaking 533-yard par-5 fifth looks out toward the main rollercoaster at Texas Fiesta Six Flags theme park (located across the street) and finishes with an undulating and tricky putting surface surrounded by bunkers. No. 7 - a severe downhill par-4 whose green seems to lie just beneath the rollercoaster - plays at just 316 yards and is perhaps the Resort Course's most famous offering.

The 415-yard par-4 12th is unique and tough, featuring an approach shot to a plateau green fronted by a landscaped stream and waterfall. No. 16 will draw the interest of big hitters (including women hitting from the forward tees), as the 380-yard dogleg-right, risk-reward par-4 can be reached off the tee. Its bowl-shaped green is one of the hardest to navigate on the course, however, so take your chances if you dare.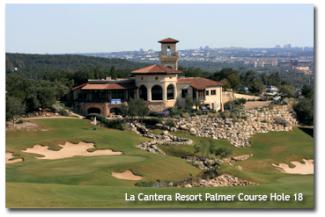 Located just down the street from the hotel, the Palmer Course was built and added to the La Cantera family in 2001. It contains a variety of holes touched with dramatic waterfalls, beautiful views and mind-blowing landscape. Playing to a par of 71 at 6,926 yards from the tips, the Palmer Course is full of blind tee shots, carries over canyons and up-and-down and side-sloped lies.

As one of the Palmer Course's signature holes, the 188-yard par-3 fourth requires a long carry over a lake with waterfalls along the front of the green and a trip over the Winnie Palmer Memorial Bridge, named after The King's late wife.

The most difficult hole by handicap at Palmer is the 426-yard No. 5, which requires a spot-on long-iron approach to carry a dry creek bed that splits the fairway. You'll want to keep you tee ball left of center on the stunning 10th hole, as anything right of the marker in the fairway could bounce down into the 120-foot chasm that runs along the entire right side; even with a good shot you will likely have to carry the abyss if you want to attack a back-right hole placement.

No. 18 at Palmer (rated 74.2 and with a 142 slope) is a spectacular par-4 finale that stretches 490 yards. It runs slightly up and then down an 80-foot slope, providing excellent views of the clubhouse and a waterfall-fed lake. Guests often sit out on the clubhouse's balcony and applaud shots that reach the green in regulation and putts that end up in the bottom of the cup.

The main difference between the Resort and Palmer courses at La Cantera is that Resort has many more open fairways and not as many blind shots. Even though the Resort is the one that hosts the PGA Tour event, it's much more playable for the average golfer than Palmer.

There are times on Palmer that you will feel like you're standing at the highest point in San Antonio. From this vantage, you look down at the city in the distance, the holes from the adjacent Resort Course and jets flying into the nearby international airport whizzing by you at eyelevel. Just don't lose focus or you'll be losing a lot of golf balls.

Fun and fair, the Westin La Cantera pulls in players with thrill-packed golf, first-class service and amenities, a great combination for all involved. For more information or a tee time, visit http://www.westinlacantera.com.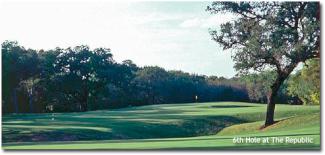 Foresight Mixes Old & New

The second day of our visit to San Antonio was highlighted by play at the Republic Golf Course and Pecan Valley Golf Club, both of which are run by Boerne, Texas-based Foresight Golf. The pair is about a mile away from each other southeast of downtown, so close that Foresight officials say they were fishing golf balls with Pecan Valley logos out of Salado Creek while the Republic was being developed.

Besides being operated by the same company, there's little else that the two courses share.

The Republic, voted by local golfers as San Antonio's favorite course for the past three years, is friendly and mostly forgiving. It offers a pure-golf experience with big, fast greens and secluded oak-lined holes. There are no encroaching homes and no glitz; just inviting fairways and thick, woodsy rough in a beautiful river flood plain.

Architect Art Schaupeter took advantage of the property's relatively flat terrain and an abundance of trees to keep a natural feel to the course, which plays to a par of 71 and 7,007 yards from the tips. The Republic, which opened in 2002, contains four par-5s and five par-3s, is rated at 73.5 and has a slope of 131.

"The most unique thing about The Republic is its natural environment," Schaupeter said. "Virtually every hole is completely secluded."

The Republic's wide range of tees - on some holes, distances can vary by more than 100 yards - makes the course a fair test for just about all skill levels. The track is relatively flat and, despite winding around Salado Creek, water never cuts across any fairway.

"This is a very sensible course for all players because you never have to cross the creek off the tee," said Mike Weiland, Republic's general manager. "There is never a forced landing for the average player."

On the sixth hole, for instance, the creek runs all the way down the left-hand side, but Schaupeter's design makes sure you don't have to cross the water on the 624-yard, dogleg-right par-5. "That way, the women can play it, the novices can play it, the beginners and the low-handicappers can get it around as well," he said.

The best holes at the Republic are the 222-yard, uphill par-3 third - which requires a precise long iron to get to its tough back-right hole location; the 459-yard par-4 fourth (with a wide, inviting fairway and a green that swoops deep from right to left); and No. 12, a 569-yard uphill par-5 where you must blast your tee shot over Salado Creek and turn your approach hard left.

Toward the finish take care on the reachable par-4 16th, which - at just 336 yards from the back tees - asks the bold player to cross a ravine and land a shot between two bunkers, and the 243-yard, par-3 17th, which sports a bunker 20 yards in front of the putting surface and an undulating 48-yard-deep green when you get there.

Republic has its teeth (especially near the end) and is a great course to work out the kinks in your game and gain confidence in your swing. You can easily see why it's so beloved by the locals. For more details, visit http://www.republicgolfclub.net.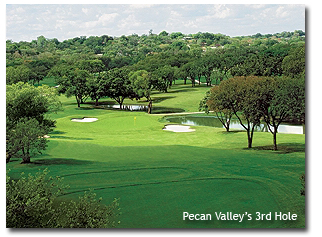 On the other hand, Pecan Valley can flat wear you out - and that's a good thing. Originally designed by J. Press Maxwell in 1963 and renovated by Bob Cupp in 1998, Pecan Valley is one of the Alamo City's oldest and most storied courses. The track hosted the 50th PGA championship in 1968 (when Julius Boros famously held off Arnold Palmer to win), the Texas Open in 1967, '69 and '70, and the 2001 U.S. Amateur Public Links Championship.

The long-underutilized layout was acquired by Foresight in February 2008 and is still undergoing a transition intended to reintroduce it to San Antonio and south Texas' discriminating golfers.

Locals say the area now known as Pecan Valley Golf Club was a jungle in 1961 when the course was built. The location is near Goliad Road, which was constructed in 1720 by Spanish explorers. There's a historic marker on the course celebrating the "Burnt Oak," a 100-foot-tall live oak with a girth of 22 feet. It's estimated to be more 800 years old and was used for centuries as an early navigational aid.

Pecan Valley is situated on 200 acres; Salado Creek winds through the front-nine five times and the back-nine thrice more. The bunkers are strategically placed, and the doglegs will keep your attention. Easily walkable and free of fairway housing, San Antonio's best players flock to this pure-golf sanctuary and find the challenge as daunting today as it ever was. Pecan Valley carries a rating of 74.4 and a slope of 132.

The track's mighty second, a 453-yard, uphill par-4, is considered the best hole in San Antonio. There's a bunker left to catch those who head that direction, but the real difficulty is in the approach, which must fly to an elevated green with a false front. It's easy to select the wrong club and watch as a well-struck but short shot comes tumbling backward toward you in the fairway.

The front side is also highlighted by the difficult 152-yard par-3 third, which was thankfully shortened by 60 yards during Cupp's renovation. The hole drops 60 feet from the tee and is guarded by a daunting pond on the right side.

The back side is known for its finishing holes, which some feel is the toughest such stretch in the Lone Star State. The 14th is Pecan Valley's signature offering, a mean 467-yard, dogleg-right par-4 that requires a monster drive to the corner to have a reasonable chance to get home in regulation.

Both par-3s on the back are 200-yards-plus from the tips (No. 12 is 215 yards while the 16th plays to 212 yards), and the famous 18th is known for its role in determining the 1968 PGA champion.

After hooking his tee shot short of the creek, where it dissects the hole, Palmer drilled a 3-wood uphill to 12 feet from the pin, giving himself a birdie chance to tie Boros. Though he missed, Mr. Palmer is honored by a plaque from the spot where he hit the shot. Better yet, his 3-wood is on display in the restored clubhouse.

During that same tournament, Jack Nicklaus missed the cut and complained of the course's difficulty, reportedly comparing Pecan Valley to a hayfield.

Playing Pecan Valley is like stepping back to the game of yesteryear. But even today's advanced equipment doesn't give you an edge on the tough-as-nails layout. The course is hard but in a good way, and you owe it to yourself to test your game on the track if you ever get the opportunity. For a tee time, visit http://www.pecanvalleygc.com.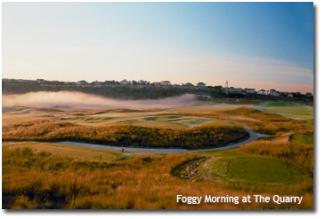 A Golf Course Fred Flintstone Would Love

On Day 3 of our visit to the Alamo City, we played the Quarry Golf Course, where bad shots can hit you in the head like a rock. If you forget to concentrate on your game and spend too much time looking at the track's 100-foot high rock walls or trying to find your wayward ball in the ankle-high rough around the fairways and greens, you might end up heading home shaking your head.

Designed by Keith Foster, who reworked Southern Hills for the 2001 U.S. Open, the Quarry is a course that, more than any other, catapulted San Antonio into the golf-destination business. It plays to a par of 71 and a longer-than-the-card-reads 6,740 yards from the tips. The track is rated at 72.4 and has a slope of 128. But there's no mistake about it, this is a very difficult course that changes personality in a hurry and demands your best.

The underrated front nine is open and essentially treeless, making it tough sledding when the wind blows. Hole Nos. 1-9 (which play to a par of 35) border an expressway, railroad tracks and an office complex - not exactly a serene golf experience, but keep your focus. Tall heather abounds, adding an aesthetic touch and a propensity to swallow golf balls.

Only one of the six par-4s on the front side reaches more than 400 yards from the back set of tees, but the difficulty is turned up by rolling fairways, high grass just wide of the landing area and water on seven holes.

The Quarry's picturesque back side makes concentric circles inside an old limestone quarry; the sheer walls extend up to a rim lined with luxury homes. An adjacent factory where limestone was once converted into concrete is now the upscale Quarry Market mall, making the entire area an example of urban renewal with a touch of The Flintstones' Bedrock.

These holes created the buzz when the Quarry opened in 1993. The back nine is one beastly test after another, with carries over waste bunkers, narrow fairways and 400 more yards than the front. The setting, however, is something to behold, and the final three holes can make or break a round here.

The par-3, 242-yard 16th requires a solid shot and is named "Gibraltar" as it's framed by a rock cliff. When you reach the 16th green be sure and take in the view and look back down onto the huge 17th green.

Speaking of the 17th, it's a par-4, 386-yarder named "Reload." Many average golfers must do just that on this hole because the tee shot is a target drive. Too far left and you are way down below the elevated fairway. In reality, the landing area is generous as long as you make sure you hit it far enough right, but not too far right or you will be in the rocks of the Quarry's eastern wall.

The 18th, named "High Road Home," is a 565-yard par-5 with a narrow fairway and a boulder-filled wall along the right. Slices into the wall - covered with native plants and prickly-pear cactus - could get a lucky bounce back onto the fairway, but don't count on it. Hit a long iron to the skinny landing area, then on the second shot you can hit 3-wood because the fairway widens near the green.

After the round enjoy the view from a clubhouse with a restaurant and bar where you can peer down on the Quarry side and see every hole. For more information about the course or a tee time, visit www.quarrygolf.com.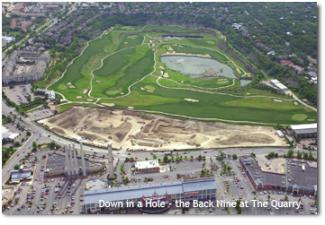 Given the varied courses and great conditions we encountered in San Antonio, golfers should be flocking to the city. Book your flight now and beat the rush.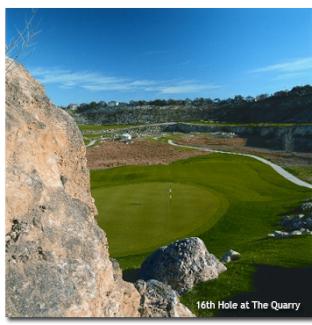 Steve Habel is one of Cybergolf's national correspondents, contributing news stories, features, equipment and book reviews and personality profiles from his base in Central Texas. He is also the media coordinator for Bechtol Golf Design, the managing editor for Business District magazine in Austin and works as a contributing editor for Horns Illustrated magazine, a publication focusing on University of Texas sports. He also writes a blog (www.shotoverthegreen.blogspot.com), which features news on golf and the Longhorns.