Aliante Offers Country's Most Expensive Golf Certificate
Aliante Golf Club in North Las Vegas, Nev., is now selling a $100,000 golf gift certificate. The gift certificate, which can be purchased on-line at www.aliantegolf.com, can be used for golf merchandise, green fees and the course's restaurant, the Grille at Aliante.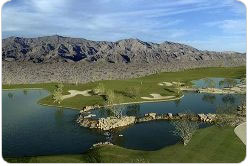 For those not be interested in shelling out $100,000, gift certificates in other denominations are also available ($25, $50, $100, $500 and $1000). Cyber-savvy web surfers who visit www.aliantegolf.com may also take advantage of web specials, enter to win free golf, or make on-line tee times reservations at this award-winning facility 20 minutes north of the Las Vegas Strip.

Aliante Golf Club opened to public play on December 5, 2003. Shortly after, the 18 hole, par-72 track was voted "Best New Golf Course in Las Vegas" by VegasGolfer magazine. Input from two sources – a reader's poll and VegasGolfer staff – is taken into consideration when bestowing the award.

Designed by architect Gary Panks, of Scottsdale, Ariz., Aliante is a challenging course, stretching more than 7,000 yards from the tips. The presence of a meandering arroyo that enters play on 14 holes causes golfers to feel slightly elevated, and it provides interesting contours, lies and playing angles.
The course, operated by OB Sports Golf Management, is further highlighted by views of surrounding mountain ranges, generous landing areas, and trees – such as pear and purple locust – not commonly found on desert venues. The practice facility features an expansive driving range, putting green, chipping green and practice bunker. Aliante also boasts an inviting clubhouse with a complete golf shop, grill, bar and event patio with views of the golf course and surrounding mountains.
For more information on Aliante Golf Club, call 702/399-4888 or visit www.aliantegolf.com.