Aliso Viejo Golf Club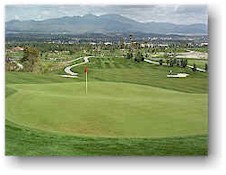 The recent sightings of a bear and its cub in the hills of Orange County are to be believed. Don't worry though, no need to lock the doors and close the windows, these are friendly bears, and they even have names: Jack Nicklaus and his son (cub) Jack Nicklaus II. These two bears have climbed around the hillside, moved some dirt around, and created Orange County's newest golf course, Aliso Viejo Golf Club.

With sweeping views of the Saddleback Mountains, this 27-hole beauty is getting off to a fast start. The course officially opened in September of 1999. The two Jacks came together, as only father and son can, to create this championship layout. Aliso Viejo will give your mind and the golf carts a workout. The elevation changes 100 feet over the three distinctive nines: Creek, Ridge and Valley. The par-3 sixth hole on the Creek nine has a 90-foot drop from tee to green.
This course really makes you think, not always a good thing when it comes to golf, but if you love to hit your driver no matter what, don't go crying to anybody when you finish with a score 10-shots higher than your average. The three nines range in length from 3,055, to 3,222 yards from the black tees, but don't let the distance fool you, there's trouble in them there hills!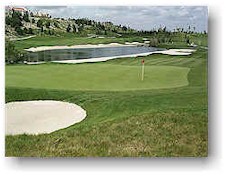 There are eight lakes, up and downhill lies everywhere, and greens that have more waves and rolls than the Pacific Ocean. By the way, the greens (with the same kind of grass as Pinehurst No.2) roll to about a 9 or 10 on the stimp meter. It's a resort style course with many twists. Keeping your driver in the bag some of the time will be a wise move. It's not a target golf course, but you have sand and water to contend with, and the chance to roll off the side of a hill if you're not paying attention to your game.

Nicklaus II says " the emphasis is on precision rather than power." Take his word for it, because the greens are big, and with all the rolls they have, you'll be rolling your eyes at the end of the day when you count up the amount of three-putts you have on your card. Challenging but fair is a good description of this track. Have a plan A, B and C for this course, because each nine has a different set of "mind benders" for you to deal with. Several sets of tees help make the course different each time you play it. The course was voted "One of the Best New Challenges" by Golf Magazine.
Director of golf Jeff Whitt held the course record with a 66 until some guy nicknamed "The Golden Bear" fired a 65 on opening day. Ocean breezes that can kick up make you have to re-think that club you're ready to pull out of the bag, and we all know that "thinking thing" is gonna get you every time. After your round, there's a 2,000 square foot pro shop and restaurant to take a break in. The course also has a dual directional driving range. The plan is for a hotel to be built on the property also.
If you're looking for a new twist in your golf course arsenal, come to Aliso Viejo Golf Club and give your game a good test. Remember, if you see some smiling bears wandering around the course, don't be alarmed, it's probably just Jack and Jack II enjoying their new playground...