All Eyes on Chambers Bay
By: Tony Dear
The U.S. Amateur Championship comes to Chambers Bay in Tacoma, Wash., this week. The competition will be fierce and hugely entertaining, but stories of how potential winners Nick Taylor, Peter Uihlein, Russell Henley and defending champion Byeong-Hun An perform will likely be overshadowed by how the venue is perceived. Will it meet the USGA's hopes and expectations?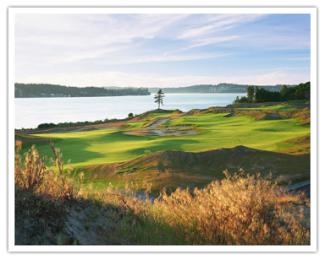 Chambers Bay (photo by Aiden Bradley)
Byeong-Hun An's defense of the title he won at Southern Hills last year will be one of the main talking points at this week's U.S. Amateur. George "Buddy" Marruci's progress will certainly be noted by fellow 58-year-olds in the gallery who marvel at how the two-time Walker Cup Captain and 2008 U.S. Senior Amateur champion can remain competitive on so big a stage. And Nick Taylor's attempt at capping an impressive amateur career by winning the Havemeyer Trophy will be of great interest not only to family, friends and his former teammates on the University of Washington golf team, but to golf fans around the world.
But while these players might be the subject of daily headlines, by far the more enduring story - that which will affect far more people for far longer - will be how Chambers Bay stands up to the demands of hosting such a prestigious tournament.
The Robert Trent Jones Jr-designed course on the banks of Puget Sound and a 45-minute drive south of Seattle gets its first big test as a championship venue this week, and while its reputation will obviously be at stake, it wouldn't be too big a stretch to suggest those of Trent Jones, the USGA and the region as a whole are, too.
Trent Jones set up his own design firm 38 years ago after having learnt the business from his father. Despite a reputation for primarily creating user-friendly resort and residential courses, his extensive portfolio includes over 100 layouts that have hosted important tournaments - from PGA Tour events to NCAA championships to U.S. Open qualifying. His place on the list of the game's most influential architects is therefore assured, but there's no doubt this week represents a hugely significant point in his career.
The USGA will be similarly anxious. In February of 2008, the organization awarded not only the 2010 U.S. Amateur but the 2015 U.S. Open as well to a municipal course that had opened just seven months previously. To say the swiftness of its decision was unprecedented, not to say ever so slightly risky, would be a profound understatement. Southern Hills in Tulsa was 23 years old when it hosted its first U.S. Open; Oakmont was 24, Pebble Beach 53 and Donald Ross's magnificent No.2 Course at Pinehurst a rather mature 92.
But the USGA didn't take a chance on Chambers Bay alone. Bringing one of its marquee events to the Pacific Northwest, which has relatively little experience of staging large-scale golf tournaments, was also something of a gamble.
But even before the tournament starts, early indicators suggest it's going to be a gamble that pays off big-time.
Thanks to effective hydro-seeding plus, in David Wienecke, a superintendent who knows more about the establishment of fescue grass than perhaps anyone in the country, the course is looking spectacular and, having taken advantage of a hot, dry summer will play fast and firm, ensuring the best golfers are rewarded for better strategy and superior ball-striking. The greens, a major concern as recently as June when no less a figure than the tournament's Honorary Chairman Ryan Moore thought they would never acquire the characteristics of typical USGA surfaces, are now rolling at about 11 on the Stimpeter - just what Wienecke and the USGA Green Section's Northwest Director Larry Gilhuly had envisioned, and plenty fast enough given how contoured the greens are.

As for off-course concerns, there are 930 acres at Chambers Bay for the USGA to put its car parks, corporate hospitality boxes, exhibitions and merchandise tents and TV compounds. And if the success of July's U.S. Senior Open at Sahalee - where over 133,000 people squeezed onto the grounds, coupled with the tangible sense of anticipation clearly evident prior to the start of the U.S. Amateur are anything to go by, then the USGA need have no fears about taking its crown jewels so far away from its New Jersey home.

The local community has embraced this opportunity whole-heartedly, says Gilhuly, who adds that Pierce County Executive Pat McCarthy (Pierce County owns the course) has been especially helpful in ensuring a successful outcome. One USGA insider is already talking about galleries at the 2015 U.S. Open reaching 70,000 a day - nearly double the number at Pebble Beach this year - and one report has the economic impact for the county that week exceeding the $142 million San Diego pulled in during and after the 2008 U.S. Open at Torrey Pines. Somewhere between 5,000 and 10,000 people a day are expected at Chambers Bay this week for what promises to be the most talked about U.S. Amateur since Tiger Woods won his third in succession at Pumpkin Ridge near Portland, Ore., in 1996.

Who the 7,742-yard behemoth will favor isn't clear as few players in the field of 312 will be familiar with this brand of exposed, rolling, hard-running golf. Earlier this year, Oklahoma State's Uihlein won the Sahalee Players Championship on the 7,420-yard Mike Asmundson-designed Home Course, which will host one of the two stroke-play rounds, so he should have an advantage there. And Korean Jin Jeong won the British Amateur Championship at Muirfield before tieing for 14th in the Open Championship at St. Andrews, so he clearly feels comfortable among the dunes. Beyond them, however, it's difficult to know who might be the one to survive two rounds of strokeplay and six head-to-head encounters unscathed.

Will he be a teenager like An, who became the championship's youngest-ever winner last year at the age of 17 years, 11 months and 13 days, or any of the seven 15-year-olds in the starting line-up (the youngest is George Cunningham of Litchfield Park, Ariz., who turned 15 last week)? Will 16-year-old Jordan Spieth, who finished tied for 16th at the HP Byron Nelson Classic in May, show his enormous potential, or could NCAA Championship medalist Scott Langley emerge victorious? Will a Walker Cup player (Uihlein, Morgan Hoffman, Nathan Smith and Bud Cauley from the U.S. team that won at Merion in 2009); or Stiggy Hodgson and Chris Paisley (from GB & Ireland) make good use of his match-play experience, or will Bobby Wyatt hit the shots that enabled him to post a 14-under-par 57 at the Alabama State Boys Championship last month? Will Stanford junior David Chung continue his sensational summer that has seen him win both the Porter Cup and Western Amateur in recent weeks and not finish outside the top-seven in his last eight major amateur events? Or maybe Korean Woo-Hyun Kim, virtually unknown before winning last week's Scratch Players Championship at Canterwood G&CC in Gig Harbor, leaves Washington State with two large pieces of silverware (actually the SPC trophy was glass).

Maybe an old boy might turn back the clock; a world-class mid-amateur whose number continues to decline each year with the professional game's lure of apparently easy money (well, easier than it used to be at least). Can 51-year-old Tim Jackson repeat his excellent play at Sahalee where he finished in a tie for 32nd as the top amateur? Could the 31-year-old Smith, a two-time U.S. Mid-Amateur champion who played three matches and won two in that '09 Walker Cup, 48-year-old fellow Pennsylvanian Sean Knapp, or even 58-year-old Marruci upset the youngsters?

Perhaps a local might shine. Nick Taylor and Darren Wallace, though Canadian, are considered local favorites having played college golf at the University of Washington in Seattle. And there are eight actual Washingtonians in the field, including T.J. Bordeaux who lives four miles from Chambers Bay, and Andrew Putnam, a senior-to-be at Pepperdine who qualified for the U.S. Open this year, won the Pacific Coast Amateur at Eugene CC five years after his brother won the same tournament at the same course, and who would easily beat Bordeaux in a bike race from his house in University Place to Chambers Bay as he lives three miles closer.

A Putnam victory would certainly make some noise in his hometown. But in national and international media, even that might get lost in the discussion surrounding Chambers Bay and its suitability for golf's biggest tournaments. The first chapter of that story gets written this week. One wonders how it ends.
Tony Dear is an Englishman living in Bellingham, Wash. In the early 1990s he was a member of the Liverpool University golf team which played its home matches at Royal Liverpool GC. Easy access to Hoylake made it increasingly difficult for him to focus on Politics (his chosen major) and, after dropping out, he ended up teaching golf at a club just south of London where he also made a futile attempt at becoming a "player." He moved into writing when it became abundantly clear he had no business playing the game for a living. A one-time golf correspondent of the New York Sun, Tony is a member of the Golf Writers Association of America, the Pacific Northwest Golf Media Association and the Golf Travel Writers Association. He is a multi-award winning journalist, and edits his own web site at www.bellinghamgolfer.com.