All's Well That Ends Well – Trump National Golf Club at Los Angeles
By: George Fuller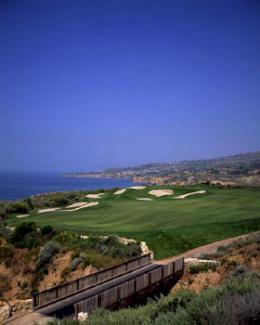 In spring 2004, Trump National Golf Club at Los Angeles plans to officially open as an 18-hole course. Judging by the 15 holes that golfers have been playing for that past four years – the former Ocean Trails Golf Club will be one of the best courses in California.

"It's the best piece of property I've ever seen," says Donald Trump, who bought the course in 2002. "It is the finest piece of golf land in America."

It will also be one of the most expensive courses ever built. "When I bought the course," Trump says," the bank had $211 million into it. I'm spending $50 million. That must make it the most expensive course on the planet."

What it took to get here, though, is quite a tale.

The year was 1999, spring. Ocean Trails Golf Club was all set to open, architect Pete Dye's answer to Pebble Beach, or Half Moon Bay. The location was supreme, a bluff above the Pacific Ocean in Rancho Palos Verdes, just south of Los Angeles. Wide ocean views grace every hole, and Catalina Island can be seen offshore on clear days. Plus, this was a public course. In short, every golfer's dream.
As Trump says, it's not often that a parcel of land like this comes along on the California coast, particularly for a golf course. From San Diego in the south to Eureka in the north, the California coast is either already developed, or it's a long, long struggle with permitting quagmires, environmental groups, court battles, and the like.
All that was behind them. The course was designed, built and grown in. Everyone from Pete Dye to the original developer, Ken Zuckerman, was happy, looking forward to opening festivities on July 16.
But then the unthinkable happened: On June 2, 1999, disaster struck Ocean Trails Golf Club. Hole 18, the climax of the course, Dye's spectacular finishing hole, fell into the ocean. What happened is what people in Southern California fear the most – the fragile earth sliding into the Pacific beneath their very feet – thankfully an event that rarely occurs.
Zuckerman wrote in his weekly log, "Yesterday, land movement destroyed a portion of the 18th hole at the Ocean Trails Golf Club. There were no injuries. Public access to the slide site has been closed for public safety reasons as directed by the Los Angeles County Fire Department. Ocean Trails is doing everything it can to determine the cause of this land failure. We hope to repair the 18th hole as soon as studies (to determine the cause) are complete. The opening of the golf course, which was scheduled for July 16, 1999, has been postponed."
Unable to put his finger on an immediate cause, Zuckerman searched for answers. In another log entry he wrote of events that led up to that fateful day: "On May 30, downtown Los Angeles was struck by a 3.5 magnitude earthquake. I obtained the earthquake map of the quake from the Caltech website. I am not aware of any damage caused by this earthquake.
"A strange rainbow was noticed around the sun immediately after the slide," he goes on to report. "I have never seen anything like this before. Then, a storm front moved across the ocean just offshore the same afternoon. To our amazement a funnel cloud appeared, a very unusual observation here in Southern California.
"Finally, one local observer pointed out that the profile of the slide looks like the profile of a flying saucer, and suggested that the legendary Palos Verdes aliens that he knew all about were to blame for the slide."
Whether these phenomena had any direct causality on the landslide is questionable. Zuckerman is skeptical.

What we do know for certain, however, is that instead of months to repair, the work has taken years. In November 2002, the course was purchased by Trump, who also owns two other golf courses, Trump National in Briarcliff Manor, New York and Trump International in West Palm Beach, Florida. (Another is under construction in New Jersey.) Under Trump's ownership, work on the repairs intensified, and now a grand opening date for the course is set for spring 2004.

In addition to repairing the slide damage on 18, Trump is planning to install three new water features – waterfalls, to be more precise –around the course, on holes one, four and 17. Hole No. 1 will feature a semi-island tee, and No. 17 will have water behind the green. In both cases it will require a pretty bad shot to bring the waterfalls into play. And the championship tees will extend the design to 7,100 yards, par 71.

Though Dye typically does not like people tinkering with his designs, the course, even after the changes, will be essentially a Pete Dye design. Even the three reconstructed holes (including No. 18) are as Dye envisioned them.

It is an exciting course to play, and not without some typical Dye design difficulty. There is an emphasis on approach-shot accuracy, with punishing surroundings around the greens, including fescue grass and pot bunkers. The greens are like the ocean waves just offshore: undulations abound. Overall, there is a premium on the short game.

Still, there is always an opening to roll the ball onto the green, making the course playable (though by no means easy) for all levels of golfers. Depending on your skill level, you can play conservatively or go for broke. There are many risk/reward holes – some with more risk than reward.

According to director of golf Mike van der Goes, "First-time players on the course run into the most trouble because of the tendency to use the big stick. If you spray the ball out here, you can post some high marks.

"What makes the course unique is that Mr. Trump has a great knowledge of and enthusiasm for golf," van der Goes says. "He's played courses around the world and knows first-hand what works well and what doesn't. When he comes out here, he rides around and asks the golfers how they like the course, what they would do differently if they owned it, and so forth. He's very involved."

The clubhouse is an impressive 38,000 square feet with pro shop, locker rooms, two executive meeting/small party rooms, the Peninsula Grille fine dining restaurant, the Cafe Pacific casual family dining restaurant, the Ocean Trails Deli serving a deli-style lunch, a bar and banquet facilities for about 300.

In early 2004, when this course finally emerges as the 18-hole ocean front beauty that was envisioned those years ago, it will takes its place alongside the courses at Pebble Beach, The Ocean Course at Half Moon Bay, Pelican Hill and few others among the West Coast's finest.

The prices, which have been running around $99 for the existing layout (15 holes, with three holes played twice to make 18), will go up. Plans are to start at $150 and go from there.

With the opening of Trump National Golf Club, upscale public golfers in Southern California have a new reason to smile.



Photographer and writer George Fuller has been covering golf and adventure travel for more than 15 years. His assignments have taken him throughout the United States, Asia, Polynesia, Europe and Mexico.

As an author, he has eight books to his credit, the two most recent being "California Golf – The Complete Guide" (11th edition, 2004, Avalon Travel Publishing) and "Discover Hawaii's Best Golf" (second edition December 2001, Island Heritage Publishing). Others include "Hawaii: Adventures In Nature," (October 1999, John Muir Publishing).

A former editor of "LINKS – The Best of Golf," he has contributed stories to many newspapers and magazines, including TIME, San Francisco Chronicle, Coastal Living, GOLF Magazine, Travel & Leisure Golf and others. Based in Marina Del Rey, Calif., George is a monthly travel correspondent for the PGA Tour (pgatour.com), and a Contributing Editor to The Golfer.