Amata Spring in Thailand Set to Host the Royal Trophy 2009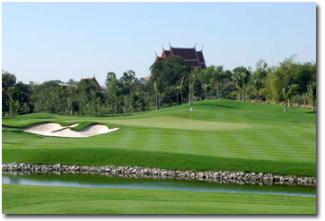 Amata Spring Country Club in Chonburi, Thailand, will be showcased during the Royal Trophy 2009, January 9-11. The course was the creation of Schmidt-Curley Design, Inc.
The par-72, 7,470-yard layout has been ranked the No. 2 golf course in Thailand by Golf Digest and was named Asian Golf Monthly's "Best New Course in Asia" in 2006. Approximately 45 minutes outside Bangkok, it is distinguished by several lakeside holes, over 100 bunkers and Asia's only floating green, the 145-yard par-3 17th.
The 17th (which plays as the 8th during the Royal Trophy to ensure all matches reach the hole) was built on bulkheads and weighs 700 tons. The green is approximately 7,500 square feet in size, making it smaller than the famous 17th at TPC Sawgrass. Moreover, it's a true island and is accessed by a small boat to take players from tee to green.
"The floating green is an architectural marvel," says Lee Schmidt, who founded Schmidt-Curley with partner Brian Curley in 1997. "We worked closely with local engineers to construct it and believe it makes a round at Amata Spring especially memorable."
Schmidt-Curley's sister company, Flagstick Golf Course Construction Management, played a major role in Amata Spring's development. In addition to Amata Spring, Schmidt-Curley's Asian credits include the Pete Dye and Olazabal courses at Mission Hills' (China) and Chiang Mai Highlands Golf Club in Thailand.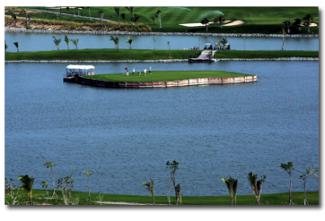 The Royal Trophy is a "Ryder Cup" format competition involving eight-man teams from Europe and Asia. Last year's tournament was cancelled due to the death of Her Royal Highness Princess Galyani Vadhana of Thailand in the days leading up to the event.