American Athletic Club! Yanks Dominate First Day of PGA Championship
By: Jay Flemma
[Editor's Note: Cybergolf's Jay Flemma is reporting from Atlanta Athletic Club during this week's PGA Championship. This is Jay's take on what happened in the opening round.]
Wave that flag, wave it wide and high! Americans covered the leaderboard on Day 1 of the PGA Championship at Atlanta Athletic Club with an avalanche of Stars and Stripes, including a record-tying performance by the PGA Tour's uber-nice guy, Steve Stricker.
The affable Stricker, Wisconsin's favorite son who's loved by all in the golf world, scorched the Highlands Course with a blazing bogey-free, 7-under 63 - the 25th such score in the history of major golf championships - to take a two-shot lead over fellow Badger Jerry Kelly. The 2003 PGA Championship winner Shaun Micheel was third after a 4-under 66.

Starting on the 10th hole, Stricker birdied the first three holes of the day, Nos. 10-11-12, without even breaking stride. "I started driver and sand wedge to 15 feet at 10; 3-wood and 9-iron to 5 feet at 11; and 12 was driver-rescue club into the right bunker and made the 4-foot putt," he explained later.

Then Stricker made an even bigger move, he birdied the two toughest tests on the course, the long and watery, par-3 15th and the par-4 18th, holes that played to stroke averages of 3.7 and 4.8, respectively, on Thursday.

"I stole three or four shots from the field there," he admitted candidly. "That's a tough stretch there. That set up the whole round."

Indeed it did. Tiger Woods, who plummeted to a 7-over 77 after opening with three birdies in his first five holes, calls 15-18 "the toughest finishing stretch of any major championship" in which he's competed. After carding three double-bogeys in one round for only the second time in his professional career, Woods was tied for 129th at the end of the opening session.
The finishing stretch decimated more scorecards than just Tiger's. Jason Day, Australia's young rising star who is in the mix seemingly every week and was a favorite coming into this week, was 3-under before arriving on the 15th tee, yet finished 1-over.

"It's certainly tough," said Day, shaking his head in disbelief. "I don't know, just 15 certainly is a tough hole and then obviously 16, 17 and 18 are very tough, as well. I'm just a little heated right now, but I can't do anything about it. It's in the past, so I've just got to look forward to tomorrow. I was playing really, really nicely, and then just the last four holes got me, so hopefully I can just have a better round tomorrow."

Stricker, on the other hand, was the one who looked Tiger-esque. He hit nine of 14 fairways, 13 of 18 greens, and needed only 26 putts. He was even three for three in sand saves.

Although Atlanta bears the name of a famous Greek mythological figure known for winning races with overwhelming speed, in Atlanta, Ga., this week the race may go not to the swift but the sturdy. Stricker is not the greatest front-runner despite being the only PGA Tour player to win multiple times in the last three years.

"He blew a huge lead at Colonial and at the John Deere this year, and there were too many times when he was in the mix to win and didn't," said one commentator who asked for anonymity. "He needs to be a better closer. Fans bite their nails every time because he hits scary-bad shots all over the park late on Sunday."
"He's as nerve-wracking as Mickelson!" fumed golf fan Susan Awalip, who came all the way from Wisconsin to root for Stricker. "But he's a great role model for the kids because he's super-nice. Just please, Steve, don't give me a coronary come Sunday."

Should Stricker make fans reach for the antacids and beta-blockers, plenty of Yanks are also in the mix. Despite Americans not winning the past six majors, nine of the top 13 players on the Round 1 leaderboard are from the United States. Texan Scott Verplank posted a 3-under 67, 1997 PGA Championship winner Davis Love III stands at 2-under (along with fellow Americans Bill Haas and Brandt Jobe), while 2009 British Open champion Stew Cink is at 1-under with five other Americans.

The first international flags on the leaderboard appear at 2-under - tied for fifth - and include Denmark's Anders Hansen, England's Simon Dyson, South Africa's Brandon De Jonge, Italy's Matteo Manassero and Australia's John Senden. World Nos. 1 and 2 Luke Donald and Lee Westwood (who seemingly do everything except win majors) stand at level par and 1-over, respectively.

Some pros were outspoken about the difficulty of the finishing stretch, particularly the normally positive Phil Mickelson, who rarely gives an inflammatory quote. "If you look at the four par-3s here, it's a perfect example of how modern architecture is killing the game, because those holes are unplayable for the members," said Lefty.
"You have water in front of you and a bunker behind and the player has no avenue to run a shot up," he noted laconically. "It's a good reason why the number of rounds on this golf course are down among the members and it's a great example of how modern architecture is killing the participation of the sport because the average guy just can't play it."

As an aside, that's the difference between Pete Dye, a strategic architect whose difficult test at Sawgrass still draws much praise since players can - except for 17 - steer away from trouble, and Rees Jones, whose flavorless, penal architecture style underwhelms everyone except New Yorkers and Medinah members who like bragging about how much their courses make people's heads ache. But I digress . . .

A club pro (who also requested anonymity) had pointed words about the course design after carding a round that didn't begin with a "7."

"It's absolutely ridiculous. 15 is a minimum 260 yards, all carry over water. You have no chance to hold the green unless you're a Tour pro with a really high ball flight, it's just stupid, just put a double on your card," he fumed. "And 18 is what? A par 4.9? Thanks for a miserable day. This tournament will come down to who makes the fewest bogeys on those holes, and that's not golf," he finished acidly before storming off.
Or as world-renowned writer John Huggan put it, "Can you hit the ball between goal posts" is not golf.

So although the popular Stricker is in the lead, he is 44 years of age and, as Dan Jenkins might say, is at the point where winning a major is slim and none. Few men win majors at 44 and up - only seven, in fact. Yet eight of the top 12 on the leaderboard are in their 40s. If it weren't for the 18-year-old Manassero, the average age of the top-12 would be in the 40s.

Additionally, only one person who shot a 63 to open the PGA Championship has lost. Michael Bradley had that score in 1995 at Riviera, where Steve Elkington won in a playoff. And as we all know, Thursday is just "getting to know you." The race with this Atlanta (as opposed to the ancient Greek counterpart) will not go to the swift, but to the sturdy and the unflappable, especially with the "Gator Pit" that lurks starting at the 15th tee.

Nevertheless, it's the American boys who are on top for the moment, with two Cheeseheads leading the way. In a way, they are a year late; what a celebration there would have been at Whistling Straits had Stricker and Kelly jumped out to the lead. But hey, it's better late than never.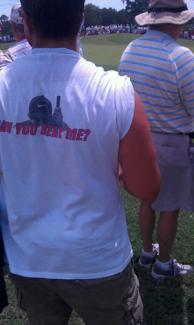 Tiger Can You Beat Me Shirt
(Photo by Ryan Ballengee)
News, Notes & Quotes

The PGA Championship leads the majors in scores of 63s with 11. There have only been two 63s at the Masters, four in the U.S. Open and eight at the British Open. Two reasons include the PGA of America's penchant for reasonably fair course set-ups and tournament venues more akin to what U.S. PGA Tour pros see on a week-to-week basis.

Make Mine a Double

The only other time Tiger had three doubles in a round (other than perhaps at the Blue Martini bar in Orlando) was in 2007 during the final round at Bay Hill.

Scoops & Scuttlebutts

Sources I personally rate as extremely reliable opine that Bethpage may become a PGA of America venue and get a PGA Championship, perhaps as early as 2020, or a Ryder Cup. That explains the Oakland Hills 2016 U.S. Amateur and the 2020 U.S. Open bid. "The math works, doesn't it?" said a second extremely reliable source. Expect further word later today, and remember that Cybergolf said it first. Hat tip to my source coming soon . . .

Roaring (Rorying) in Pain

The post-round MRI showed Rory McIlroy with a strained tendon in his arm. He is taped up and headed out on the course as we go to press. Ten years from now, he might have broken his arm. "You gotta play hurt?" Well also "You gotta be careful!"

Can You Beat Tiger

Look at this Tiger shirt pic!!!! Someone will be getting a nasty-gram from Orlando or Ponte Vedra if they ever get find out who made them . . .

Why Golf Fans Hate Golf on TV Volume XXL

How could live television not show Stricker's putt for 62???!!! And Tiger wasn't even on the course so they can't use that as an excuse??!!

You Do the Math

Here are some interesting comparisons from the first round of the 2011 PGA Championship versus the 2001 PGA Championship, also played at Atlanta Athletic Club.

22 -- Rounds under par in the first round in 2011
55 -- Rounds under par in the first round in 2001


35 -- Rounds at par or better in the first round in 2011
69 -- Rounds at par or better in the first round in 2001


73.11 -- Scoring average in the first round in 2011
71.28 -- Scoring average in the first round in 2001
Since launching his first golf writing website in 2004, http://jayflemma.thegolfspace.com, Jay Flemma 's comparative analysis of golf designs and knowledge of golf course architecture and golf travel have garnered wide industry respect. In researching his book on America's great public golf courses (and whether they're worth the money), Jay, an associate editor of Cybergolf, has played over 420 nationally ranked public golf courses in 40 different states, and covered seven U.S. Opens and six PGA Championships, along with one trip to the Masters. A four-time award-winning sportswriter, Jay was called the best sports poet alive by both Sports Illustrated and NBC Sports writers and broadcasters. Jay has played about 3 million yards of golf - or close to 2,000 miles. His pieces on travel and architecture appear in Golf Observer (www.golfobserver.com), Cybergolf, PGA.com, Golf Magazine and other print magazines. When not researching golf courses for design, value and excitement, Jay is an entertainment, copyright, Internet and trademark lawyer and an Entertainment and Internet Law professor in Manhattan. His clients have been nominated for Grammy and Emmy awards, won a Sundance Film Festival Best Director award, performed on stage and screen, and designed pop art for museums and collectors. Jay lives in Forest Hills, N.Y., and is fiercely loyal to his alma maters, Deerfield Academy in Massachusetts and Trinity College in Connecticut.