America's Top Short Courses
By: Steve Habel
Eighteenth century English poet William Cowper's claim that "variety's the very spice of life, that gives it all its flavor" likely had little to do with his performance on the golf course.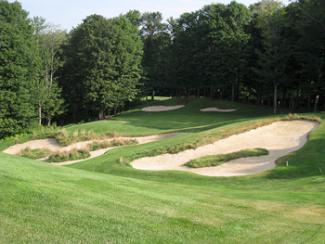 Threetops' Fourth Hole
But for our purposes we will borrow Cowper's idea and use it to illustrate that the grounds for the grand game don't always need to be uniform in the number of holes, in length or even in the quest for par to be fun, thought-provoking and personally testing.

As the industry has sought to retain players and draw new participants, emphasis has been placed on creating golf courses that are easier and take less time to play. The magic formula is to achieve those goals while finding ways to challenge hard-core golfers - those married to courses that must have 18 holes and extend more than 7,000 yards to be considered worthwhile.

As noted below, I will identify a handful of tracks that have embraced variation and thrived. Ideas like these may be among the more successful courses of the second half of the 21st century; these days they are unconventional and revel in their distinction.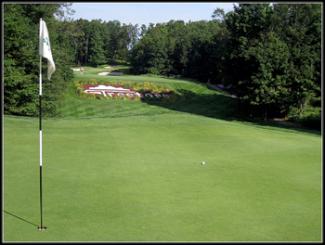 Threetops
Nine Holes Done Right

One of five courses on the menu at Treetops Resort in Gaylord, Mich., the Threetops Course bills itself as America's No.1-rated par-3 course - for good reason. It's visually stunning, with deceptively tough greens set (mostly) below tees.

Playing through spruce and pine trees at a par of 27 and at 1,435 yards from its back set of three tees, the Rick Smith design hosted the made-for-TV "Par 3 Shootout" from 1999 to 2007.

You'll feel like you're in tunnels of trees here, with holes playing from 219 yards (No. 3, called Devil's Drop) to 140 yards (both the eighth, which is played downhill, and ninth, where you shoot uphill to blind green). Along the way there is a hole with double putting surfaces and tees (the 156/149-yard second, called Double Cross), another with a dual-level green that will feed short shots back into a pond (the 150-yard seventh) and four that are completely surrounded by bunkers.

Threetops is tough for any level of golfer and dispels any notion that par-3 courses are dull and second-stringers. Quite simply, if you can score well here you're a player, and Threetops definitely demands your focus and best game.

For more, visit www.treetops.com.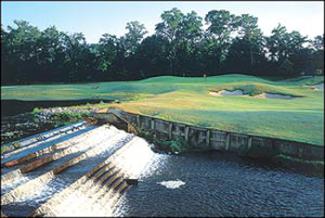 The Short Course at Magnolia Grove
Twice the Test

Most par-3 courses are limited to nine holes, but the Short Course at Magnolia Grove Golf Club in Mobile, Ala., doubles the pleasure - 18 holes ranging from 215 to 110 yards, most of which call for all-or-nothing carries over marshes to often bulk-headed greens with some extreme slopes.

The holes here are not mini-versions of what you might find on a full-length course; instead, they're a continual series of tough one-shotters.

With a par of 54, the Short Course, designed by Robert Trent Jones as part of his eponymous golf trail, plays 3,140 yards from the "tips." And like a regulation 18-holer, the Short Course has been granted a rating (70.0) and a slope (113) that illustrates what you'll find here.

From the back tees, only three holes are shorter than 155 yards. You'll hit the same club on the back-to-back fifth (137 yards) and sixth (135 yards). Even the tiny 110-yard wedge shot on No. 15 will grab you. Precision and absolute knowledge of the distance your shots must carry are paramount here. Without both, you'll be in for a long day and plenty of frustration.

For more info, visit www.rtjgolf.com/magnoliagrove.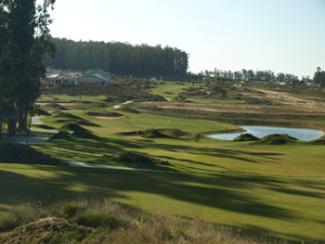 Fifth Hole On the Challenge Course at Monarch Dunes
Twelve-Pack of Fun

The Challenge Course at Monarch Dunes Golf Club in the Central California coastal town of Nipomo takes the term "out of the box" to a new level. Here - as a companion to the facility's Old Course - you'll find 12 par-3s routed in such a way that shots are whipped by winds off the Pacific Ocean, which is just a mile or so to the west.

Designed by Damian Pascuzzo and PGA Tour veteran Steve Pate, the Challenge Course can be tough thanks mostly to greens with loads of undulation, water, dunes and fescue. It's a little quirky and is supposed to be, as the architects fashioned the course in such a way that you can play different tees (there are three sets) for different shots.

The golf course was completely constructed by shaping the native sand into the desired features. There were no outside materials imported to build the greens or bunkers as is done on most golf courses.

Holes range from the 82-yard third to the 242-yard fifth, which is hard to reach even with a driver in a facing wind. The layout plays to 1,858 yards from the tips.

"The Challenge Course could set a new standard for short golf courses," Pascuzzo said. "It's a fun, but salty, alternative for players who do not have the time or inclination to play a full 18 holes."

The day I played the Challenge Course - in a ninesome with Pate and Pascuzzo along other golf writers and club officials - we finished the 12 holes in an hour and 40 minutes. What's not to like about that?

For more, go to www.monarchdunes.com.
Plus-one in Santa Fe

You'll get a little something extra at the Marty Sanchez Links de Santa Fe, set among the mountains of northern New Mexico. The Great 28 par-3 course, designed by Baxter Spann and playing 1,615 yards from its back set of four tees, ends with a tough, uphill 355-yard par-4 (thus the moniker).

Great 28 boasts views of the three mountain ranges that surround the Santa Fe area, but don't get lost in the vistas. You're at elevation here, so you might think the course's other eight holes - the longest of which is 190 yards - are pushovers.

No such luck thanks to Spann's up-and-down routing and winds that seem to come from different directions each time you put a tee in the ground. Great 28 is easy on beginners - from the upper tees there are no obstacles, so you can top it and the ball will roll to the greens, but from the back tees there are some forced carries.

For more information, visit www.linksdesantafe.com.
Steve Habel is one of Cybergolf's national correspondents, contributing news stories, features, equipment and book reviews and personality profiles from his base in Central Texas. He is also the managing editor for Texas CEO Magazine and works as a contributing editor for Horns Illustrated magazine, a publication focusing on University of Texas sports. He also writes a blog (www.shotoverthegreen.blogspot.com), which features news on golf and the Longhorns, and another (www.checkinginandplayingthrough.blogspot.com) on his many travels, which took him across the nation and to 105 different golf course in 2009. Habel is a member of the Golf Writers Association of America and the Texas Golf Writers Association.